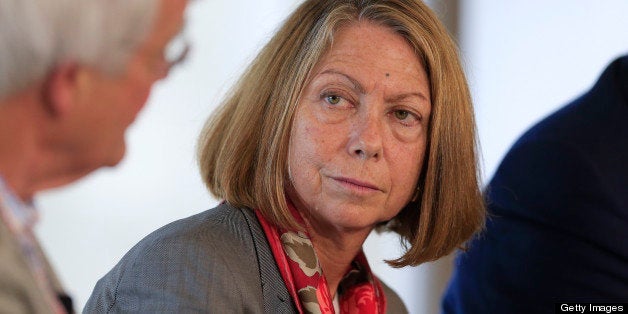 Over the last few years, women have been told to "lean in" and "close the confidence gap" if they want to be become leaders in their respective fields. But as the dialogue surrounding the firing of Jill Abramson, now former executive editor of the NYTimes, indicates, doing so is not enough to keep them at the top.
We do not and cannot know for sure what circumstances led to Abramson being ousted after less than three years on the job. There's the report from Ken Auletta at the New Yorker that just weeks ago Abramson approached her bosses about being paid "considerably less" than the (male) executive editor that preceded her, Bill Keller. The NYTimes disputes this, telling Politico that Abramson's salary was the same as Keller's and that her pension was commensurate with her years at the paper. If there was a pay disparity, it would not be altogether surprising. A recent study from Indiana University found that the gender pay gap among journalists still persisted as of 2012. There's also the claim that Abramson was seen as aggressively "brusque" and "pushy" by her colleagues, two adjectives rarely associated with powerful men. And there's the possibility that Abramson was simply bad at her job.
But as Rebecca Traister points out at The New Republic, even the latter of the three possibilities doesn't merit the harsh way Abramson was fired from the paper of record by publisher Arthur Sulzberger Jr. He told a stunned newsroom of NYTimes employees -- during which Abramson was absent -- that the decision to replace Abramson with Dean Baquet was due to "an issue with management in the newsroom." Unlike her predecessors -- including Howell Raines who left amidst scandal and was still praised by Sulzberger for "putting the interests of this newspaper…above [his] own" -- Abramson's contributions and successes (of which there are many) were not held up during her exit, she was given no transition time and there was no attempt to make her departure look amicable or mutual.
It is a well-documented truth that even in 2014 women in positions of power face a more difficult professional landscape than their male counterparts. An April report showed that female CEOs are more likely to be fired than male ones -- partially because they are often brought in only during times of crisis and asked to clean up a mess. A 2007 study found that female leaders are penalized for success in male domains when they defy gender stereotypes about how women should act, which is how being authoritative, aggressive and direct becomes "pushy" and "bossy" and "b*tchy." (And as Slate editor Jessica Winter sarcastically tweeted yesterday: "God forbid the executive editor of the New York Times be 'pushy.'") On the same day that Abramson was fired from NYTimes, the first female managing editor of French paper Le Monde resigned, writing in a letter: "I cannot accept being undermined as head of the paper."
The Times' own reporting on Abramson's departure called out the impact her chilly firing could have on perceptions of female leaders in media. "Her dismissal, after less than three years in the job, was met with disappointment by some women in the newsroom," reported David Carr and Ravi Somaiya, "and could be perceived as a step backward in the cause of female leadership at The Times and elsewhere in the industry."
Abramson's departure is igniting such an intense conversation, precisely because she is one of few women in such positions of power. And the thought of her being forced out of her job even in part because she was too "pushy" is ominous -- a depressing sign that the future is not as bright as Sandberg and other thought leaders like Hanna Rosin have made it out to be for those of us still working our way up the corporate ladder.
Former managing editor at TIME Walter Isaacson writes that the lesson of new executive editor Dean Baquet's rise at the Times is that "Nice people sometimes finish first." He clearly chose his gender-neutral words carefully, but let's be real, the original phrase is "nice guys" for a reason. A "nice girl" likely wouldn't have made it to the top of the NYTimes masthead at all -- and a "pushy woman" couldn't hold on to her spot there.
At the end of the day the harsh reality remains: Jill Abramson leaned way in -- and got pushed right out.
Related