Let's take a moment to meet the woman whose husband, Joe Biden, couldn't help but call "drop dead gorgeous" in his speech on Saturday. She certainly is pretty, and her look has lightened up a lot in the last few years (a few blond highlights here, a few cheerful pastels there). But upon closer inspection, there seems to be one accessory that's become her signature style: the pashmina scarf.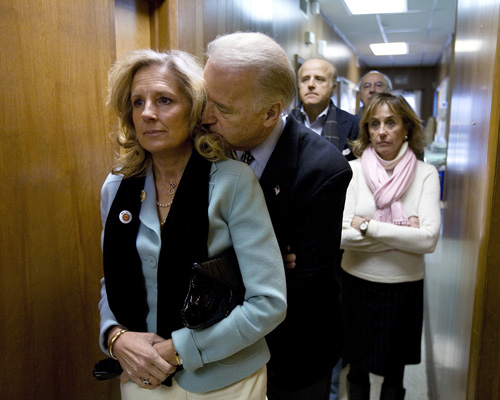 Jill and scarf are nuzzled by Joe as he waits to be introduced at a rally in January. This conservative style falls a little flat. Perhaps Jill could take a cue from Ms. Pink Pashmina in the background.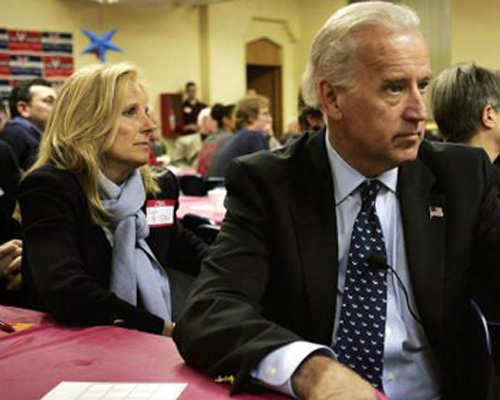 Ok, now we're talking. Here's Jill looking a little sharper in a sky blue scarf worn with a fitted black jacket. (And while we're on the subject, may the Style section be so bold as to suggest a haircut for Joe? You're looking great, JB, but could maybe lose a little length off the back.)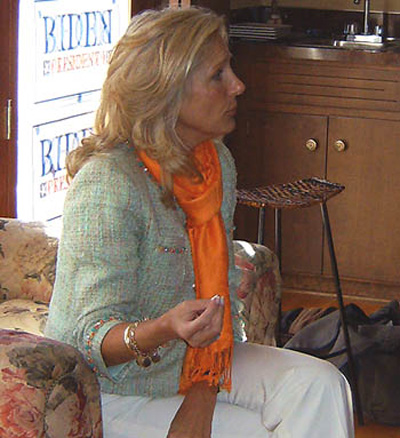 And here is the pièce de resistance: an orange scarf. Jill is one of those people who can really wear orange and doesn't let orange wear her--and as we head into the fall, we hope to see more of this autumnal color on the missus.
Happy campaigning!
REAL LIFE. REAL NEWS. REAL VOICES.
Help us tell more of the stories that matter from voices that too often remain unheard.