WASHINGTON -- Tampa, Fla., socialite and military hostess Jill Kelley, one of the women at the center of the ever-expanding scandal that brought down former CIA Director David Petraeus, founded a questionable charity for cancer patients with her surgeon husband, Scott Kelley.
Based out of the couple's mansion, the Doctor Kelley Cancer Foundation claimed on its tax forms that it "shall be operated exclusively to conduct cancer research and to grant wishes to terminally ill adult cancer patients."
From the records, it appears that the charity fell far short of its mission. While the origins of the seed money used to start the charity in 2007 are unclear, financial records reviewed by The Huffington Post reveal that the group spent all of its money not on research, but on parties, entertainment, travel and attorney fees.
By the end of 2007, the charity had gone bankrupt, having conveniently spent exactly the same amount of money, $157,284, as it started with -- not a dollar more, according to its 990 financial form. Of that, $43,317 was billed as "Meals and Entertainment," $38,610 was assigned to "Travel," another $25,013 was spent on legal fees, and $8,822 went to "Automotive Expenses."
The Kelleys also listed smaller expenses that appear excessive for a charity operating from a private home, including $12,807 for office expenses and supplies, and $7,854 on utilities and telephones.
Jill Kelley's sister, Natalie Khawam, was listed as the only other officer of the charity. This past April, Khawam filed for Chapter 7 bankruptcy, listing more than $3.6 million in liabilities, including $53,000 owed to the Internal Revenue Service and $800,000 owed to her sister and brother-in-law.
Efforts to reach the Kelleys and Khawam were unsuccessful.
In her adopted hometown of Tampa, Jill Kelley was well known for her glamorous parties and close ties to top military brass. String quartets, expensive cigars and lavish spreads were reportedly features of Kelley's hospitality. Now her role as a sort of one-woman USO has come under scrutiny with the revelation of her links to the scandal that has spurred Petraeus' resignation and started a second investigation into the conduct of another high-ranking general.
It's not Kelley's public efforts but her private ones that have caused the most stir. After allegedly receiving threatening emails from biographer Paula Broadwell, who reportedly had an affair with Petraeus, Kelley complained to the FBI. That investigation led to Petraeus' resignation the past Friday. A FBI agent has also come under criticism for allegedly sending shirtless photos of himself to Kelley. Late Monday, news broke that Kelley's email exchanges with Gen. John R. Allen, the top U.S. commander in Afghanistan, have become the focus of yet another inquiry, which could jeopardize his career.
Beyond her hosting efforts, The Washington Post reports that, according to a military officer who served on Gen. Petraeus' staff, Kelley was a "'self-appointed' go-between for Central Command officers with Lebanese and other Middle Eastern government officials."
But according to Tampa-based lifestyle writer Shawn Alf, high society events in the Tampa Bay area don't have much in common with parties in ultra-rich communities like the Hamptons or the Upper East Side of New York City. "It seems like an oxymoron to say 'high society' in Tampa," Alf said in an interview. "Tampa doesn't have the tradition of wealthy people being here for generations, so if you're wealthy in Tampa, you're going to spend half your time interacting with regular people."
While Kelley cultivated an unofficial position as grand hostess and diplomat, the Post and the Tampa Bay Times report that she and her husband lived above their means. In the last few years, they faced foreclosure threats on two properties and creditor lawsuits involving thousands in credit card debt.
Whatever financial turbulence the Kelleys experienced, it apparently didn't show in public. "She is a very philanthropic woman, a wonderful lady," said an employee of Events by Amore, a Tampa catering company that the Kelleys hired. The employee requested anonymity due to the nature of the scandal. "I don't want to stick my name out there."
The catering employee added that seeing military brass appear at local events, such as the ones hosted by the Kelleys, wasn't unusual.
Before You Go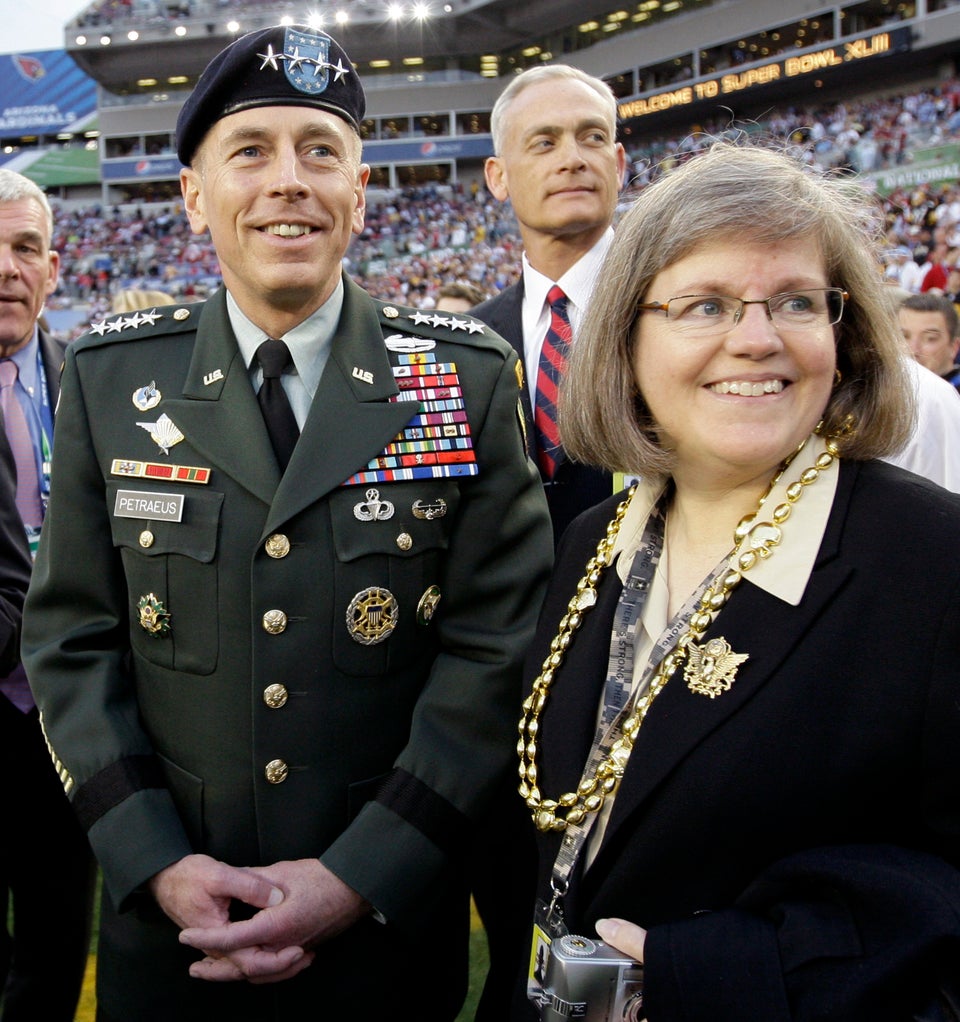 David And Holly Petraeus
Popular in the Community