In 2005, a young woman named Jill appeared on "The Oprah Winfrey Show" with her brutally honest father, Kirk, to talk about what it was like being "the fat one in the family." Overweight and feeling shunned, Jill -- then known as Jill Roberts -- listened as her father shared his harsh criticisms of her.
"Does it bother me when we're out in public that Jill's overweight? It does. I'll be honest," Kirk said back then.
"I just have this built-up hatred, like, 'What is wrong with you? Why don't you love me?'" Jill said, through tears.

Oprah posed the question to Kirk. "Is [Jill] good enough the way she is, if she never lost a pound? And gained 10 more?" Oprah asked. "Would that be okay with you?"
"No," Kirk answered. "It wouldn't."
A year later, Jill returned to "The Oprah Show" after undergoing gastric bypass surgery. She had lost close to 170 pounds. "I [had the surgery] because I wanted to feel good about myself," Jill told Oprah. "I wanted to lose the weight and I also wanted a relationship with my dad."
In its final season, Jill appeared on "The Oprah Show" a third time with her parents and revealed that her relationship with Kirk did indeed change as she lost the weight. Turning to Kirk, Oprah asked, "The perception that the world has, just seeing this, is that you didn't love [Jill] when she was fat but you love her now that she's thin... Was that our perception or was that somewhat the truth?"
"I think it was somewhat the truth," Kirk admitted.
Jill's story struck a nerve among "Oprah Show" viewers. "Oprah: Where Are They Now?" recently caught up with Jill to find out how she has been since that final appearance.
Though intense therapy, the now-married Jill Strasburg says she learned something very important about her father. "The only reason my dad did the things he did was because he loved me," she says. "In some skewed perception, that was his way of showing love. But I still had to learn to tell him that I was hurt."
Jill says that she has a good relationship with her father. Other parts of her life, however, remain painful. "Every day is a struggle," she says. "I have constant pain in my stomach. I am also extremely weak. I have endoscopies every few months. I get really tired and I hurt. I'm nauseated 24/7 -- that's something I will live with until the day I die."
What's more, Jill also received devastating news after her 2009 wedding. "I found out that I'm unable to have children," she says. "That was really, really difficult... I remember telling [my husband] Dave, 'I did this to myself. Because I had gastric bypass and because I went through all of these things, I took away the opportunity to be a mom.'"
Even with these challenges, Jill stands by her decision to get gastric bypass surgery. "I don't regret getting the gastric bypass," she says. "I would do it again tomorrow."
Also in the video above, Jill explains exactly why she doesn't regret getting surgery and reveals how strangers treated her father after the "Oprah Show" episodes aired.
Related
Before You Go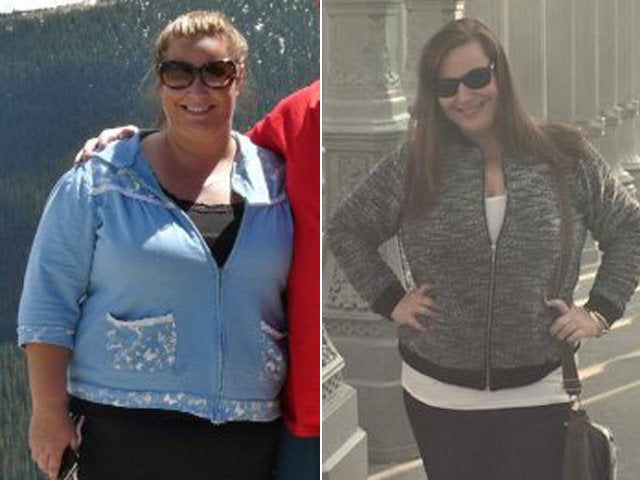 Weight Loss Success Stories