DETROIT ― Green Party presidential nominee Jill Stein admitted defeat Saturday in her push for a Michigan election recount, but said her fight for a voting system that is "accurate, secure and just" isn't over.
Stein spoke to a crowd of supporters in downtown Detroit following the state Supreme Court's Friday decision that put a definitive stop to the recount. The recount, which had begun on Monday, was contested in court by President-elect Donald Trump and Michigan Attorney General Bill Schuette (R).
"We asked, 'Do we have a voting system we can trust?' And we got a resounding 'no,'" Stein said. "We've exhausted what we can do here in Michigan, and I think at this point … we need to fight for those reforms. We need to fight to ensure we have a vote we can count on."
Stein called for the Electoral College to be abolished and for other reforms that would give more power to third party voters, like implementing ranked choice voting and allowing more candidates to participate in presidential debates. She also urged Michiganders to stand up and oppose a restrictive voter ID bill that passed the state House this week.
"Going forward we're going to keep up the fight," Stein said. "We may be moving out of the court of law, but we're moving into the court of public opinion. The public opinion is that we deserve democracy."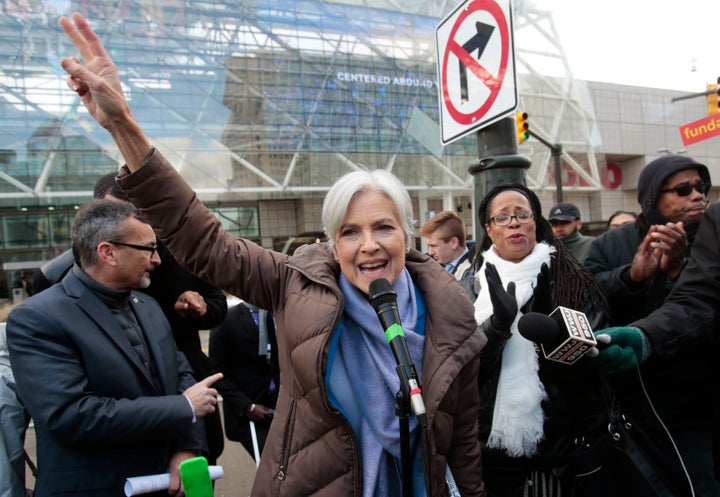 Anthony Battle was among the crowd of about 50 who came out Saturday to support Stein.
"I think she's the only one out here that's truly fighting for everybody," Battle said. He voted for Stein in Macomb County, north of Detroit. President Barack Obama won that county in 2008 and 2012, but Trump beat Hillary Clinton there by more than 11 percentage points.
Stein had initiated recount efforts in Michigan, Wisconsin and Pennsylvania, three states that Trump won by only a narrow margin. If Clinton were to be judged the actual victor in all three states, she would have enough Electoral College votes to become president. The end to Michigan's recount has now quashed any faint hope her supporters had that the election results could be overturned, but Stein said she would still be heading to Wisconsin as that state's recount continues.
Stein raised over $7 million from donors to pay for the recounts, a requirement that she said amounted to "economic extortion."
"We shouldn't have to hold a bake sale on steroids and raise millions of dollars in order to have the assurance that our vote actually counts," she said.
The 3-2 decision in the Michigan Supreme Court upheld the earlier decision of the state Court of Appeals. The justices ruled that Stein, who came in a distant fourth place in the national election, did not meet the state law's standard for an "aggrieved" party who can call for a recount.
Stein argued Saturday that precisely because she has no "skin in this game," she should be the right person to challenge the election results. She also criticized Clinton for not pushing for a recount herself.
"She would have been acknowledged by the court," Stein said. "She could have assured the people of Michigan that you can have confidence in this vote, or maybe you can't, but she could have found out and she didn't."
Stein and others who spoke Saturday highlighted the irregularities that were found during the brief period that the recount was underway.
More than half of Detroit precincts discovered discrepancies in the number of overall recorded votes. The city's elections director blames its aging voting machines, more than 80 of which broke on Election Day, according to the Detroit News. Yet the technicalities of Michigan law actually exclude many of those precincts from a vote recount.
Support HuffPost
The Stakes Have Never Been Higher
Popular in the Community