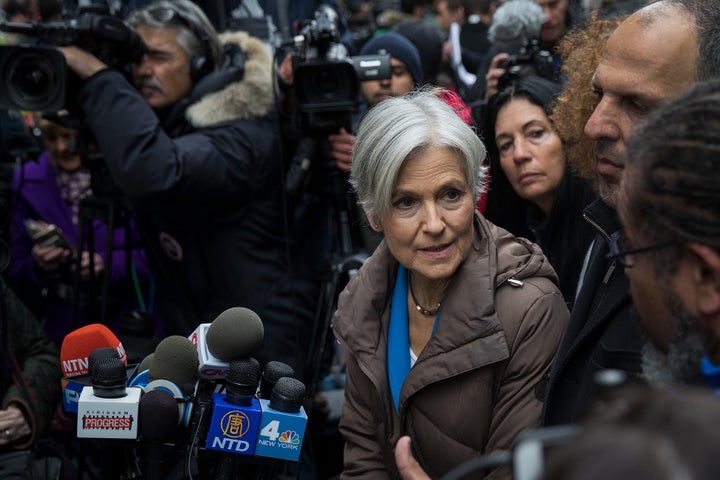 There is no evidence that Stein is swindling donors.
But she has continued to judge harshly the intentions of state governments and courts despite their plausible explanations. Stein has stuck by her own justifications for the ballooning recount estimates.
And though she vehemently denies it, her campaign appears to have targeted Michigan, Wisconsin and Pennsylvania for recounts to entice disaffected Democrats.
The choice of those states, which collectively cost Democrat Hillary Clinton the presidential election, has elicited the ire of Stein's fellow Green Party leaders, making it unclear just what her intentions are.
Stein's campaign estimates that the total cost of the recounts in the three states will be $9 million to $10 million, of which the campaign has raised over $7.2 million. That includes a Wisconsin recount that is costing Stein $3.9 million, mostly to pay the workers doing the recounting, and a filing fee in Michigan of just under $1 million ― figures the states confirmed are correct. Neither estimate includes the added cost of observers to monitor the recount processes underway.
Should Stein's campaign force a statewide recount in Pennsylvania through its federal lawsuit, Pennsylvania estimates it would cost $500,000. The campaign expects significant additional costs over the recount process.
The Stein campaign projects that attorneys' fees for the various lawsuits and legal actions that the recounts entail will cost an additional $2 million to $3 million.
In short, it is plausible that the recounts will cost as much or more than $9 million. But Stein's characterizations of the obstacles have, by contrast, not been entirely accurate.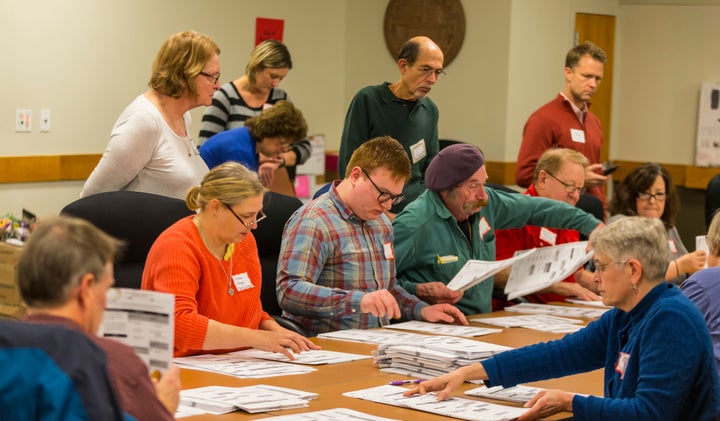 Blaming State Bureaucrats And Judges
Stein claims that the biggest increase in fundraising goals came when Wisconsin raised its estimated cost of a recount. The updated figure itself is not controversial, but Wisconsin rejects Stein's charge that the state had misled her with the lower estimate.
"Prior to last week, the Wisconsin Elections Commission estimated the cost of the recount at $1.1 million, and provided that estimate to the Stein campaign," Stein's attorney Jonathan Abady said in a Wednesday statement. "That is why, when we asked for a recount and they demanded that we pay more than three times that amount, it was surprising and deeply disappointing."
Reid Magney, a spokesman for the Wisconsin Elections Commission, disputed that account.
He said Wisconsin had never given Stein an estimate prior to the projection of $3.5 million that it cobbled together based on assessments from county governments. As the result of an accounting error that the government identified later, it raised the estimate to $3.9 million, Magney acknowledged.
The $1.1-million figure the Stein campaign claims Wisconsin initially provided was most likely an extrapolation from an Associated Press survey of county clerks who participated in a 2011 recount, according to Magney.
"We noted the 2011 AP report and the fact that twice as many votes would need to be counted in less than half of the time. Some media then extrapolated to estimate that the recount may cost $1 million," he said.
The Stein campaign also appears to have exaggerated the burden of a Pennsylvania judge's bond decision when she explained why the recount fight was being taken to federal court instead.
Unlike Michigan and Wisconsin, where Donald Trump's transition team is presenting the greatest obstacles to Stein-led recount efforts, Pennsylvania law does not automatically entitle candidates to request a statewide recount. Instead, Pennsylvania voters who believe there was tampering or other irregularities can seek a recount by contesting the election as "illegal" in state court.
Stein provided legal representation to more than 100 Pennsylvania voters interested in doing just that. They were slated to appear in Commonwealth Court ― one of Pennsylvania's appellate courts ― for a Monday hearing.
On Friday, however Judge Mary Hannah Leavitt ordered the voters to put up a $1 million statutory bond by Monday in the event the petitioners would be held liable for the costs of a statewide recount.
Stein accused the judge of obstructing the Keystone State voters.
"The judge's outrageous demand that voters pay such an exorbitant figure is a shameful, unacceptable barrier to democratic participation. This is yet another sign that Pennsylvania's antiquated election law is stacked against voters," she said in a statement.
But Jim Koval, a spokesman for the Commonwealth Court, insists that, like any other bond, the statutory bond for the case was only a form of collateral in the event that the state court required Stein's campaign to shoulder the recount costs. The petitioners would only have to pay a fraction of the bond up front and would get the money back if a judge ruled that they were not liable for recount costs.
The verdict also hewed closer to the petitioners' demands than those of President-elect Donald Trump, who has fought the recounts in court. Trump's lawyers had asked the judge to set the bond at $10 million. The petitioners asked for $25,000.
The judge even allowed any party to appeal to change the amount if they could show "good cause" to do so.
And given Stein's willingness to adjust fundraising goals based on changing circumstances, posting the money for a bond seemed like an eminently achievable goal.
Now Stein and one of the Pennsylvania voters are challenging Pennsylvania's recount rules in federal court. They argue that requiring voters to contest an election as "illegal" in order to get a statewide recount "denies and severely burdens the right to vote and... violates substantive Due Process under the Fourteenth Amendment to the United States Constitution."
"Votes have to be counted fairly ... , but that does not guarantee anybody a right to a recount."
Ned Foley, an election law expert at Ohio State University's Moritz College of Law, said that Stein had little evidence to support her case that Pennsylvania's election result is illegal.
As a result, Foley suggested, she might have known that her lawsuit in the state's courts was ill-fated, making paying even a fraction of the bond a waste of money.
"Stein is going to federal court because she really doesn't have any chance of prevailing" in state court, Foley said.
Abady, Stein's attorney, admitted as much in his statement, even as he maintained that the judge's bond decision was evidence of the injustice of Pennsylvania's election law.
"The Commonwealth Court imposed enormous hurdles on voters, both by levying a massive $1 million bond on voters and by refusing to grant time for the recount campaign to further develop the factual record by securing forensic audits of voting machines. In short, it became clear that relief from the state court was highly improbable, if not impossible," Abady said.
But it is not clear that legal precedent supports her claims, Foley contended.
"Votes have to be counted fairly ... , but that does not guarantee anybody a right to a recount," Foley said.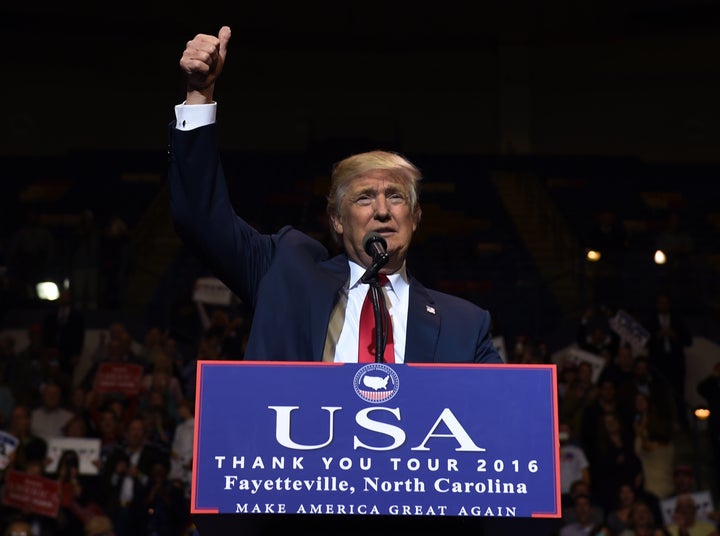 What Purpose Are The Recount Efforts Serving?
It is not immediately clear what Stein hopes to accomplish from the recount campaigns, if, as most people predict, the recounts that proceed do not change the election outcome.
Stein claims that she is merely interested in authenticating the vote in light of evidence of foreign hacking into Democratic Party and Clinton campaign emails, and the susceptibility of electronic voting technology to tampering.
"The recount does not benefit one candidate over another. It benefits all voters across the political spectrum," Stein said in a statement last week.
She chose Wisconsin, Michigan and Pennsylvania after a group of voting rights activists and data scientists led by University of Michigan data scientist J. Alex Halderman claimed that the vulnerability of electronic voting to foreign hacking may have altered the election results in those three states.
In a conversation with the Clinton campaign, Halderman and his colleagues noted that Clinton received 7 percent fewer votes in Wisconsin counties that used electronic-voting machines than in counties that used paper ballots, according to New York magazine.
There is clearly a basis for concern about electronic voting machines that do not use a paper ballot component at all. Voting experts expressed worries about Pennsylvania before the election, noting that Pennsylvania state law does not require the counties that use direct-recording electronic machines to provide a paper trail that is traceable to each vote.
But that is precisely what makes a recount less effective in Pennsylvania, since there is often no paper ballot against which to compare the electronic results.
And Halderman's supposed concern about vote disparities in Wisconsin drew criticism from the New York Times' Nate Cohn and FiveThirtyEight's Nate Silver. Silver claimed that the vote differences in the counties can be completely explained by the racial and educational characteristics of the voters in those areas.
In addition, Michigan's voting system uses only paper ballots, raising the question of why it is being targeted by a campaign mainly focused on tampering done through electronic voting machines.
U.S. District Judge Mark Goldsmith halted the Michigan recount on Wednesday night precisely because he saw no specific evidence of malfeasance.
Several Green Party colleagues critical of Stein's recount efforts argue that she could have stood up for election integrity in states where the process would be easier and less likely to be seen as helping Democrats.
"She could have done New Hampshire or Maine ― small, easy states ― and then it wouldn't have been about Clinton," Kevin Zeese, a senior adviser to Stein's campaign, told The Huffington Post last week.
"It is a nice public relations moment for her. She can use it to build fundraising lists."
At the same time, it is likely that Stein would not have generated so much popular support for the recounts had she not decided to target the closely fought battleground states. The Clinton campaign has agreed to participate in the recount efforts as they proceed. And Mark Brewer, a former chairman of the Michigan Democratic Party, is one of the attorneys representing Stein in Michigan.
"It is the most public exposure Jill Stein has gotten as a political figure. I have been asked more about Jill Stein in the past two weeks than in the entire campaign," said Geoffrey Skelley, an associate editor of the University of Virginia Center for Politics' nonpartisan election newsletter.
"It is a nice public relations moment for her. She can use it to build fundraising lists," Skelley added.
Meanwhile, the apparent absence of real evidence of vote tampering ― beyond questions about the system's susceptibility ― raises the prospect that Stein's initiative will contribute to a growing lack of confidence in basic democratic processes.
Brendan Nyhan, a government professor at Dartmouth College who studies misperceptions in politics, noted that Democrats should be more sensitive to those risks, given their criticism of Trump for sowing those same doubts about the authenticity of the election results.
When the report on Halderman's conversation with the Clinton campaign about a recount came out in November, Nyhan said he remarked on "the irony of the fact [that] Democrats, who had spent the last month panicking about fake news and Trump claiming the election [is] rigged based on unsupported claims, are now doing the same thing."
"People have claimed recounts will assure people there is no fraud. I respond that it is difficult to combat conspiracy theories by proving a negative," Nyhan added. "The broader fear is that minor anomalies in the vote count are seized on as evidence of manipulation and that those anomalies end up further undermining confidence in the system."
Popular in the Community