NEW YORK ― Green Party presidential nominee Jill Stein is pushing back against president-elect Donald Trump's campaign to shut down her vote recount efforts. In a news conference across the street from Trump Tower, she demanded that the recount in Pennsylvania, to be filed in federal court on Monday, continue unobstructed.
"This recount advances our fundamental right to vote," she told large crowds. "These things are the bedrock of our democracy. It's the first step toward an electoral system that is just."
"The sad reality is that the voting system in Pennsylvania is a disgrace and a disaster," Jonathan Abady, lead counsel for Stein's recount effort, added on Monday.
The recount campaign process hit a major snag on Friday when a Pennsylvania common law court judge ordered Stein's campaign to pay a $1 million bond to kick off the recount. Trump representatives had requested a $10 million bond.
Stein made it clear that she's pursuing the recount in the name of voter integrity, not necessarily a change in the result.
"Whether it will change the outcome, we don't know, and it would be unfair to raise expectations that the outcome will change. That is not our intent," she said. "This is about ensuring that all votes get counted and that voters can trust the system going forward. We are here to assure Donald Trump that he has nothing to be afraid of."
Stein also addressed the millions of dollars she has managed to raise through donations. Every cent is going towards the recount effort, she said, and she doesn't believe there will be any leftover funds. Her team says it needs $9.5 million to be able to cover all recount-related fees in three states: Pennsylvania Michigan and Wisconsin.
He's also accused her of not spending the majority of the funds on the recount.
"We don't need to hold bake sales on steroids to raise millions and millions of dollars, this is a constitutional right," Stein said.
"We love you, New York loves you," one woman shouted as Stein approached the microphones. Another woman cried and nodded in agreement during the remarks.
A few counter-protesters also made their presence felt, saying that Stein is a "common criminal." They paraded around with signs saying "Jill Stein is a quack" and "Jill Stein go away."
Bonnie Keyes, a New Yorker and longtime Green Party supporter, said she attended the news conference to support Stein.
"I think it's great, it's empowering," she said. Election fraud is like "the rolling coup of America, it just keeps happening."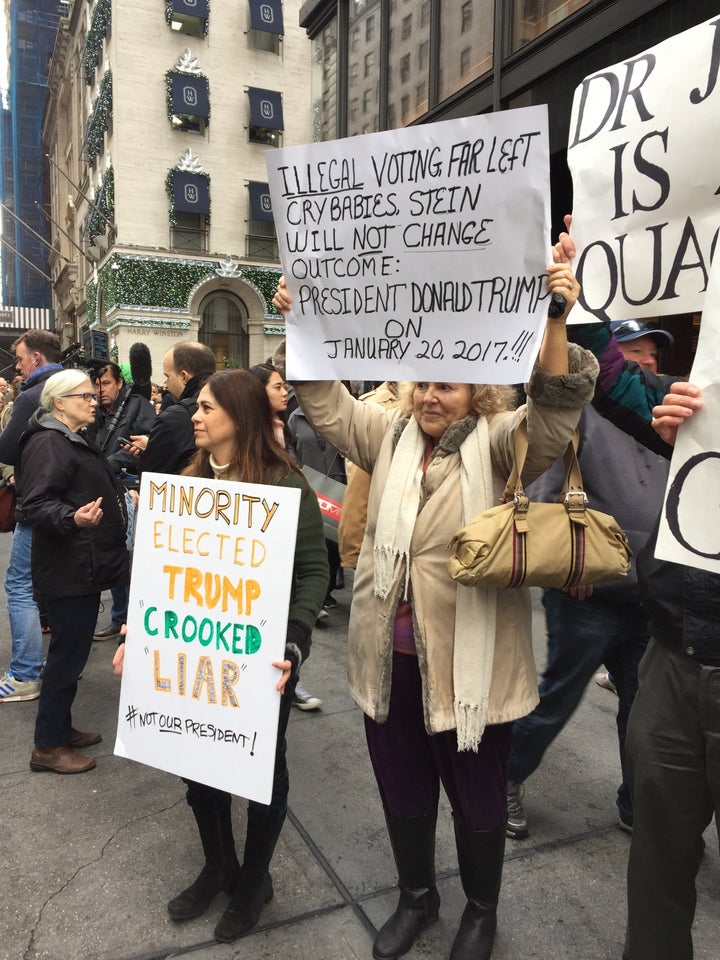 The recount submissions that Stein's team filed in Michigan and Wisconsin also had setbacks initially.
Trump's lawyers and Michigan Attorney General Bill Schuette attempted to halt the initiative in that state, but Stein's team filed a motion to begin the recount in federal court on Saturday. They were handed a "major victory" on Monday when a federal judge ordered the statewide recount to begin, according to Abady.
In Wisconsin, pro-Trump Super PACs filed an order to stop the recount. A federal court struck it down on Friday.
"The barrier is so extreme and so radical," Abady said, "that we have no choice but to seek federal intervention."
Before You Go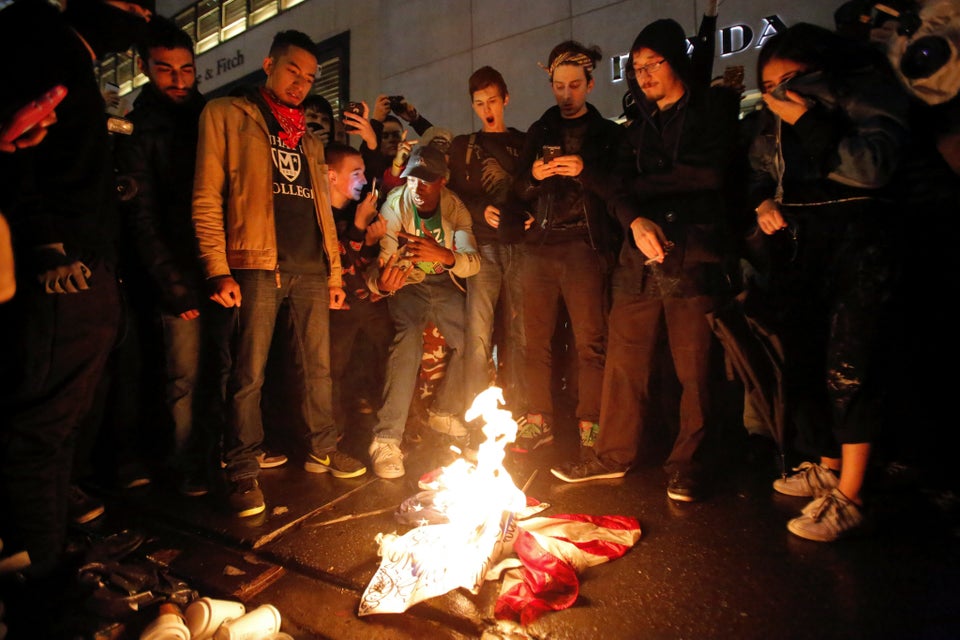 Donald Trump Win Sparks Protests Nationwide
Popular in the Community