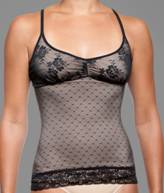 As all of New York is a-flutter with the beginning of New York Fashion Week, one of the original New York "housewives," Jill Zarin, is all a-flutter in St. Petersburg, Florida. Yes, St. Petersburg! This is not a typo.
St. Pete is the home of e-tail shopping giant HSN, where everyone who's anyone seems to make an appearance these days. I also worked on air there early in my career, so I understand the frenzy of going on air there for the first time. I loved it, but it's live and it's hectic even for a seasoned TV personality like Jill. Nevertheless, she seemed calm and excited about this new chapter in her life and her brand.
Don't think Ms. Zarin is sitting in her apartment watching the world go by, as if any of us really thought that was an option. No, she is taking her over 25 years of retail experience and parlaying it into her new venture, a shape wear line called Skweez Couture. An unexpected, yet rather savvy move considering it's a fairly wide open market ripe for a little competition. And according to Jill, she's got better price points.
Skweez Couture is available in some major retailers like Lord & Taylor, Macy's, online and now HSN. Jill told me she feels that in order for women to be confident and feel good about themselves they need to start with a good foundation. And we all know a good foundation starts with sucking in the fat!! Yay, Jill! The prices range from $20-$75 in sizes from small through 2XL, which covers everyone across the U.S. I told her my biggest gripe about the shape wear on the market today was that there were those telltale bulge marks that look awful and sometimes, make you look even fatter. Hello, muffin top where there was none?? I was assured by her that this was not the case with Skweez Couture because they were cut differently and the focus was more on the stomach and not on the bands. Whew, I can skip Pilates today!
But, we are not stopping at sucking in the tummy. She has a jewelry line coming this summer, too. Bright, chunky rings and more stylish baubles are on the horizon so keep your eyes and ears peeled. From what I saw, they look like a perfect fit for more visits to HSN, but hey, what do I know?
At the end of the day, it all seems to be about giving her audience products that are high quality and glam but at "everyday woman" pricing and availability. I'm going to give those cute boy shorts a go next time I'm on air and I'll let you know.
Tune in February 10 to catch Jill Zarin's debut on HSN. Visit www.hsn.com for show times!
Mazel Tov, Jill. And remember your features and benefits.
Check your local TV listings and international magazines for more of Celeb Designer, Courtney Cachet's style ideas and tips! You can catch her frequent appearances nationwide on TV, where she dishes out all the latest in home and lifestyle! Keep up with her on www.courtneycachet.com or Facebook and join the conversation!
Related