Audiences made "22 Jump Street" a blockbuster hit during the film's opening weekend, but would the "21 Jump Street" sequel be as successful without Jillian Bell? The actress, best known for her role on "Workaholics" and small supporting turns in "Bridesmaids" and "The Master," has been hailed as the film's breakout star in numerous articles, and with good reason: She's a hilarious, and "22 Jump Street" heads to an even higher level whenever she appears on screen. Bell's Mercedes is a deadpan delight in Phil Lord and Chris Miller's comedy, whether she's throwing insults at Jonah Hill's Schmidt for being old or maybe almost kind of trying to kiss him.
To celebrate the success of "22 Jump Street," HuffPost Entertainment traded emails with Bell. Our correspondence is below.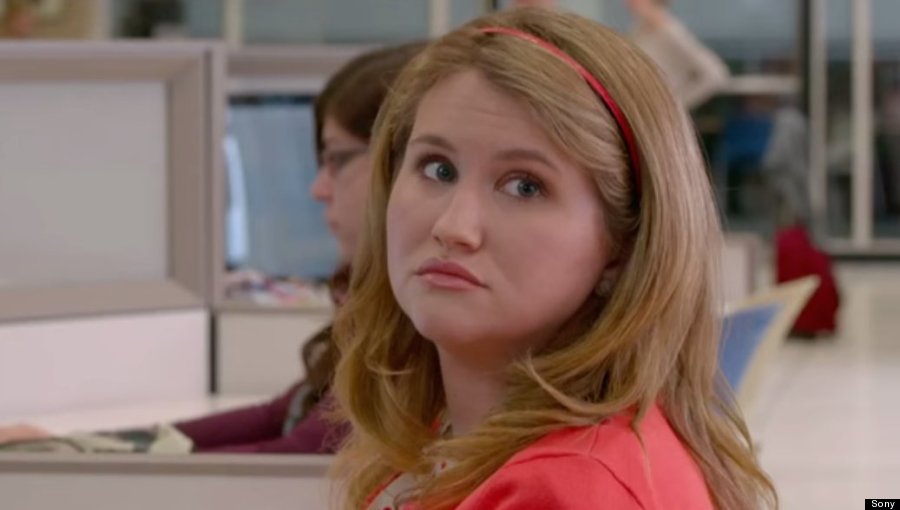 This is an email interview, so let's start with some email questions: Did you ever have an AOL account?
I definitely had an AOL account when I was 14, but I don't remember what my screen name was. I'm sure it had something to do with Justin Timberlake because I was in love with *NSYNC. So probably something like CurlyHeadSingerNumber1Fan. With that said, I would also like to put it out there that I made out with a lot of boys in high school and wasn't a nerd.
What was the last spam email you received?
I just looked in my junk mail and there's an email for Oprah's special weight loss pill. I might have to mark that as "Not Junk."
What was your audition like for "22 Jump Street"?
I was incredibly nervous before walking into the room because I knew Jonah Hill was going to be there. He's always been one of my favorite actors and as far as improvisers go, he's at the top of the list. So, I go in and he instantly calmed my nerves by saying to everyone in the room, "She's really funny, this is going to be great." He is such a nice guy and very supportive. And for 20 minutes we just improvised, and I insulted him as much as I possibility could. Ha!
You spend a majority of the movie making fun of Jonah's character for being old. What was your favorite diss at the expense of Schmidt's age?
I was happy that the war line stayed in. I say, "Tell us about the war. Any of them." It's so stupid, but that one was my favorite.
One of the red-band trailers includes you saying to Schmidt that he looks "old as shit to be here." I don't remember that being in the movie. What were some of your favorite jokes to not make the final cut?
Schmidt and Maya [Amber Stevens] have a scene where they stay up all night talking and it's revealed that I had actually been there the whole time. I had a line that didn't make it where I said, "I just sat here, listening to you talk about your fears for hours. Are you really scared of spiders and balloons? Don't ever go to a spider's birthday party." For some reason, maybe because it was a late night, we all laughed at that and couldn't stop breaking. I think I tried saying three or four times but barely got through it.
On Twitter, you posted a screenshot of your iPhone home screen as "Tiffany's Greatest Hits" was playing. Not including "I Think We're Alone Now," what are Tiffany's greatest hits?
She had another song I liked called "Could've Been." It's a very dramatic pop ballad that I think tweens in the '90s would listen to when their crush didn't ask them to the dance. I think I was listening to New Kids On the Block's pandora station and that came on. I obviously listen to a ton of music that everyone's into right now.
You also tweeted about "Point Break." If you starred in a remake of "Point Break," which role would you play: Utah or Bodhi? Depending on who you pick, who would be your Utah or Bodhi?
I would probably want to play Pappas just for the meatball sandwich scene. Then I would cast Tilda Swinton as Bodhi, because who wouldn't want to see that, and Keanu Reeves as Utah, because no one else can do that part.
Lots of people -- including me -- have called "22 Jump Street" your breakout role. When did you realize that your part had the potential to be something really special?
I didn't know much about the character going into the auditions, but I just thought she was really funny and I would love to be a part of it. I saw the first one twice in the theaters, so I was a fan. The night before the table read, they sent me the full script and that's when I found out what happens to my character throughout the movie. No spoilers. ;) Then when we started shooting, I saw how open Phil and Chris were to improvising and allowing all of their actors to play on what was funniest about the scene. I feel so lucky to be a part of it and I'm terrified I will never have as good of an experience again. Ha! Fingers crossed that's not true.
You participate in the film's physical comedy highlight: the fight with Jonah. How much preparation went into that sequence, both with the physicality of the fight and then also the timing on the awkward almost kisses.
We had an incredible stunt coordinator and stunt women and men showing us what to do. How to take a punch and how to throw one. All of the other stuff was improvised. We had a couple lines that were written, like Jonah's character saying that he didn't want to fight a girl and my character saying that if he thought of me as a human being and not a woman he would hit me. But yeah, the rest we just did in the moment and I was so excited to see it stayed in!
Another movie you have coming out this year is "Inherent Vice." What can you say about that Paul Thomas Anderson movie to get everyone even more excited for how great it is going to be?
All you have to say to get people excited is that it's another Paul Thomas Anderson movie. Right? I have a very, very small part in it. The cast is incredible, as it should be for a PTA movie. I think if anyone gets the call to do a part for him, they take it without asking what it even is.
REAL LIFE. REAL NEWS. REAL VOICES.
Help us tell more of the stories that matter from voices that too often remain unheard.
BEFORE YOU GO
PHOTO GALLERY
"22 Jump Street" Photos