You might expect celebrity wellness expert, Jillian Michaels and wife Heidi Rhoades to be a little guarded when asking personal questions about their family. But that certainly wasn't the case when RaiseAChild founder and C.E.O. Rich Valenza interviewed the couple for this week's "Let Love Define Family®" series installment for Huffington Post Queer Voices.
Rich Valenza: You have two beautiful children. Usually, when couples come to us at RaiseAChild to learn about their family building options, one partner is more ready than the other. May I ask you about your process?
Jillian Michaels: Heidi always wanted to have kids. But I wasn't sure. We had been together for a year and we were on a trip to Africa. By chance, we ended up bringing school supplies to an orphanage. I think that's when our eyes were really opened. In that moment, we felt an obligation to open our home and bring in a child that had no family. That's really when the process began. For the next two and a half years it was all about getting home studies and this, that and the other. Then Heidi found out on a "Children in Waiting" site that Haiti was open to international adoption. Then that began another long waiting process. In the interim, Heidi decided to get pregnant and she gave birth to our son. Finally, we were matched with a child in Haiti and -- to make a very long story short -- that's what ended up allowing us to find our daughter.
Rich: Every now and then, someone will comment or ask, "How is it possible that you can love a child that's not of your own?"
Jillian: What?! I can't even comprehend that.
Heidi Rhoades: If you see a child that needs a family, I don't understand how you wouldn't be able to just say… it's a hard question to answer because I really cannot fathom that.
Jillian: There are those who can seriously ask how you couldn't love a small human brought into your home? I can't even comprehend that kind of thinking. Neither one of my kids are biologically mine. Our son is biologically Heidi's child, but what does that matter? I just don't understand that line of reasoning. You didn't give birth to your husband or your wife, and you love them.
Rich: [laughs] That is a very good point. So, why was it important for you two to adopt? What did you feel inside?
Jillian: I always say that it's like a calling, and I'm not referring to religion. I respect all faiths. But it's just a feeling inside of you that it's something that you're meant to do. A sense of destiny or fate that tells you [that] you can find some little being that is meant to come into your home and be your family. I really couldn't think of any other way of describing it. Anyone I've know who has ever adopted has felt a calling. I don't know how people can see children in circumstances where they have no loving home. No one to tuck them in at night. No one to care for them when they have a cold. No confidant. No mentor. I don't understand how people can know this exists in the world and still not appreciate that if they have the means, they should make room in their home.
Heidi: I feel similarly. I pretty much love every kid that I meet. When you go to an orphanage or see certain conditions and you can help, I feel there's no question really.
Jillian: Heidi and I have become more familiar with the fostering to adopt process, since adopting our daughter internationally; through our work with the Dave Thomas Foundation and Boys Town, two organizations we work with a lot. We realized that we were gravely misinformed about foster care adoption. We did inquire about it but we were heard, "the children will be ripped away from you." "You'll be attached to unstable individuals." So we were scared away from it. I don't regret it, because we have our daughter, who I adore. But it is very upsetting knowing the truth now, and knowing that there are over 120,000 kids in the system now whose parental rights have been terminated. This misinformation is extremely upsetting. That's one thing we try to be very vocal about. In the future, when our kids get a little older, if we bring another child into our home, we would definitely go through the foster to adopt system process.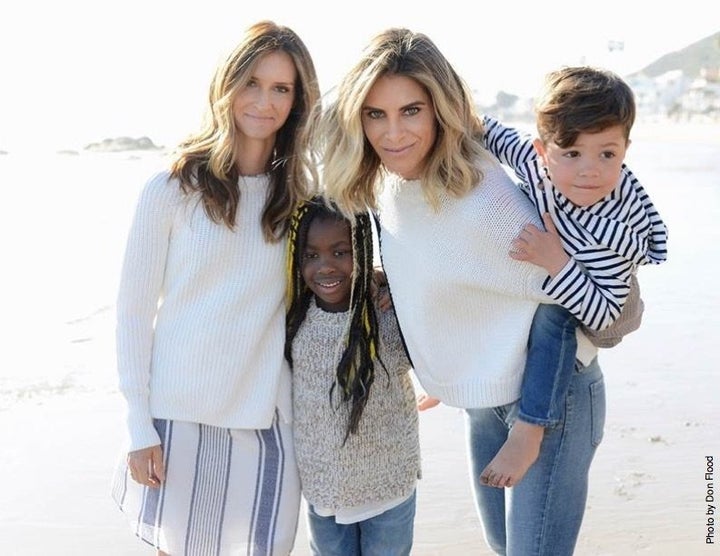 Rich: I thank you for all that you just said! If that time comes, it would be our honor to help guide and mentor your family through the foster to adopt process.
Let me ask you two this… as a parent, you have ideas of what you hope and dreams for your children. With your son and daughter, what are your hopes?
Heidi: At the end of the day, I just hope that they're happy and they find something in their life that makes them truly happy. I hope as they grow up they find something that they're passionate about and continue doing it.
Jillian: I want them to be good citizens of the world. I want them to be responsible for their actions, mindful of the planet, of other people's feelings. I want them to follow their hearts and live the lives that they want and not the lives that society tells them that they should. I think those are the most important things to me.
Rich: What does your daughter bring to your family?
Jillian: Everything. So much light, such a positive little soul. She's loving and effervescent, kindhearted and fun. We always tell her she was born in our hearts, then she became so big that she flew to Haiti and this wonderful woman kept her in her tummy and kept her safe and loved her. That's how I feel -- she was definitely conceived in our hearts.
Heidi: We could not have asked for a sweeter and more loving child. That's just who she is. Super happy, patient, loving. She's a sweet little being. There's a child with special needs at her school and people don't play with him and she does; she said to me the other day, "Mommy, do you think my heart is so big because I was born in your heart?" She feels things deeply; she's very sensitive and empathetic.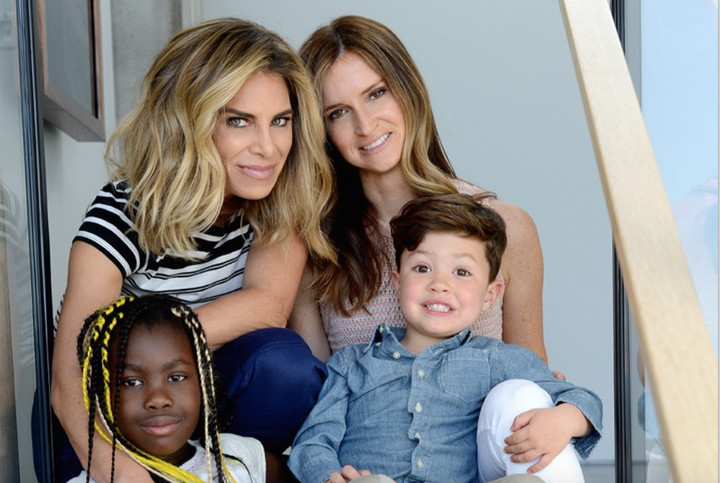 Jillian: I would like to reiterate… as of right now, there are over 120,000 kids in the foster system that have had their parental rights terminated, that need a loving home. There is no child that should be in this world without someone to guide them, to protect them, to watch over them. It is unacceptable. This is something that is really an issue that we need to pull out from being swept under the rug. Let's all take a good hard look at the numbers of children in the foster system and start discussing it. There are so many misconceptions regarding foster care and fostering to adopt that it's just disturbing. We have many close friends that since our adoption, have built their families through adoption. Families come in all shapes and sizes and colors an all orientations. If you have the means, please consider opening up your home. I can't think of something more important or more significant than this. It's a way for people to make a change. This is quite simple, because everybody can foster to adopt. So therefore everybody can change somebody's life and build their own family. YOU have the power to do that.
Have you ever thought of building a family through fostering, adopting, or weekend hosting? RaiseAChild.US is the nationwide leader in the recruitment and support of LGBT and all prospective parents interested in building families through fostering and adoption to meet the needs of the 415,000 children in the foster care system of the United States. RaiseAChild.US recruits, educates and nurtures supportive relationships equally with all prospective foster and adoptive parents while partnering with agencies to improve the process of advancing foster children to safe, loving and permanent homes. Take the Next Step to Parenthood at www.RaiseAChild.US or call us at (323) 417-1440.
Join RaiseAChild for a very special National Foster Care Awareness Month Celebration in Los Angeles on Sunday, May 1, 2016 as we honor Jillian Michaels and Heidi Rhoades at RaiseAChild HONORS. More information is available at http://honors.preclickbid.com or by calling (323) 417-1440.
Popular in the Community