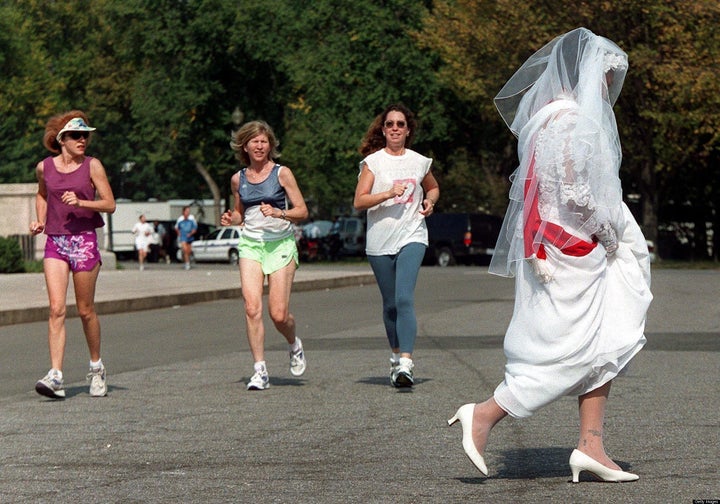 Six days before Halloween, Chicagoland bride-to-be Teanne Harris found herself in a nightmare situation, The New York Daily News reported. She had planned to spend Saturday exchanging vows with her fiance, Matt Harker. Instead, he got cold feet and she found herself with all the fixings for a perfect party but no reason to celebrate.
What's a bummed-out bride to do? Invite the residents of the retirement home across the street from the wedding venue to a Halloween-themed bash, of course.
"She came in one day and said she wanted to make a donation," said Mary Eichenfeld, Resident Service Director at Asbury Court Retirement Community. "I don't think she knew anybody here, and we don't get offers like that. So we were thrilled and so were our residents. It came out of the blue." By all account, the bash was a blast. The wedding DJ played oldies. The tables were decked out with candy jars and feathered masquerade masks. The banquet hall served up a senior-friendly meal. And the guests dressed up as everything from Dracula to Raggedy Ann. As for the bridal bouquet, Harris had it placed in the chapel of the old folks' home.
Residents shared their gratitude with CBS News.
"God bless her. She'll find someone else. I did," said Asbury Court Resident Karen Hamelberg. When resident Ana Rojas was asked what her message would be for the bride she said, "Oh my God, yes! This world, it looks miserable, but there is good people in it."
When the New York Daily News attempted to reach the bride for comment, it was told that she was en-route to her honeymoon destination, Hawaii.
Calling all HuffPost superfans!
Sign up for membership to become a founding member and help shape HuffPost's next chapter