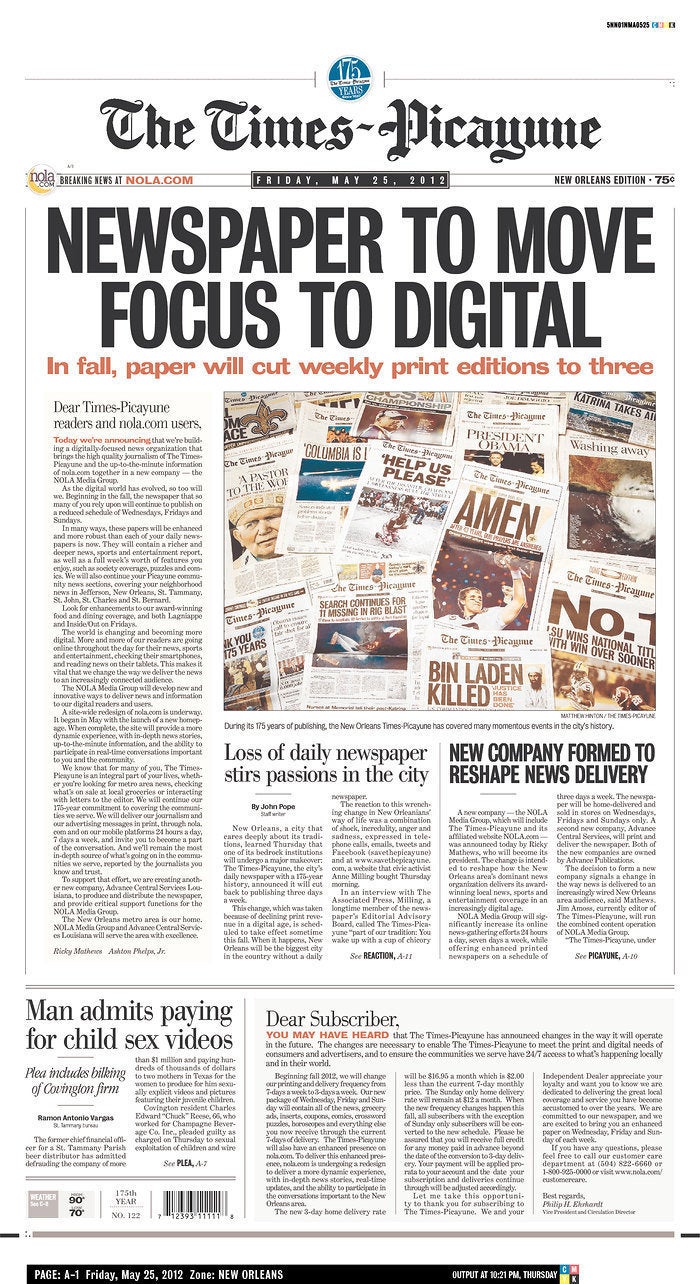 When the Nieman Fellow Class of 1991 gathered for the first time at the Lippmann House in Cambridge on the Harvard Campus to meet the curator, Bill Kovach, his staff and of course each other, one Fellow was missing.
His name was Jim Amoss and he was about to be named as editor of the Times-Picayune of New Orleans and he had a choice to make. He chose to stay on the job in New Orleans rather than report to Harvard to join the Nieman Class of 1991.
Amoss didn't have a crystal ball. He could not have known that just a short 21 years later he would oversee the demise of one of the great American newspapers. Next month the Times-Picayune will lay off more than 200 employees. It will drop its print publication to just three days per week and go digital the other four days.
Since nearly 36 percent of the population of New Orleans does not have access to the Internet, this means that more than one-third of the city's residents will not be reading the daily news, but even that shouldn't be such a burden since some city residents claim that those 36 percent can't read anyhow.
Kari Dequine Harden, in a letter of resignation to Steven Newhouse, owner of the Times-Picayune wrote:
"From New Orleans, a city already with odds against, you are taking our historical record. You are taking away a source of news that has been relied upon to document it all -- magnificent and mundane -- and to hold police and publicly elected officials accountable. This city is worse off for the loss. We will struggle, new sources will emerge and serve the city in positive ways -- but do not for a second think that this isn't a devastating blow to everyone. Competition included."
Amoss wrote an editorial about the changes about to happen. He wrote:
"In the aftermath of Hurricane Katrina, we proved that great, essential journalism does not require newsprint and a printing press. What it does require is great journalists, people who know our city and have a sense of mission about keeping readers informed and engaged, no matter the obstacles. Our commitment to that mission is undiminished."
The headline for that editorial read; "The message for our organization is clear: adapt or fade away."
Jim Amoss is a great editor. In 2006 his newspaper took home two Pulitzer's for its coverage of Katrina. But I wish he had come to Harvard and joined me and the other Nieman Fellows that year. He would have met some outstanding journalists from Russia, Poland, Tonga, Nigeria, India, and Canada and from right here in the good old USA.
Amoss is still a great editor and will no doubt survive the changes taking place in the newspaper industry. The Internet and the digital age have forced many career and business changes in America and there are still more to come and everyone will have to adapt. Just as the automobile drove the buggy and buggy whip industry out of business, so too will many businesses fall in the digital era.
For the time being, specialty newspapers like the Native Sun News, a newspaper I founded, will survive because Native Americans are late comers to the newspaper business and Native newspapers will adapt as the Internet reaches the Indian reservations, but for now more than 70 percent of the residents of Indian reservations in the West do not have access to the Internet, and so they will continue to get their news the old-fashioned way: through the weekly Native newspapers and Native-owned radio stations.
The Digital Future Report of the USC Annenberg School of Communication & Journalism reported:
"Sales figures do not lie; circulation of print newspapers continues to plummet, and the current generation of print newspaper readers is not being replaced. We believe that most major U. S. daily newspapers as we know them today as print editions will be gone in five years; eventually the only print newspapers that will survive will be at the extremes of the medium -- the largest and the smallest. We expect at least four major newspapers with global reach to continue to publish daily print editions: The New York Times, USA Today, the Washington Post, and the Wall Street Journal."
Allen Neuharth, the founder of USA Today, a fellow South Dakotan, and Rupert Murdoch, owner of the Wall Street Journal can relax and LOL; they beat the digital age.
And until Native America catches up with the mainstream media, newspapers like the Native Sun News will still have a niche in America.
In 1990 Jim Amoss had no way of knowing this and in the space of 21 years he saw the industry he hitched his star to dwindle and blink. But I think he would have really enjoyed his Nieman year at Harvard. I know that I will never forget the Nieman Fellow friends I made back then because they are still my special friends and it would have been great to include Mr. Amoss in this circle.
(Tim Giago, an Oglala Lakota, is President of Unity South Dakota. He was a Nieman Fellow at Harvard with the Class of 1991. His weekly column won the H. L. Mencken Award in 1985. He was the founder of The Lakota Times, Indian Country Today, Lakota Journal and Native Sun News. He can be reached at UnitySoDak1@knology.net)
Calling all HuffPost superfans!
Sign up for membership to become a founding member and help shape HuffPost's next chapter