On Wednesday, "19 Kids and Counting" stars Jim Bob and Michelle Duggar broke their silence for the first time since their oldest son Josh admitted that he molested five underage girls, including his sisters Jessa and Jill. The Duggar parents additionally admitted to keeping the matter from police.
In an two-part interview with Fox News' Megyn Kelly, the first of which aired Wednesday night, the conservative Christians, who follow the Quiverfull movement, explained how they responded when their son first confessed to them.
"There so much grief in our hearts. I think, as parents, we felt, 'We're failures,'" Michelle said. "We've tried to raise our kids to do what's right – to know what's right – and yet one of our children made some really bad choices and I think, as a parent, just, we were devastated."
Jim Bob told Kelly that Josh came to them saying he was "curious" about girls, and had touched them over their clothes while they slept.
The Duggar family patriarch noted that none of the girls were aware of what had been done to them. But the touching and curiosity was not an isolated incident.
"After that third time he came to us is where we really felt like, we have done everything we can as parents…We need to get help," Jim Bob said, adding that their solution was to send Josh to Little Rock, Arkansas to do construction work with a family friend, who was not a licensed counselor.
Jim Bob also noted that, "As parents you aren't mandatory reporters." He pressed that Josh "was still a kid and he was still a juvenile. He wasn't an adult...This wasn't rape or anything like that. This was touching over the clothes."
Both parents admitted they felt guilty after learning Josh's behavior continued, but "the truth is that kids will make their own choices," Jim Bob said.
The Duggars claimed that all their children received professional counseling, including Josh, who Michelle said paid for his own treatment.
When asked if they were worried the treatment didn't work, Jim Bob said, "Josh is a changed person."
Michelle also revealed the family now has "safe guards" in place, including not letting the boys babysit, not letting younger ones sit on older boys' laps, and not playing hide and go seek.
The Duggars attempted to turn things around, claiming that the real injustice is that police records were allegedly illegally obtained, and Josh's sealed juvenile records were exposed.
In Touch, the magazine that broke the story and published the police reports, has repeatedly stated it obtained information through the Freedom of Information Act. Despite this, Jim Bob told Kelly he's talking to lawyers about possibly suing a woman who allegedly leaked the report to the magazine.
And while the names of Josh's familial victims had never been publicly identified, their identities were never a secret to anyone who could do the math.
Sisters Jessa Seewald, 22, and Jill Dillard, 24, (née Duggar) also broke their silence, confirming they were two of the minors whom Josh molested -- though those aren't the term they're using.
"I do want to speak up in his defense against people who are calling him a child molester or a pedophile or a rapist, some people are saying," Jessa told Kelly in an interview that will air on Friday . "I'm like, 'That is so overboard and a lie really.' I mean people get mad at me for saying that, but I can say this because I was one of the victims."
Jessa did, however, call her brother's actions "very wrong."
Because the statute of limitation on this case has expired, Josh can no longer be prosecuted despite his recent confession.
However, In Touch has obtained a new police report from the Washington County Sheriff's Office that states Josh told his father on three separate occasions that he performed sexual acts on four of his younger sisters and a family friend. The document, which isn't as heavily redacted as previous ones, makes it clear that Josh was 15 at the time he abused a 5-year-old girl and committed at least seven acts of molestation.
The Duggars' decision to give Fox News their first interview isn't surprising, given that the network largely ignored the story the week it first broke. According to Media Matters, Fox News spent less than two minutes covering the Duggar molestation story between May 21 and May 25, compared to almost an hour of coverage from CNN and MSNBC.
Additionally, Kelly slammed media coverage surrounding the family on Monday, asking why so little attention has been paid to the fact that police records of someone, who was at the time a teenager, were released to In Touch.
"Josh Duggar's private, personal, sealed records have been improperly released. It doesn't excuse any of his behavior," Kelly said. "It's one thing if the Duggars want to talk about it … [but] the media didn't even pause. And there is a question about why they were so excited to feast on this carcass."
"The Kelly File" will sit down with Jill Dillard and Jessa Seewald again on Friday night at 9 p.m. Watch part one of the interview above.

Before You Go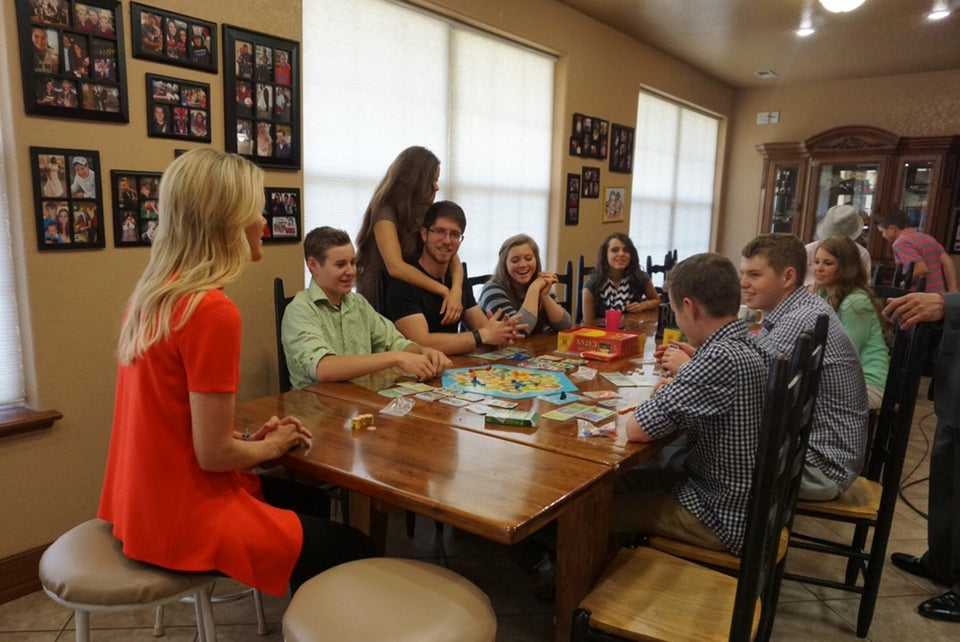 Photos Of The Duggar Family
Popular in the Community