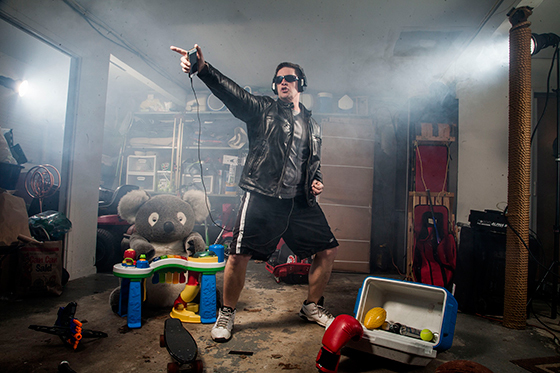 (Photo Credit: Nathaniel Shannon)
We've long known comedian Jim Breuer from his days at Saturday Night Live and his hilarious role in the movie Half Baked, but he's much more than just "Goat Boy" or his Joe Pesci impression. Breuer has forever been a metalhead, growing up on heavy metal bands like Judas Priest, AC/DC, and Iron Maiden. So much so that this music element has made its way into his comedy, most notably with his Comedy Central special Hardcore in 2002.
Recently, Jim Breuer finally accomplished something he's wanted to do since the late 1990s, release a full on hard rock music album. With the release of Songs From The Garage on Metal Blade Records, Breuer fulfilled this dream of his and I was able to chat with Breuer after his set with his band The Loud & Rowdy at Chicago Open Air about his journey in making this music album, his musical influences, and how that ties into his comedy.
You've long had this mix of heavy metal with your comedy at times, like your special Hardcore all the way to your new album Songs From The Garage. We know what your influences are, but what was your earliest memory of music?
My mom worked every day and my dad also, so they would trot me off to what they call now a nanny, a babysitter. The only station my dad would play was country. The first real two songs that I ever really remember was Glen Campbell "Like A Rhinestone Cowboy" and the other one was "Take This Job an' Shove It". It was Johnny Paycheck. But then after that, it was Sha Na Na, and then Johnny Cash. It just kept getting a little better as I got older (laughs).
Going back to your Hardcore special, you had that hilarious AC/DC "Hokey Pokey" bit. Did AC/DC ever give you their thoughts on that?
Brian Johnson did. Brian called me and he hunted me down and he said (in a Brian Johnson voice), "Yo Jim. I saw you doing the 'Hokey Pokey' and I'm coming for you my son." He actually asked me to do a charity event for him for his wife. That's how we started to get to know each other. So if it wasn't for me doing the "Hokey Pokey", I'd probably wouldn't have it him now on the record with that "Mr. Rock-N-Roll" song.
Speaking of the new record, how did that idea original come about to do a full-length music album?
I always wanted to do it, but I just didn't have the confidence. A comedian making a record is always like "OH GOD! What is this?!?! This is corny! What you singing about? Farting?" I always wanted to do this and I've been trying since 1999 pretty much, maybe even earlier. Not until I got the confidence was I able to do it. That confidence started around 2010. I had a radio show and I would get to sing "The Devil's Child" with Rob Halford and some songs with Sebastian Bach, and did some stuff with Metallica, but I was still know as "Hey! It's the goofy, funny guy who likes metal and does metal comedy here and there." But James Hetfield would talk about fear and what's the big deal with failure. He had no clue he was indirectly talking to me. Then it was Brian Johnson, who was like (in a Brian Johnson voice) "Jim ya know? Just for shits and giggles you should try singing me son. You got some serious pipes in ya." Once I got the band set, I knew I wanted to do this. I don't think anyone has ever pulled it off as a comic to make a full blown record where its not a comedy album. There's songs that got funny niches but there's other songs that like there's nothing funny about the "Unexplained" or "Wannabe". It's a unique style that I've been trying to do forever.
When's the first time you realized you had some pipes to sing?
Oh God! As a kid! I would imitate Halford for hours! My parents would come in the basement like "WHY ARE YOU SCREAMING!?!" I'm like "I'm doing Rob Halford! SCREEEEEEAMING FOR VENGEANCE! What? What's going on? Rob Halford! He's metal!" So I would imitate him. I would imitate Iron Maiden. I would imitate anyone. I knew since high school I had pipes, but I just, again, didn't know how to play it and I didn't have the confidence to do it.
On the Hardcore special, you had a band with you. How did that idea come about?
Again, with the album, I started in 1995 putting a band together when I was at Saturday Night Live and I did a character called Gunner Olsen, which was the "Heavy Metal News". That was my way of letting everyone know (in a heavy metal voice) "Hey guys! Just want to let you know that I'm into metal and I can sing and you're going to see it in the future!" In 1999, I did a special and had a band. It was called Heavy Metal Comedy. I had no right doing a special. I didn't do stand up for like four months. I was shooting really B-movies and put this band together, and we just really improv'd. We filmed the thing. I toured after that until like 2004-2005 with a band and that's where the Hardcore thing came from.
We all know about a lot of your character and impersonation like Joe Pesci, but you have all these great stereotypical stoner, wasted guys and metalheads. Do you base these characters off of people you actually know?
The stoner in Half Baked. I'm not a typical stoner. I don't listen to Grateful Dead. I can't listen to songs that are an hour and half long. I'm a headbanger, so it puts me to sleep or its great when I'm barbequing. So when I got Half Baked, I had a voice. (In his Half Baked character voice) "I had this voice, man!" I didn't know what the character was. My niece was into the Grateful Dead and I watched three VHS tapes of documentaries. On the last documentary, this guy was going through a security line and he had a flower in his hair and he was dancing and he was all happy. Even when he came up to security, they were frisking him. He just kept dancing. He was happy. I was like that's the guy. I'm going to be that freakin' guy! The metal guys are pretty much me as a kid. That was all me.
Music and comedy does cross paths at times. What do you think they both have in common from a performance standpoint?
It's a specific crowd. It's a little nerdy. When I would do strand up, I would talk about the bands I'm into and I could tell who the metalheads were. It would be like 5% of the people going "YEAAAAAAAAH!" and the rest going (in old squirrely person's voice) "I have no clue what he's talking about. What is an Iron Maiden? Isn't that English history?" I think we all share a common thing that it's a club. It's something we're all into. I think most metalheads consider themselves anti-pop, we're anti- the whole cultural Hollywood nonsense, fake scene. We're all so nerdy and can relate. It's just like any other gang or society.
You're currently doing a stand up tour also, what are you talking about during our set?
It's all kind of new. I don't follow politics, but I talk about people's reactions to politics. I talk about raising my teenage girls. I talk about what I think of society, news, and what it's like turning 40 and over, and my body and facing death, and lining up people to wiped my ass in the next thirty years. It's just where I'm at in life. I'm almost 50, so whatever a 50 year old is going through.
Jim Breuer is set continuing on his Marriage Warrior comedy tour and will be landing at the Royal Oak Music Theatre in Royal Oak, Michigan on Saturday, August 6th. His full-length music album "Songs From The Garage" is available now. For more information, visit officialjimbreuer.com.
Calling all HuffPost superfans!
Sign up for membership to become a founding member and help shape HuffPost's next chapter