Appearing before the Senate Committee on Commerce, Science and Transportation, Rep. Jim Bridenstine (R-Okla.) said he believes that the climate is changing and that human activity plays some role in that. But echoing an argument often made by members of the Trump administration and other Republican lawmakers, Bridenstine suggested there's still a lot of room for debate about whether that human impact is significant.
"I think right now we're just scratching the surface as to the entire system of the Earth," he said.
Asked by Sen. Brian Schatz (D-Hawaii) if he believes humans are the primary cause of climate change, Bridenstine said, "It's going to depend on a whole lot of factors, and we're still learning more about that every day."
"In some years, you could say, 'Absolutely,'" he added. "In other years, you know, during sun cycles and other things, there are other contributing factors that would have maybe more of an impact."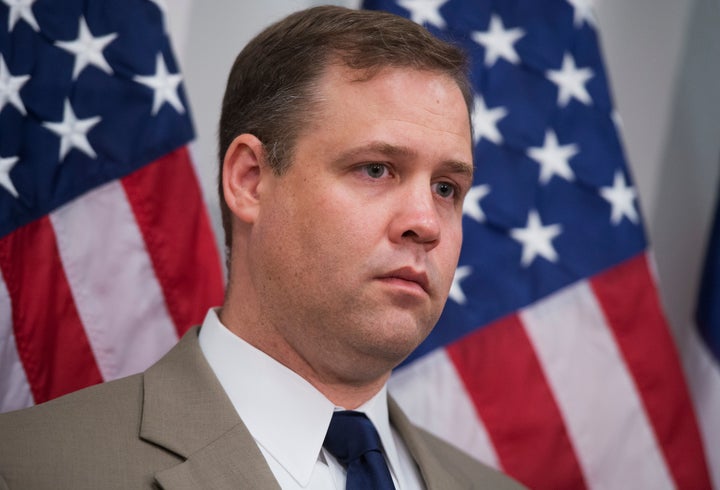 Bridenstine was tapped by Trump to be NASA administrator in early September, despite having no formal background in science or engineering ― although he is a Navy Reserve pilot and once served as executive director of the Air and Space Museum & Planetarium in Tulsa, Oklahoma. The nomination drew swift backlash from environmentalists and scientists, as well as politicians on both sides of the aisle.
At the time, Sen. Marco Rubio (R-Fla.) told Politico that he worried about Bridenstine's "political baggage" and said his nomination "could be devastating for the space program."
On Wednesday, Sen. Bill Nelson (D-Fla.) called Bridenstine's past statements on climate change "troubling," noting that they contradict more moderate remarks the congressman has rolled out recently.
In a June 2013 speech, for example, Bridenstine pushed a debunked argument made by climate change deniers, claiming that global temperatures "stopped rising 10 years ago." He said "the people of Oklahoma are ready to accept" an apology from then-President Barack Obama for what Bridenstine called a "gross misallocation" of funds for climate change research instead of weather forecasting.
At the confirmation hearing, Sen. Tom Udall (D-N.M.) pressed him about the near-universal scientific consensus on what's causing climate change. Bridenstine seemed to waver in response. "I would agree with that," he said of Udall's summary. And he vowed to allow science to drive NASA's mission and to protect agency research from political interference.
Several Republicans defended the nominee against the Democrats' line of questioning on climate change.
Even though Bridenstine has been picked to lead one of the world's top authorities on climate science, Sen. Jim Inhofe (R-Okla.) complained that "you can't have a hearing anymore without everyone bringing up global warming." Inhofe, who is one of Congress' most outspoken climate change deniers, said his fellow Oklahoman would be "the very best administrator" of NASA.
Sen. Roger Wicker (R-Miss.) said the climate has been changing for "millions and millions of years," and only in the last few decades have humans "had the audacity to think that we are so important that we are causing that climate change, and some other reason has just vanished from the universe." As for scientific consensus, Wicker said, "it hasn't always been right."
Denial of climate science wasn't the only part of Bridenstine's record that Democrats homed in on Wednesday. Nelson skewered the nominee for "attacking" GOP lawmakers who have reached across the aisle to work with Democrats, including Rubio and former House Speaker John Boehner (R-Ohio).
"Unity is so important in NASA," Nelson said. "Your record and your behavior in Congress has been divisive, and it's been as extreme as any that we have seen in Washington."
Democrats also voiced concern about Bridenstine's history of opposing equal rights for same-sex couples. In 2013, he suggested LGBTQ people are sexually immoral. Later, he called the Supreme Court's marriage equality ruling "a disappointment."
Sen. Cory Booker (D-N.J.) told Bridenstine that the job of NASA administrator is about "inspiration" and "elevating the possibility of all human beings." It is "critically important," Booker said, that the person holding that post is "not seen as someone who stands in judgment of people because of who they are."
Bridenstine said he believes all people "have value and worth."
"The views I have about sexual morality are my personal views," he said, adding that if confirmed he would work to make sure that every NASA employee had an opportunity to succeed based solely on the merits of their work.
Some Republicans, including Sens. Cory Gardner (Colo.) and Ted Cruz (Texas), expressed outrage that their Democratic colleagues would even challenge the nominee. Cruz described Bridenstine as a "man of deep character and integrity" and apologized for the committee's "sorry performance." Gardner called Democrats' focus on Bridenstine's past "a little bit disgusting."
In his opening statement, the nominee laid out a vision of how he would run the space agency. He spoke of developing a science-driven consensus agenda that allowed for deep space exploration. He said he supports the Trump administration's goal of putting humans on Mars, with the moon serving as a "probing ground."
"NASA is at a critical time in its history. Humanity is ready to go to deep space for the first time in 45 years," Bridenstine said. "Should I be confirmed, it will be my intention to build off the work done by the great people at NASA during the last administration."
Popular in the Community