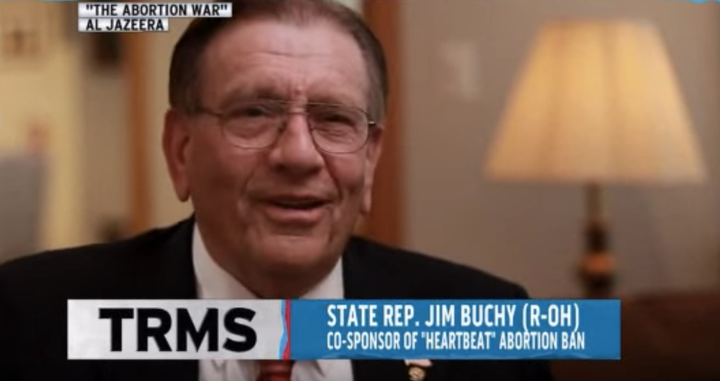 This week, Ohio legislators passed one of the most extreme anti-abortion laws in the country. If Gov. John Kasich signs the bill into law, it would ban abortion whenever a fetal heartbeat is detected ― which can occur as early as six weeks into pregnancy. The measure does not include any exceptions for rape or incest, and many women do not even know they are pregnant until more than six weeks into a pregnancy.
The effect would be a draconian restriction on the ability of Ohio women to have abortions ― an act that would have far-reaching consequences for many women. But one of the bill's strongest proponents has "never even thought about" why women might want to get abortions in the first place.
Rep. Jim Buchy, a Republican member of the Ohio House of Representatives, is a staunch anti-abortion advocate. According to NPR, he argued that the Ohio legislature needed to pass the Heartbeat Bill in order "to give people the incentive to be more responsible." One would assume (hope?) that Buchy has given the issue of abortion a lot of careful thought.
During an interview with Al Jazeera for the 2012 documentary "The Abortion War," which was resurfaced by Rachel Maddow this week, Buchy was asked: "What do you think makes a woman want to have an abortion?"
His response was both depressing and eye-opening:
"Well, there's probably a lot of reas— I'm not a woman," he says, chuckling. "I'm thinking now if I'm a woman why would I want to get... Some of it has to do with economics. A lot of it has to do with economics. I don't know. I've never ― It's a question I've never even thought about."
There is a particular callousness in the admission that despite spending a considerable amount of time and energy advocating against access to a medical procedure which you will never need, you have never thought about what might motivate someone to seek it out. 
Though women's right to access abortion care has been legally protected on a federal level in the United States since Roe v. Wade in 1973, over the last five years, anti-abortion advocates have successfully passed hundreds of state-level measures meant to chip away at that right. And in the wake of Donald Trump's election, anti-abortion advocates have been very clear that they feel the tide has turned in their favor.
Clarification: Language has been changed to reflect more accurately the point in a pregnancy when a heartbeat is detectable.
Calling all HuffPost superfans!
Sign up for membership to become a founding member and help shape HuffPost's next chapter
BEFORE YOU GO
PHOTO GALLERY
Myths About Abortion That Need To Be Busted