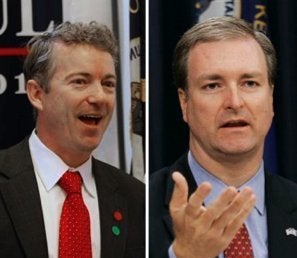 While Senate Democrats -- and even some Republicans -- seem to have grown tired of Sen. Jim Bunning's (R-Ky.) obstructionist tactics, the GOP candidates who are vying for the retiring Senator's seat came out Tuesday in support of Bunning.
"Jim Bunning is being unfairly attacked for saying we should spend money already set aside for benefits rather than borrowing more. He deserves our support and he is going to get it," candidate Rand Paul, son of Texas Rep. Ron Paul (R-Tx.) said in a statement.
"I would proudly stand up to ensure that programs are paid for and think that this is further evidence of mismanagement of the Senate by Harry Reid. If we had not wasted time debating and passing a pet bill for Reid, we would not have been in the situation that led to the delay. I agree with Senators Bunning and McConnell that the government has a responsibility to pay for its programs and a good place to start would be to cut funding from the stimulus in order to pay for the extension of unemployment benefits. If the stimulus had created jobs as promised, then we would not need more unemployment insurance."
Even Kentucky's Tea Party candidate, Bill Johnson, weighed in with his interpretation of why Bunning's actions are justified:
"I support Senator Jim Bunning. Frankly, unemployment benefits are currently 99 weeks or almost two years. While I support extending the benefits for a short period of time longer, we must find a way to pay for those benefits. I do not support extending unemployment benefits beyond two years. Even Germany limits unemployment benefits to one year. Benefits here in America are exceeding those offered in the most liberal countries of Europe. Two years of government support is not a safety net. It is an entitlement program. I am tired of paying for entitlement programs that continue well beyond a compassionate need."
The Louisville Tea Party points out that Bunning's original suggestion was to use stimulus funds to cover the extension of benefits, an alternative that they prefer over creating a separate $10 billion project.

Calling all HuffPost superfans!
Sign up for membership to become a founding member and help shape HuffPost's next chapter