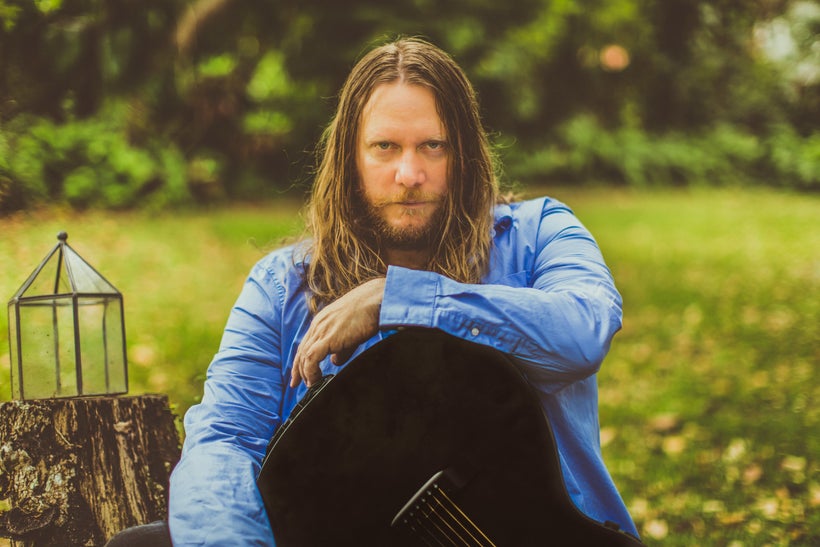 They say a Renaissance Man is very hard to find these days. Good at a variety of things, the Renaissance Man gets along with almost everyone and is full of respect for himself and the others around him. That sounds alot like Jim Camacho. Jim Camacho is a songwriter. He is a singer, musician and producer. He is a playwright, actor and sound designer. He hosts a video series and he writes songs for other artists to perform.
A Miami native, he began by co-founding and leading the standout group The Goods, which was active during the 1990s. They worked with legendary producer Tom Dowd, won the prestigious "Album of the Year" Florida Jammy award and topped the Billboard Florida Radio & Record charts with their single "I'm Not Average." Since that time he has been pursuing a career as a solo artist.
Camacho just released his latest song "Hit Me I'll Hit You Back," featuring vocals and the rockin' guitar of Charlie Pickett, as a single and live performance video. The single is backed by a cover of the Flamin' Groovies "Shake Some Action" and also features Pickett. The two artists have worked together over the years and have a great respect for each other's skills.
"The single is a song from a musical I wrote a few years back... maybe 10 years ago where Elvis saves the world and sings that song. If you're doing a musical in Miami and you need an "Elvis" to save the world ... there's no better choice than the unstoppable Charlie Pickett! I've known Charlie since I was just starting out in the Florida music scene. He was, and is, a legendary figure... An authentic rock n roll force."
Seeing Charlie Pickett live is a powerful experience... it's a rock n roll event. Even to this day when he plays he puts on a clinic on how to entertain a crowd with Rock Power and an everyday charm. Once Charlie agreed to do the single with Camacho, he wanted to capture that moment in time with a video that would show Charlie in his Natural habitat... in front of an audience at a rock club complete with beer lights. So they asked a cool dive bar / rock club in Ft. Lauderdale called the PoorHouse and they were good enough to have us. The video was directed by the amazing Juan Davila.
Jim will be releasing a new 6 song original EP soon along with his brother and former bandmate John. Joining him on the recording are his many longtime friends including Tony Ohms (The Goods), Diane Ward, Fernando Perdomo, Charlie Pickett, Mike Vullo and Fritz Dorigo.
Among Jim's biggest project is the January 22nd Season launch of the 5 segment series "Adventures in Songwriting." In each segment, Jim works with an artist or group to create a new song. It studies the very essence and development of composing a song. The ins and outs inherent in the process. This first season includes work with Charlie Pickett, Ex Norwegian, Elsten Torres, Fernando Perdomo and Rob Elba. He will also release an EP of all the songs.
Additionally Jim has written and co-written numerous other songs that have just been released or will soon be released by a number of other artists. These include: Johnny Reid "Blank Page" (This album is currently #2 on the Canadian charts), Jason Morton and the Chesapeake Sons "One More Night"; Ana Cristina Cash "Renegade Rose"; and Ilona "Love's Out The Window". The man doesn't know how to stop. Jim's creativity and work ethic keep churning out a cornucopia of wonderful new projects that delight and entertain those who are touched by it. Jim Camacho is truly South Florida's Musical Renaissance Man!
Calling all HuffPost superfans!
Sign up for membership to become a founding member and help shape HuffPost's next chapter
This post was published on the now-closed HuffPost Contributor platform. Contributors control their own work and posted freely to our site. If you need to flag this entry as abusive,
send us an email
.