Jim Carrey is taking a seat alongside Bob Costas, Stephen King and others who have lately invited the wrath of the gun lobby.
The comedic actor tweeted on Saturday:
This, of course, did not go over well with those who fear Obama himself will at any minute walk through their front door and take away their guns (except the ones they use for skeet shooting).
Fox Nation referred to the comment as "nasty", while conservative blog WND noted, "'Dumb and Dumber' doesn't begin to cover this one."
Red Alert Politics writer Erin Brown wrote about it at length, decrying the tweet as a "careless remark ... rooted in the shallow, parroted talking points so commonly espoused by liberal elites." She went on to lament the popularity of Carrey's statement: "Sadly, his divisive comment has received more than 3,400 retweets and more than 1,600 'favorites' as of this printing, proving once again that the power wielded by Hollywood celebrities carries a very real influence."
Yes, truly, the power of celebrity is indeed baffling:
What do you think about Jim Carrey's tweet? Weigh in on our poll below and let us know your thoughts in the comments.
Before You Go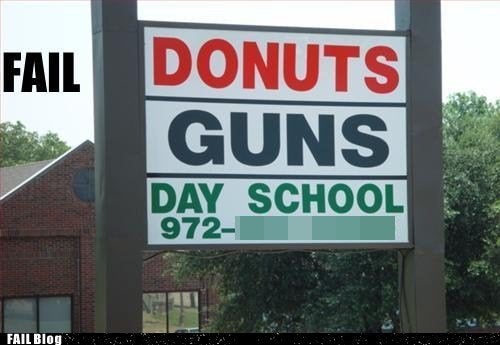 Places That Also Sell Guns
Popular in the Community