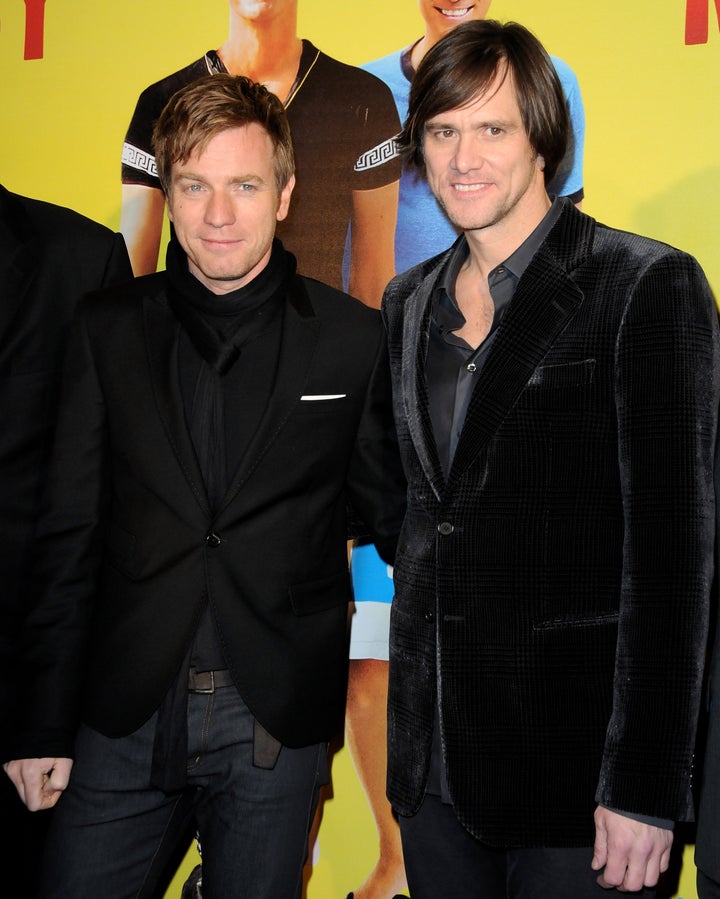 Maybe they should call it, 'I Love You Ewan McGregor.' Jim Carrey, star of the new film, 'I Love You Phillip Morris," talked to Parade Magazine about his on-screen jailhouse love with co-star Ewan McGregor.
"A dream come true. I mean, look at the guy. I have to say, he is a great kisser," the 49-year old star said. "As Ewan said, 'When you're kissing another guy it can get a little prickly.' Actually, you had to put out of your mind your own sexual preference and just try to understand that you were loving another person who just happens to be a guy. It wasn't about male or female, love is love."
Carrey, who stars as real life criminal Steven Russell, fell in love with the quirky project from the start.
"There are very few scripts that I would come across that I would pay to do and this was one of them. I didn't mind taking a big salary cut," Carrey told the magazine. "I'm here to do extreme and interesting things. I liked the guy I played and I hated him. But the one thing that always stayed with me was the idea that he was relentless about love, and all of us understand that. I'm a desperate man myself."
'I Love You Philip Morris' hits theaters on Friday. Watch a trailer for the movie below.
WATCH
:
REAL LIFE. REAL NEWS. REAL VOICES.
Help us tell more of the stories that matter from voices that too often remain unheard.