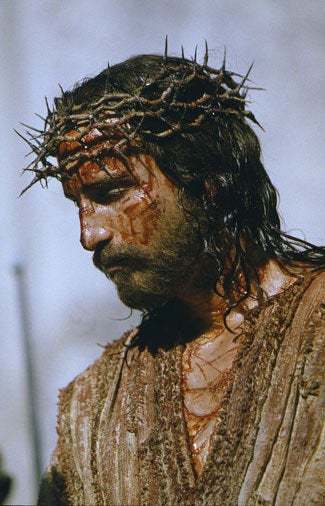 The man who played Jesus Christ in Mel Gibson's much criticized "Passion of the Christ," says the role has been his "cross to bear," and that Hollywood has shunned him ever since making the film.
"He said, 'You'll never work in this town again,'" Caviezel remembered. "I told him, 'We all have to embrace our crosses.'"
"The next day, he said, 'I want you to be aware of what you are going to go through. You may never work again.' He said that several times publicly. I told him, 'Mel, this is what I believe. We all have a cross to carry. I have to carry my own cross. If we don't carry our crosses, we are going to be crushed under the weight of it. So let's go and do it.' And we began with the film.
The filmmaker proved prophetic; the film was slammed for perceived anti-semitism, and roles have been hard to come by, as Caviezel says he was "rejected by [his] own industry."
Following "Passion," he starred in the small thriller "Unknown," had a supporting role in the Denzel Washington film "Deja Vu," and headlined absolute bombs "Outlander," and "The Stoning of Soraya M."
Still, he seems to have no regrets. "We have to give up our names, our reputations, our lives to speak the truth," Caviezel reasoned to the audience.
In the 700 Club interview, Caviezel gave more insight into his reasons for doing the film.
"I felt like a great presence came within me at times when we were filming," he said. "This prayer that came from me was, 'I don't want people to see me. I just want them to see Jesus. And through that conversions will happen.' That's what I wanted more than anything, that people would have a visceral effect to finally make a decision whether to follow Him or not."
Popular in the Community