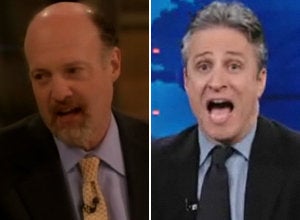 Jim Cramer appeared on "The Martha Stewart Show" this morning and divulged that he's nervous to face-off with Jon Stewart on "The Daily Show" tonight — and that Stewart's attacks have especially hurt him as he considers Stewart an "idol."
"He's killing me!" Cramer said of Stewart. "My kids only know I have a show 'cause Jon Stewart's been skewering me."
"I thought you were going on tonight," Martha said.
"I am, and I'm a little nervous," Cramer said. "How bad is it gonna be? Is he gonna kill me?"
"You should be nervous," Martha told him. "He's fast as lightning!"
"Oh I'm not, I'm slow as molasses," Cramer replied, leading Martha to suggest that he brings a banana cream pie to "The Daily Show" as a peace offering.
Cramer then explained why he's been so affected by Stewart's critiques:
The reason why it's been so hard for me, the attacks, is that early on I patterned my show off of his, which is that you can do an entertainment business show. And then suddenly to be attacked by a guy that's your idol makes it difficult.
Later in the show, Martha invited Cramer to pound out pie dough as though he was beating Jon Stewart.
"Can I do this til I'm on his show?" Cramer asked, banging away at the dough.
"No, you cannot do that. No violence," Martha said.
Send us tips! Write us at tv@huffingtonpost.com if you see any newsworthy or notable TV moments. Read more about our media monitoring project here and click here to join the Media Monitors team.
Related
Popular in the Community