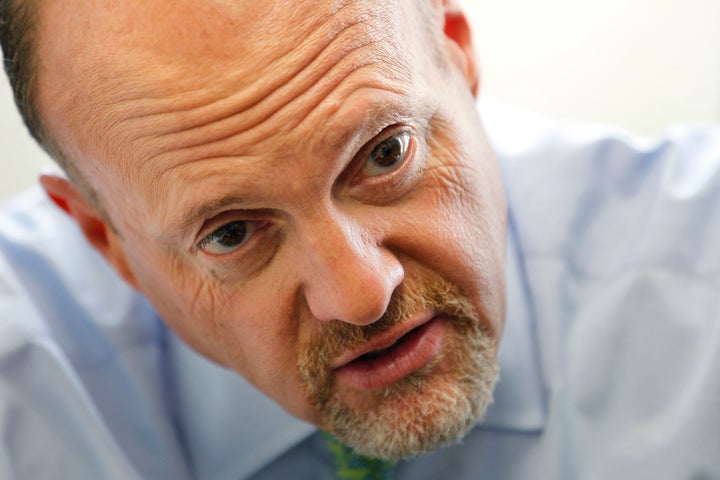 Jim Cramer, the host of CNBC's Mad Money and a former hedge fund manager, is never one for biting his tongue.
But in a profile in New York Times magazine, Cramer says he wished he'd been more outspoken to one particularly famous critic. In the profile, Cramer discusses that now famous exchange with the Daily Show's Jon Stewart:
Over two years later, thoughts of the interview continue to get a rise out of Cramer. "The old me would have hit Stewart with a chair. I'm proud I didn't do that. I controlled myself. But maybe I shouldn't have. Maybe I should have taken the gloves off," Cramer says, according to The New York Times. "When Stewart talked about how his 75-year-old mother lost money in the market, I could have said: 'Hey, your brother Larry Leibowitz is one of the heads of the New York Stock Exchange. Why didn't he give your mom advice?"
Cramer expressed additional frustration about Stewart had pegged him as the representative of financial crisis. From the NYT profile:
"'They wanted to make me the Face of the Era, and they succeeded. Rick Santelli's a conservative. Ideological. O.K., I get that. But me? I was very anti-Bush. I'm a Democrat, I've got the canceled checks to prove it, and suddenly I'm the enemy? Me? Me?'"
Early Friday, Cramer came to his own defense again, via Twitter. Check out his tweets below:
"[S]o chill and elevate your game. Be a Yankee."
Below are Cramer's tweets directed at various online critics: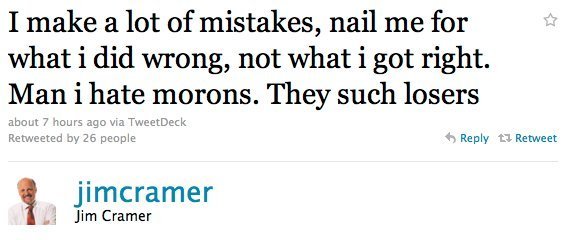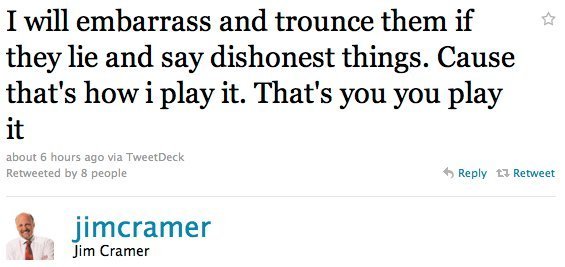 Calling all HuffPost superfans!
Sign up for membership to become a founding member and help shape HuffPost's next chapter