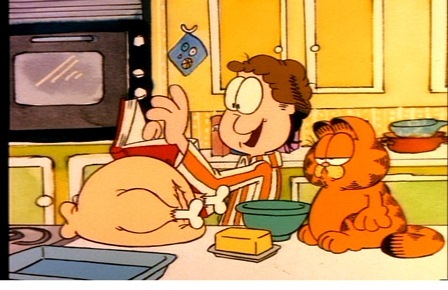 Cartoonist Jim Davis is the man behind lasagna-loving, Monday-hating Garfield the cat, who lives with his long-suffering owner, Jon, and fellow pet and perennial crossword puzzle clue, Odie the dog. "Garfield" is the world's most widely syndicated comic strip, with dozens of record-breaking best-selling books, plus award-winning animated television series and specials and more than 400 licensed products including everything from toys, games, backpacks, and costumes to bedding, credit cards, and diapers. This week, Garfield's Holiday Collection has a new DVD release. It includes the special Davis calls "the most 'Garfield,' in that it involves food." It is the Thanksgiving show, a special challenge because the holiday feast arrives just as Garfield goes on a diet.
In an interview, Davis talked about the comic strips he loved as a kid growing up on a farm in the midwest. He loved Milton Caniff's Steve Canyon, especially the Dragon Lady. And "I was a big fan of Peanuts and Beetle Bailey, Hi and Lois, eventually B.C. and Wizard of Oz and also Pogo. That one, I never understood it but I'd love looking at the pictures, the artwork by Walt Kelly."
Davis enjoys producing Garfield in all forms of media, but "what gets me out every day is the comic strip. That's what I do best and I love it. It is so much fun to do because it is really positive just sitting and thinking of funny stuff and then trying to draw a really funny picture. Here I am a grown man, still it is so much fun." But he has very fond memories of working on the specials as well, especially because they were done before computer animation, "the old-fashioned way," each one taking about eight months to animate. "They are just wonderful stories and I enjoy the memories of that time and the kind of faith that I think the network and producers and everyone had in our operation as far as being able to do the scripts and direct voice tracks and do the storyboards."
Lorenzo Music provided the voice for Garfield. "He had a way of throwing a line away and not really caring about it. Everything was said with such comedic timing and made you laugh. That's very rare. Especially back in the day when comedians were pretty much over the top, pretty much stand up kind of timing and stuff like that. He was really a departure, and he captured the spirit of Garfield so perfectly."
Like Garfield, Davis is a fan of lasagne. "Yeah, I love lasagne. I thought it would be funny to have a cat who likes lasagne but as it turns out, I hear from people all the time that their cats love lasagne." And he confessed that even though Jon loves Odie, too, Garfield is his favorite "because of the depth of their relationship. He confides in Garfield so much. and I think Jon may have a little masochistic problem. He enjoys the abuse that Garfield heaps up."
I have always wondered why Garfield hates Mondays when every day is pretty much the same for him, but Davis had the answer. "Garfield does not have a job, Garfield does not go to school and every day is the same. Nevertheless every Monday is just a reminder that his life is the same old, same old cycling again and for some reason even though his life is pretty much the same every day on Mondays specifically, awful things tend to happen to him physically."
Garfield's widespread appeal is as a sort of feline everyman who experiences what we do but says what we do not. "The very first products done had lines like I Hate Mondays, I'd Like Mondays Better If It Started Later, and things people did not want to say themselves but they would let Garfield say it for them. It is the attitude that people gravitate to because he is such a great escape for that."
Garfield is also there to let us know that he is on our side. "We live in a time where we are made to feel guilty for not exercising and oversleeping and overeating, but Garfield's cool with that. He likes it all and he is not apologetic about it. He just lays it out there the way it is. I think that is what people really appreciate about him because he kind of holds the mirror back to the reader. He throws it back with a humorous twist."
Popular in the Community