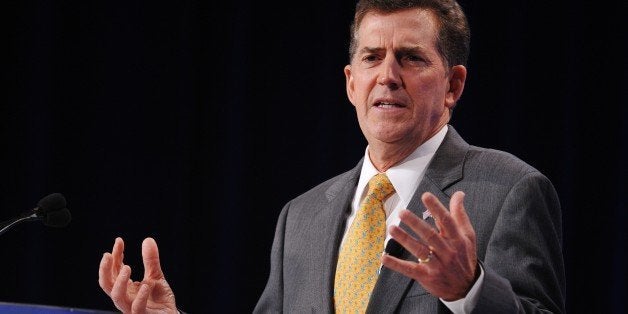 WASHINGTON -- Congress is out of session, but the lobbying struggle over reauthorizing the Export-Import Bank is as hot as ever. On Monday, former Sen. Jim DeMint (R-S.C.) published a scathing op-ed in the Capitol Hill publication Roll Call laying into the bank's president for pushing "socialized capitalism."
"Ex-Im Bank President Fred Hochberg promotes it as 'socialized capitalism,'" DeMint wrote, referring to the bank's financial support for U.S. exports. "But America doesn't get stronger by becoming more socialistic and making businesses dependent on the government."
The trouble for DeMint was that Hochberg never actually said that. By Tuesday afternoon, the phrase had been removed from the article, with a correction appended: "A previous version of this op-ed misquoted Fred Hochberg at the July 29 House Oversight and Government Reform Subcommittee on Economic Growth, Job Creation and Regulatory Affairs."
Ex-Im guarantees cheap loans to foreign companies and governments that want to purchase American goods, effectively lowering the price of U.S. exports. While historically much of the criticism directed at the bank has come from liberals unhappy with its tendency to subsidize large corporations that often don't need the money, tea party Republicans have turned on the bank in recent years, attacking it as a corporate welfare machine. Without congressional action, Ex-Im authorization will expire on Sept. 30.
DeMint left Congress a year and a half ago to run the Heritage Foundation, one of the two toughest Ex-Im critics on the right (the other is the Club for Growth). Heritage has built a strong case against the bank. As DeMint accurately detailed in his op-ed, "Out of $2.2 trillion in American exports last year, less than 2 percent of them benefitted from Ex-Im financing. Of this 2 percent, 75 percent went to help a mere 10 companies, including giants such as Boeing and General Electric, all of which could easily access private financing."
The Ex-Im critics achieved a few promising victories: Rep. Kevin McCarthy (R-Calif.) flipped his position and began opposing reauthorization after being elected House majority leader in June. But now some Ex-Im critics worry their momentum has been stunted amid near-unanimous support for the bank from Democrats and corporate lobbyists. And DeMint's "socialized capitalism" mistake shows him overreaching to deploy new critiques.

DeMint didn't just misquote Hochberg; he took his words out of context. Hochberg wasn't endorsing socialism; he was justifying Ex-Im's work as a government initiative to maintain American corporate competitiveness with countries that have far greater levels of government-directed business. Here's what he actually said at the hearing:
"We have partly accepted the world we live in. We live in a world where there are state-directed capitalism at many, many countries. China is one, but it's not the only one. We want to make sure that when American companies are competing ... if they [are] competing against China Inc. or Korea Inc. or Russia Inc. and so forth -- sometimes those companies are backed by those governments -- we want to make sure if, only if our financing is needed to level the playing field, that we step in. We only step in [on] those rare occasions when we needed it too."
Hochberg's basic point was not new. Many of Ex-Im's more sophisticated defenders view the bank as a necessary evil.
House Financial Services Committee Chairman Jeb Hensarling (R-Texas) does not agree, pushing back against that argument in May. "I'm not interested in engaging in a taxpayer-funded subsidy arms race with the rest of the world," Hensarling said.
In the meantime, Democrats hope that driving a wedge between Republicans and major corporations will be good for their own fundraising and make the GOP leadership appear weak and confused before the November elections.
Calling all HuffPost superfans!
Sign up for membership to become a founding member and help shape HuffPost's next chapter
BEFORE YOU GO
PHOTO GALLERY
Curious Campaign Ads