South Carolina Sen. Jim DeMint (R) is leaving Congress to take over as president of the Heritage Foundation, the Wall Street Journal reports.
DeMint, who was reelected to a second term in 2010, will replace Ed Feulner, who had been planning to step down from the top spot at Heritage. Feulner will be named chancellor of Heritage and will continue working part-time as chairman of the foundation's Asian Studies Center.
DeMint had stated he was not planning to seek re-election when his current term was scheduled to end in 2016.
"It's been an honor to serve the people of South Carolina in United States Senate for the past eight years, but now it's time for me to pass the torch to someone else and take on a new role in the fight for America's future.

"I'm leaving the Senate now, but I'm not leaving the fight. I've decided to join The Heritage Foundation at a time when the conservative movement needs strong leadership in the battle of ideas. No organization is better equipped to lead this fight and I believe my experience in public office as well as in the private sector as a business owner will help Heritage become even more effective in the years to come.

"I'm humbled to follow in the footsteps of Ed Feulner, who built the most important conservative institution in the nation. He has been a friend and mentor for years and I am honored to carry on his legacy of fighting for freedom.

"My constituents know that being a Senator was never going to be my career. I came to Congress as a citizen legislator and I've always been determined to leave it as citizen legislator. South Carolina has a deep bench of conservative leaders and I know Governor Haley will select a great replacement.

"One of the most rewarding things I've done in the Senate is work with the grassroots to help elect a new generation of leaders who have the courage to fight for the principles of freedom that make this country so great. I'm confident these senators will continue the legacy of conservative leaders before them."
COLUMBIA, S.C. — Republican U.S. Sen. Jim DeMint is resigning his Senate seat to take the helm of a conservative think tank.

DeMint's Washington office confirmed Thursday that the prominent tea party supporter from South Carolina is stepping down to become president of the Heritage Foundation, effective Jan. 1.

His office said DeMint was too busy to come to the phone.

The 61-year-old Republican was first elected to the Senate in 2004.

Republican Gov. Nikki Haley gets to appoint his successor to the Senate.

His former state director Luke Byars says the new role allows DeMint to affect change outside of the U.S. Capitol.

The political consultant says it's a vehicle for him to push and pull on conservative issues on a national stage to get the attention of people in Washington.
UPDATE -- 11:15 a.m.: CNN's Peter Hamby tweets that DeMint wants Congressman Tim Scott to take over his seat:
UPDATE -- 11:32 a.m.: Feulner praised DeMint's "sterling" "conservative credentials" in an email Thursday.
"It puts my mind at ease to know that Jim's capable hands will take the helm," Feulner writes. "I know Heritage will continue to uphold the same high standards and conservative principles that we have since our founding in 1973."
Read Feulner's full statement below:
Three years ago, I told the Heritage Foundation's Board of Trustees that I would step down as president in April of 2013. I urged them to set up a formal succession process and begin a national search.

During their nationwide search, the Board looked for a successor who would keep Heritage on its course of growth and innovation, and preserve our widely acknowledged status as an institutional center of the conservative movement. And the Board has found a splendid successor.

I'm delighted to announce that the Board has elected Senator Jim DeMint of South Carolina to take over next April as President of The Heritage Foundation.

Jim, who will resign his Senate seat before then, needs little introduction. He has spent most of his life as an entrepreneur, building and running his own marketing firm. In 1998 he won a seat in the House of Representatives and in 2004 was elected to the Senate.

His conservative credentials are sterling. National Journal recently ranked him as the most conservative member of the Senate. Americans for Tax Reform named him the No. 1 senator for his voting record on tax and spending policies. He is a favorite of the Tea Party, and he has earned a tremendous 99% rating from Heritage Action for America.

It puts my mind at ease to know that Jim's capable hands will take the helm. I know Heritage will continue to uphold the same high standards and conservative principles that we have since our founding in 1973.
Before You Go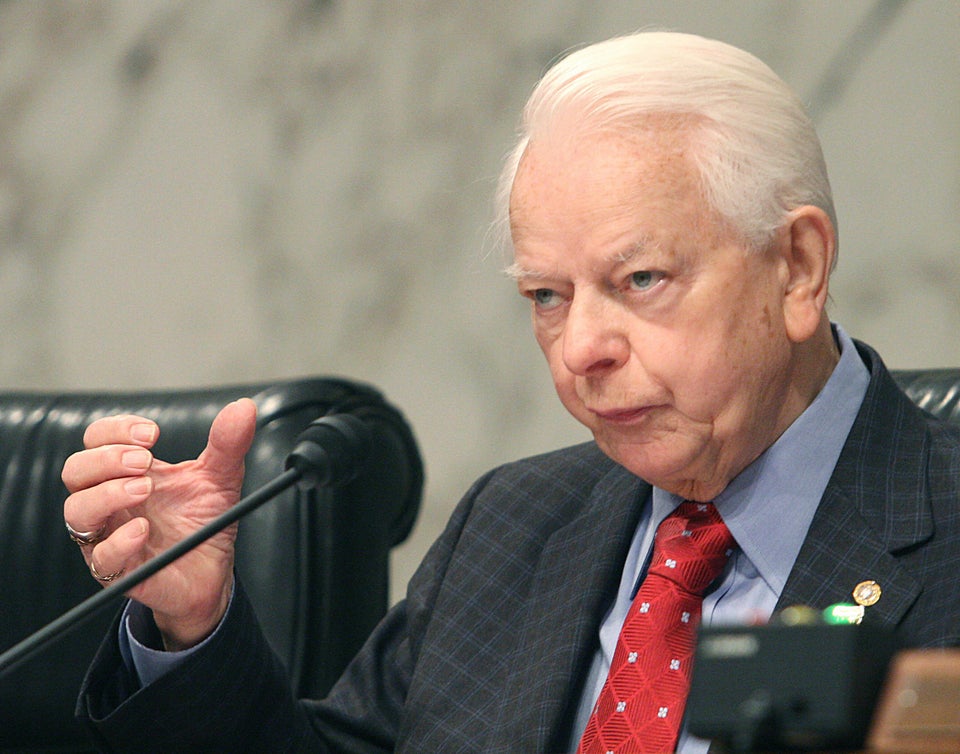 Longest Serving Senators In U.S. History
Popular in the Community