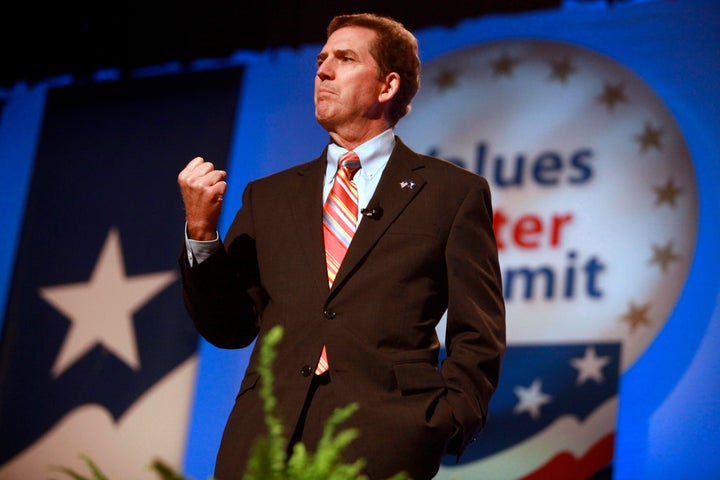 WASHINGTON -- Sen. Jim DeMint's (R-S.C.) resignation from the Senate and appointment to lead the Heritage Foundation jolted Washington on Thursday. It will also likely jump-start the Heritage Foundation into a new role in the conservative universe as the two-term South Carolina senator is known primarily for his hard-charging political style and innovation in political spending -- and not for the kind of research that Heritage has used to make its mark.
The Heritage Foundation is one of the longest-living conservative think tanks in Washington, born out of the efforts of wealthy conservatives and intellectuals to create a counter-establishment mirroring what they viewed as the liberal Brookings Institution and Council on Foreign Relations.
DeMint, on the other hand, is best known for his innovation in using the leadership PAC he founded, Senate Conservatives Fund, to raise and spend money on helping conservatives win primary elections, often against candidates chosen by his party's leaders. This activity is much closer to that of conservative outside groups like the Club for Growth and FreedomWorks.
In an attempt to play down his political persona, DeMint told The Wall Street Journal that he will "protect the integrity of Heritage's research and not politicize the policy component."
"Heritage is not just another grassroots political group," he said.
Still, the marriage of these two can be seen as an update to the counter-establishment model as Heritage moves to compete for space among the politically active conservative groups, such as the Club for Growth, FreedomWorks or Americans for Prosperity, which spent millions in the 2012 election.
Heritage and DeMint are already on the same page on one thing: enforcing conservative ideological dogma. They have both publicly opposed Speaker John Boehner (R-Ohio) for his fiscal cliff proposal, and have sought to support and promote conservatives over more traditional Republican establishment candidates.
To help engage politically, the think tank launched its own political and lobbying arm -- Heritage Action -- in 2010, with one of DeMint's former staffers serving as chief operating officer. The political group has already cut an image of itself as a conservative thorn in the side of Republican leadership. It crafted a scorecard to judge the conservatism of lawmakers that made it practically impossible for a member to score 100 percent -- DeMint tied for the lead with 99 percent. They also persistently rage against House Republican leadership and, after Obama's November reelection victory, declared a "war" to enforce conservative principles.
Outgoing Heritage president Ed Feulner announced Heritage Action's formation in a Wall Street Journal op-ed and explained that the group, "will be able to spend money to push legislation we think the country needs without the obstacles faced by a nonprofit like the Heritage Foundation." He later told the National Review, "The Heritage Foundation makes [politicians] see the light; Heri­tage Action makes them feel the heat."
Conservative lawyer Dan Backer, who represents DeMint ally Sen. Mike Lee (R-Utah) and DeMint's preferred successor, Rep. Tim Scott (R-S.C.), told The Huffington Post Thursday that DeMint's ascension at Heritage would bring the group into direct competition with other powerful conservative operations across the country.
"This indicates that Heritage is going to be directly competitive with Freedomworks ... as an intellectual powerhouse targeting the grassroots conservative movement that is embodied in 'the Tea Party' -- with research, legislative analysis, training, etc. -- and a very smart recognition by Heritage that the Tea Party is and will continue to be a profoundly important part of the Conservative movement," Backer wrote in an email.
Heritage Foundation chairman Thomas A. Saunders hinted at this when introducing DeMint to 200 Heritage staffers on Thursday. Saunders stated that DeMint's appointment is, "turbo-charging our already powerful engine."
Erick Erickson, the influential conservative blogger at Red State, told Politico, "DeMint not only ensures [Heritage Action] will continue to be forceful but also ensures The Heritage Foundation will continue being the conservative standard-bearer instead of trying to find ways to fit general Republican policies under a conservative banner."
DeMint's political activities are well-covered. He was likely the first, and certainly the most effective, sitting senator to use his own leadership PAC to run advertisements and send direct mail to help out candidates in primary and general elections.
In doing this he often crossed his own party's leaders, including supporting conservatives who lost general election matches, such as Christine O'Donnell in Delaware, Sharron Angle in Nevada, Richard Mourdock in Indiana, Joe Miller in Alaska and Ken Buck in Colorado.
Despite his support for some candidates who suffered very public and embarrassing losses, DeMint has increased the size of the ultra-conservative wing of the Senate Republican caucus through his political actions. He backed Sen. Rand Paul (R-Ky.) in his primary against Trey Grayson, who had the support of Republican Leader Mitch McConnell (R-Ky.) and the Republican establishment. He also supported Utah Sen. Mike Lee in his successful primary bid to knock out former Sen. Robert Bennett. DeMint additionally was the first supporter of Sen. Marco Rubio (R-Fla.) in his primary campaign against the then-popular former Gov. Charlie Crist.
DeMint's leadership PAC also directed contributions to candidates and covered the transaction cost, making these donations cheaper for candidates than direct donations to their campaign committees.
Earlier in 2012, Senate Conservatives Fund launched a super PAC called Senate Conservatives Action and, due to election laws forbidding coordination between super PACs and candidates, DeMint relinquished control over the groups. Once he leaves the Senate he will be able to regain control of these political entities and employ them as he takes the reins of the Heritage Foundation.
Calling all HuffPost superfans!
Sign up for membership to become a founding member and help shape HuffPost's next chapter
BEFORE YOU GO
PHOTO GALLERY
Longest Serving Senators In U.S. History