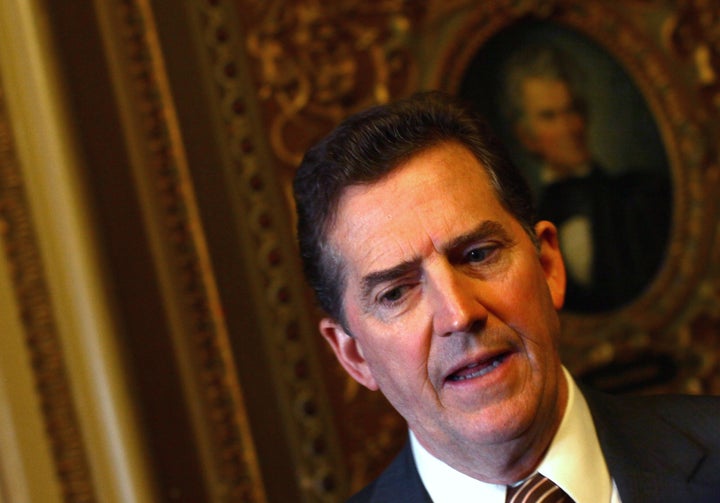 Sen. Jim DeMint (R-S.C.) recently perpetuated comparisons between Sarah Palin and the Gipper, announcing that the former Alaska governor has "done more for the Republican Party than anyone since Ronald Reagan."
In an interview with Politico about potential 2012 contenders positioning themselves to lock up key endorsements from politicians in presidential primary locations, it almost appeared that DeMint was the one looking for a nod from the former vice presidential candidate.
"We've never spoken, but she left me a nice message, and I believe she's done more for the Republican Party than anyone since Ronald Reagan," DeMint told Politico.
Perhaps DeMint was just giving thanks for the $7,500 that Palin gave to help him skate to reelection victory over Democrat Alvin Greene. Palin also provided big donations to the campaigns of incoming New Hampshire Sen. Kelly Ayotte, Iowa Sen. Chuck Grassley, South Carolina Sen. Lindsey Graham, who was not up for reelection in 2010, as well as two newcomer GOP congressmen from South Carolina, Politico reports, stirring speculation that she's making nice with legislators in vital primary states in order to set the stage for a presidential run.
At any rate, apparently DeMint hasn't gotten the memo from other Republicans who have expressed loud objections to comparisons between Reagan and the "mama grizzly."
Conservative columnist and former Reagan speechwriter Peggy Noonan called Palin a "nincompoop" for supposedly speaking dismissively of the the former president's legacy.
And a former Reagan campaign director was more blunt, simply telling Palin in an op-ed: "You're no Reagan."
Popular in the Community