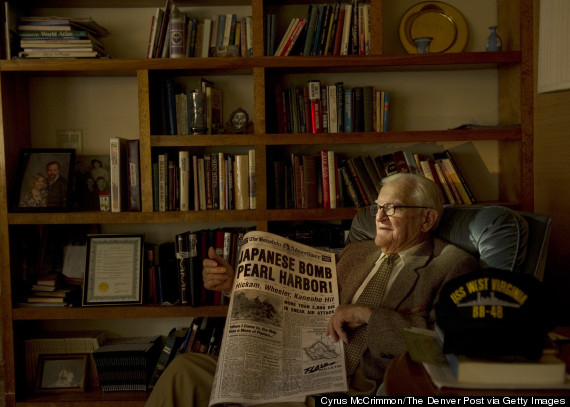 The 2015 State of the Union address brought together many people with compelling stories, including this veteran with a heroic past.
Retired Navy Lt. Jim Downing of Colorado Springs, Colorado, is the oldest known surviving veteran of the Dec. 7, 1941 attack on Pearl Harbor. To honor his service and bravery, the 101-year-old has been invited to attend President Obama's annual address by Sen. Michael Bennet (D-Colo.), according to ABC News.
"Lt. Downing is a hero who has lived an incredible life," Bennet said of his decision to bring the Pearl Harbor survivor to the address, according to the Gazette, a Colorado Springs paper. "Our nation is indebted to him and his fellow sailors for their service in defense of our country."
The veteran, who was 28 at the time of the attack, was responsible for incredible acts of compassion back in 1941.
"As I saw these bodies lying around [after the attack] I felt their parents would never know what happened so I started memorizing names on the name tags so I could write their folks a letter," he told KRDO.com.
Downing wrote to as many families of the dead as he could, delivering the news of the tragedy.
Downing, who served in the Navy for 24 years, will attend this year's annual address with his daughter, Marobeth. Sen. Brian Schatz (D-Hawaii) gave his office's only ticket to Marobeth, according to Sen. Bennet's website.
"I am excited for the opportunity to attend the State of the Union address and look forward to the visit to the Capitol," he said in a statement, the Gazette reported. "My daughter and I are particularly thankful to Senators Bennet and Schatz for making attendance at this event possible."
REAL LIFE. REAL NEWS. REAL VOICES.
Help us tell more of the stories that matter from voices that too often remain unheard.
BEFORE YOU GO
PHOTO GALLERY
Pearl Harbor, Hawaii