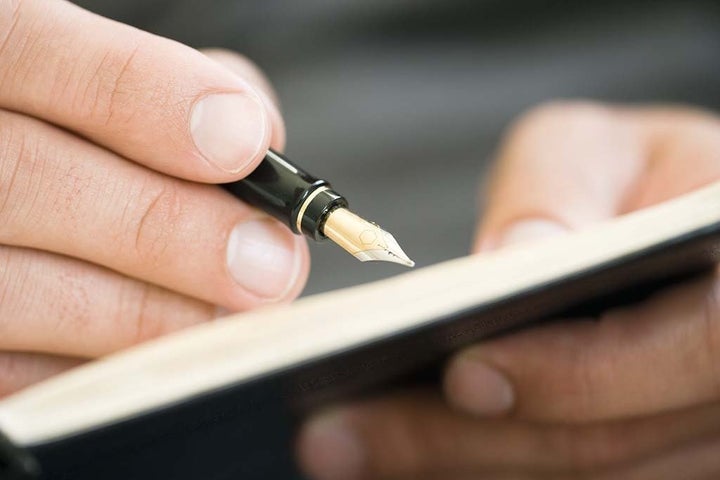 No, I am not talking about the James Frey who wrote A Million Little Pieces, the controversial piece of creative "nonfiction" that initially made a splash with Oprah but then fell into ignominy. The man I want to praise today is James N. Frey, probably the best writing teacher on the face of the earth.
As far as I know, Jim is still leading writing workshops all over the place, giving of himself, helping others improve their craft. According to his website, "Many participants of his workshops have gone on to publish with major New York houses and receive solid advances (as high as $2 million) and much critical acclaim." I don't for even a second doubt the veracity of that assertion.
I first met Jim in the spring of 1984, the year he published his first thriller, The Last Patriot. I had seen an ad in a Berkeley, California, newspaper for something called "The Story Laboratory," a writers' workshop that met every Monday evening in the basement of the Finnish Brotherhood Hall near the corner of University Avenue and Chestnut Street in what we called the flats. We working stiffs lived there, not with the rich and famous up in the Berkeley hills. It didn't take me more than five seconds to decide to check out the Story Lab because I lived just a half block away on Berkeley Way. Somebody was trying to tell me something. I seemed destined to become a member of this little group of struggling scribblers.
When I walked into that basement, Jim was sitting at one of those long, institutional folding tables that reminded me of the ones at the Berkeley Chess Club, where I had spent a humiliating few weeks the year before. Jim was about forty, and my first impression was that he was a red-nosed Irishman who liked his whiskey just a wee bit too much. But that perception evaporated as soon as the rest of the crew showed up and he began to talk shop. Jim spoke more lucidly than any college professor about language, plot, characterization, setting, and something else of vital importance that I will get to in due time.
The way the Story Lab worked was that someone would read a short story or a chapter of a novel, and then the rest -- especially Jim -- would most likely tear it to shreds with scathing comments. Jim would invariably start out with, "The problem with this story is ... " And he'd always be right. The first work of fiction that I read at the workshop was of the type known derogatorily as a "slice of life" piece. Its title was "The Loft," and it was about my experiences with a punk rock band in New York City during the late 1970s. It was full to bursting with funky description and quirky characters. I thought it was just great, of course, but no one else around the table in that cellar seemed to agree. They all had something a bit nasty to say, but only Jim was able to articulate what the problem really was.
"This bit of writing could get you into the Creative Writing Masters program at San Francisco State," Jim told me, "but it isn't any good."
The first part of that seemed rather encouraging, I thought, but the rest sounded crazy to me, as it appeared to contradict what came before. Jim went on to explain, "You use words very well, and the images are fine, but the story lacks conflict."
I was flabbergasted. He was right! Why hadn't I seen that myself? I felt like a fool, and I told him so. Jim responded, "Don't feel bad. Everybody starts out as you did. But writing is like everything else. Somebody has to show you how to do it." After that, I must have heard him say at least a hundred times to other writers around that table, "Your story needs three things: conflict, conflict, and conflict." He liked to illustrate this point by showing how Charles Dickens had used conflict to the utmost effect in A Christmas Carol. Jim made that story come alive in so many ways that I realized I had taken Scrooge for granted all my life.
That was just the first of many invaluable lessons from the master, and it led to the writing of one of my best short stories, "Decibels." Thanks, Jim, for helping with the manuscript.
I'll never forget the time I read another short story, "The Little Room." Right after I finished the last sentence, Jim called for a break and took me by the arm and said, "Let's go over to Taco Bell and get a cup of coffee." The fast-food restaurant was just across the street.
I thought for sure that I was walking my last mile as a writer, that Jim was going to tell me something like, "I didn't want to say this in front of everyone else, but I was wrong about you, kid. Give it up. You've got no talent." But no. He said that my story was terrific and that I had found my voice as a writer. Actually, that's what I think he said. I was so blown away by his praise that I really don't remember his exact words, but he thought the story was good, and that's all that mattered. I think I was actually in shock as we walked back to the Story Lab.
When we sat back down inside the Finnish Hall, other members of our group had some comments critical of "The Little Room," but Jim wouldn't let any of them stand. He said the story was a piece of literary fiction of the highest quality. Perhaps it really is as good as Jim thought it was, but perhaps it isn't. The point is that I wouldn't have been able to write it at all had it not been for Jim's tireless encouragement and excellent advice.
Sadly, I haven't spoken with him in years. I know I disappointed him by not living up to the potential he saw in me. After all, I don't have even a single novel under my belt, just a modest collection of self-published short fiction. But whatever writing skill I do have I owe to Jim. I hope he is doing well.
Jim has written nine novels, among them The Long Way to Die, an Edgar Award Nominee, and Winter of the Wolves, a Literary Guild Selection. Yes, I've read them all, and I've enjoyed every one. Jim is also the author of the How to Write a Damn Good Novel series of instructional books for fledgling writers.
Related
Popular in the Community