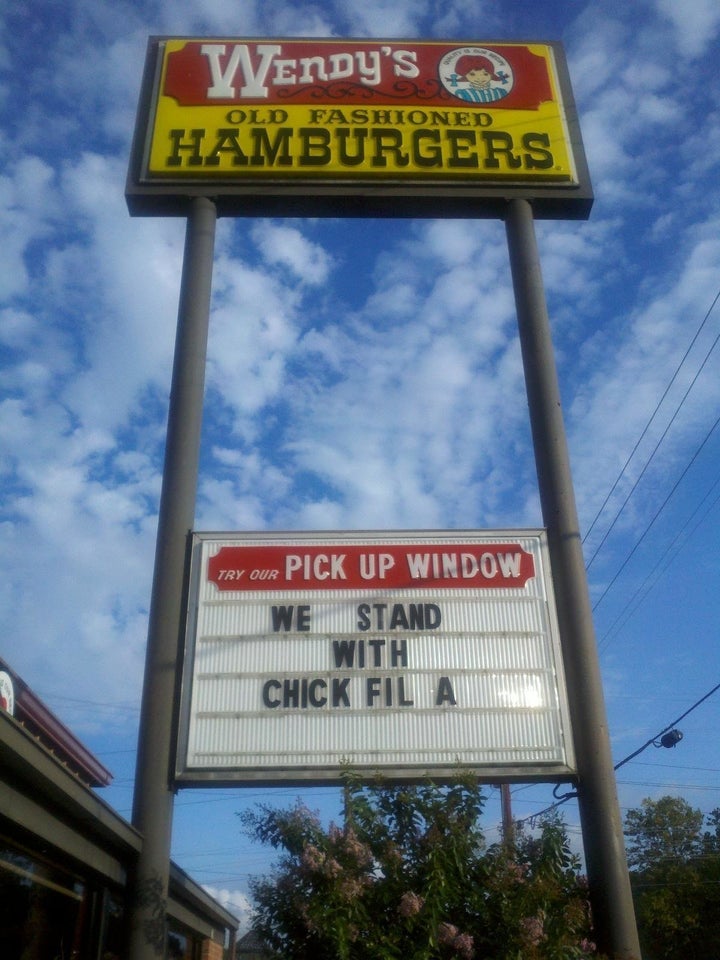 A major Wendy's franchise owner wants Chick-fil-A, the fast-food chicken chain embroiled in an blowup over its CEO's anti-gay comments, to know it's not alone.
Signs at a number of Wendy's franchises in the Carolinas read, 'WE STAND WITH CHICK FIL A' on Wednesday, according to photos submitted to Reddit. The signs have since been removed.
Jim Furman, CEO of Wendy's franchise Tar Heel Capital in the Carolinas, one of the largest Wendy's franchises worldwide, told WBTV that the company decided to post the message. He said the signs were later taken down because Wendy's "felt it was time to go back to their marketing message."
Wendy's pushed back on Twitter, saying that an independent franchisee posted the signs and that the burger chain proudly serves all customers.
Towleroad.com also posted an email from Wendy's consumer relations department. "This is one independent franchisee's personal opinion," the email read. "We are proud to serve customers of varied races, backgrounds, cultures and sexual orientation, with different beliefs and values. Bearing that in mind, this franchisee has decided to remove the messages from his restaurant signs."
Chick-fil-A has been under assault by gay advocates since chief executive Dan Cathy last month came out against same-sex marriage, saying he supported "the biblical definition of the family unit."
But employees of the chain aren't so charmed. HuffPost's Lila Shapiro interviewed a number of Chick-fil-A gay employees, who said they were disheartened by seeing patrons flock to the chain in a show of anti-gay camaraderie.
Calling all HuffPost superfans!
Sign up for membership to become a founding member and help shape HuffPost's next chapter
BEFORE YOU GO