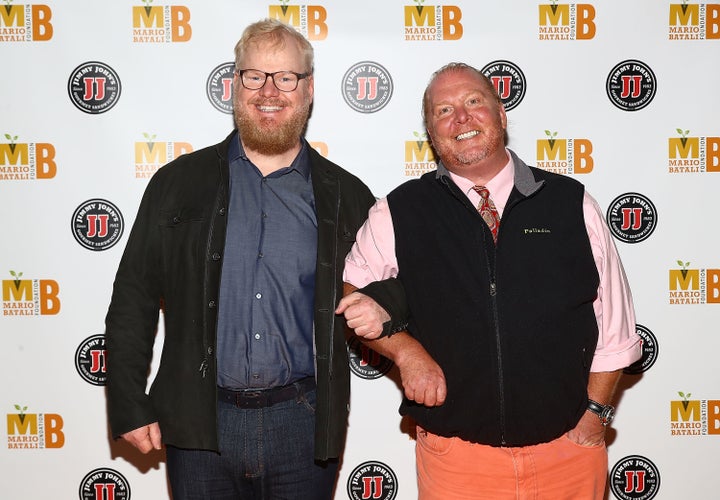 Comedian Jim Gaffigan is publicly commenting on the allegations against his friend, Mario Batali, for the first time since eight women came forward and accused the celebrity chef of sexual misconduct.
"I love Mario," Gaffigan told the New York Daily News on Sunday. "The generosity he showed to our family when my wife was in the hospital and when we went to his restaurant and she could only eat soup."
"I read a little bit and I made a point of not reading too much because I like him and I know he's really got a good soul and a good heart," Gaffigan said.
When the Daily News asked Gaffigan if Batali should be forgiven, he simply said: "Given I don't know the details... I don't know. I'm a Catholic. I feel like we should all work on forgiveness."
Gaffigan's wife and writing partner, Jeannie, had surgery last year to remove a life-threatening tumor around her brainstem. As a result of the surgery, Jeannie couldn't eat solid foods for a little while. And when the two wanted to celebrate their 14th anniversary at a restaurant last year but couldn't find any good options, Batali came up with an all-liquid, seven-course meal for the couple.
Responding to the accusations, Batali issued an apology for his actions published in Eater last December.
"That behavior was wrong and there are no excuses," the celebrity chef told Eater, who first surfaced the allegations. "I take full responsibility and am deeply sorry for any pain, humiliation or discomfort I have caused to my peers, employees, customers, friends and family."
"To the people who have been at my side during this time — my family, my partners, my employees, my friends, my fans — I am grateful for your support and hopeful that I can regain your respect and trust," he later added. "I will spend the next period of time trying to do that."
According to a recent New York Times profile that came out earlier this month, Batali is already working on his comeback. Fellow celebrity chef and longtime Batali friend Anthony Bourdain told the Times he doesn't think that's possible.
"Retire and count yourself lucky," he said. "I say that without malice, or without much malice. I am not forgiving. I can't get past it. I just cannot and that's me, someone who really admired him and thought the world of him."