Before comedian Jim Gaffigan began writing his book, he knew what he DID NOT want it to be. "I didn't want it to be 'I hate my kids,' and I didn't want it to be 'I looooove my kids,'" he said in an interview with The Huffington Post.

What was left is "I don't know what I'm doing," he says, and that is the theme of "Dad Is Fat," which is being published today.

As a father of five (his children range in age from seven months to nine years), he has plenty of material. And the result in a sweet and funny look at how parenting transforms you into someone unrecognizable -- the person you really were all along.

"Let's face it," he says, "parenting is a cult. And as a cult member, you can try to explain it to other people, but we just appear like lunatics."

Here's an excerpt.
I do remember that when I was single, I was a loner by choice. I ate alone, went to movies alone, and even spent time by myself alone. The thought of a roommate to the single me was absurd. Now I have many roommates. I have an 8-year- old, a 6-year-old, a 3-year-old, a 1-year-old, and I don't think I've even met the other one yet. Hey, there are five of them! Five kids may seem overwhelming to you, but how do you think I feel? Ten years ago, I could barely get a date, and now my apartment is literally crawling with babies. It's like I left some peanut butter out overnight.
Not surprisingly, I never imagined I would get married, let alone have children. I suppose I had a romantic notion of having children someday, but, then again, I also had a romantic notion of being an astronaut, and, honestly, being an astronaut felt like a more realistic expectation. Aside from my physiology, nothing in my childhood, teenage years, or early adulthood indicated to me that I would someday have children. Obviously many, many things indicated I would likely be an astronaut. Well, okay, I drank Tang once.
I was the youngest of six kids. Yes, I came from a big family, but really nothing about being the youngest of six kids prepares you for parenthood. It only prepares you to be parented. I was never a babysitter or a camp counselor. I never had a younger cousin or even a neighbor with younger kids. The closest I ever came to a little kid was when I watched the "The Cosby Show" and Raven-Symoné came to live with the Huxtables for a few seasons.
Nothing about my career choice led me to believe I would get married and have children. Being a comedian is a nomadic, nocturnal existence that goes against the basic normalcy and consistency required of being a healthy participant in society, let alone being a healthy participant in raising a child. There were times in my life when I had one thing to do all day, but I still couldn't get to it. "I gotta go to the post office, but I'd probably have to put on pants. And they're only open till five. Looks like I'm going to have to do that next week." Comedians are generally introspective outsiders who identify more with the misfit toys from Rudolph the Red-Nosed Reindeer than any "normal" father portrayed on television.
Most stand-up comedians are well aware that they are not normal. There is nothing normal about going onstage and making strangers laugh. Try it sometime. It's really weird. We are natural contrarians. Tell a comedian to do something and they will most likely do the opposite just to see how you react. "You should play football like your brother"; "You should go into finance like your father"; "You should write an intelligent, funny, and well-crafted book like Bill Cosby."
Just when I was resigned to the reality of a future of being the proud weird uncle who lived in New York City, I met Jeannie. Jeannie was unlike any woman I had ever met or have yet to meet.

She was part girl next door, part superstar, part insane-asylum inpatient. Jeannie was the oldest of nine children, and when I met her she was directing a Shakespearean play with a hip-hop score featuring about 50 inner-city kids. For free. Here was this funny, sexy, smart woman who was passionate about her art and, for some reason, children. Working with kids inspired Jeannie's creativity, and being with her inspired me. It was an amazing relationship. Jeannie literally wanted to take care of me, and in turn I had this crazy, almost biological desire to provide her with, well, someone to take care of.
For the first time in my life, I felt like I could spend the rest of my life with someone. Heck, I could even have a child with this person. Even if I knew nothing about kids, Jeannie could just handle everything, right? I already knew I wouldn't have to pay her. Eventually I tricked Jeannie into marrying me. It was at that point that I discovered Jeannie is someone who gets pregnant looking at babies.
So now I am a loner with a chronic and acute case of children. I am learning to live with my condition as well as encourage others who have found themselves in a similar state. Therefore I have organized an annual Sleep-a-Thon to help raise money for research. If you would like to sponsor me, and I am sure you do, please pledge $100 for every one hour I sleep. You will be doing a great humanitarian service, and I will be a better father because of your kindness and support. It's a win-win situation. I realize this sounds like you would just be paying me to sleep, but it's more. Together we can make the condition of having children a lot more bearable. Well, more bearable for me and my bank account. Thank you for your generosity.
Reprinted from DAD IS FAT Copyright © 2013 by Jim Gaffigan. To be published by Crown Archetype, a division of Random House, Inc. on May 7, 2013
Related
Before You Go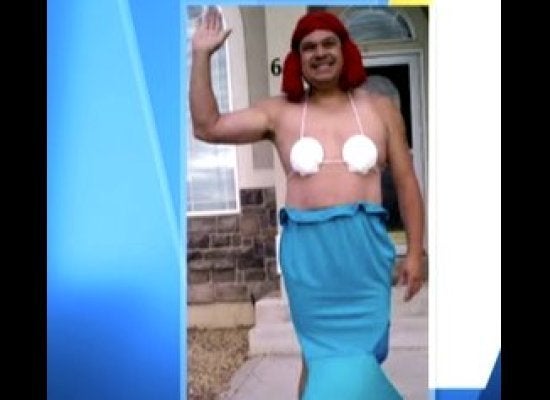 Most Embarrassing Dads