The wife of a Republican county commissioner in rural Kansas who has been under fire for a comment he made two weeks ago, explained Tuesday that her husband was actually paying a compliment.
Joann Gile, the wife of Saline County Commissioner Jim Gile (R), told the county commission that her husband's use of the term "nigger-rigging" during a April 2 county commission meeting was actually meant to praise the black community. Many have demanded her husband's resignation as the scandal, which has drawn national attention, has rocked the 55,000-person county. Jim Gile apologized last week for the comment and said he will not resign.
Joann Gile said that the term was used in the early 20th century by farmers who would praise black employees for their work. She did not explain where her definition came from.
"I want you to realize where that came from. It came from the 1900s with farmers, when the colored people, or the black people as we refer to them now, worked on farms," she said. "The farmers praised them because they had the know-how to get something together with nothing. The farmers praised those colored people because they could do it. They were proud."
Gile also said her husband is in the process of finding diversity training to attend. Gile, who was also at the meeting Tuesday sat largely silent, but said that he would be willing to meet with the local NAACP.
When Gile made the original comment, others in the room laughed. When asked about his comment by another commissioner in the room, he explained by responding, "Afro-Americanized." Gile told the Salina Journal that his background does not make him racist.
Residents are not the only ones who have called for Gile to step down. State Rep. Willie Dove (R-Bonner Springs), the only black Republican in the Kansas Legislature, told HuffPost that Gile should resign, a call reiterated by the Kansas Young Republicans and the state Democratic Party. State Rep. J.R. Claeys (R-Salina), who has led the call for Gile's resignation, told HuffPost that Tuesday's meeting shows that he needs to step down, noting that Gile has "marginalized" a group in the county.
"I am amazed that there are ... people out there that still don't get it," Claeys said. "I am disappointed in the people who continue to defend this kind of stuff. It is indefensible."
Some are defending Gile, most notably county commission chairman Randy Duncan (R), who reiterated on Tuesday that Gile has apologized and that residents should accept that apology. Resident John Miller said that Gile's original remark was not racist and instead called on the county to hold a barbecue to promote diversity.
"Let's have a block party and rock and roll, and get this thing over with," Miller said.
Claeys told HuffPost that he is surprised by everything that has occurred. "I did not grow up in a community where this was said," he said. "I am trying to figure out where this was for the 35 years of my life."
Before You Go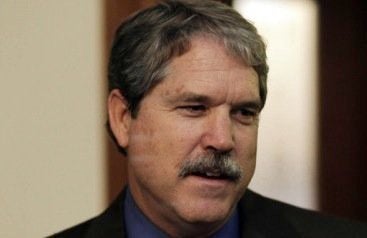 Racist Remarks Made By Politicians
Popular in the Community