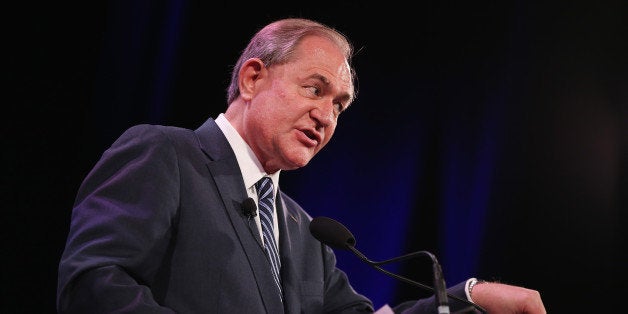 If you were worried the GOP presidential field was going to top out at a measly 17 candidates, never fear: Jim Gilmore is going to be the next Republican to maybe run for the White House. This news comes to us by way of the Richmond Times-Dispatch, to whom Gilmore evidently spilled the beans in "an exclusive telephone interview."
But back up a minute! Who is Jim Gilmore, this potentially electric new entrant into the 2016 race? As a matter of fact, Gilmore is the former governor of Virginia. No, not the "macaca" guy. That was George Allen. And not the guy who was sentenced to federal prison earlier this year -- that was Bob McDonnell. Gilmore is the guy who succeeded Allen and who in turn was succeeded by Gov. Mark Warner (D), serving between 1998 and 2002.
Is that starting to ring some bells? Hey, if not, don't feel bad. I had a hard time remembering much of Gilmore's term, and I lived in Virginia for its entirety. Here's a refresher: Gilmore's big thing was trying to get rid of Virginia's personal property tax on automobiles. He nearly succeeded, until the state legislature balked at how costly the move would be. Gilmore also implemented a statewide education reform program called Standards Of Learning, a major legacy of which is that every teacher in Virginia now has one or two jokes involving the acronym S.O.L.
Gilmore is also the governor who gave Martin Luther King Jr. his own holiday in Virginia. Prior to that, the state had honored King as part of a thing called "Lee-Jackson-King Day," in which the famed civil rights leader was celebrated alongside noted Confederate guys Robert E. Lee and Thomas "Stonewall" Jackson, because you can't spell "Virginia" without several of the letters in "irony."
"Gilmore... Gilmore," you're saying. "The one who sort of looks like Ed Asner?"
Yes! Yes, yes. That's the one. Good job!
Actually, Gilmore has run for president before. The year was 2007: Apple was set to unveil the first iPhone, the Police had announced plans for a reunion tour and Jim Gilmore was filing paperwork with the Federal Election Commission to create the Jim Gilmore Presidential Exploratory Committee. He made his candidacy official in April of that year, saying, "That's why I'm in this race, as a consistent conservative that the American people can count on, someone who won't waffle, waver, change or pretend they're someone else to get this nomination." He even had a pretty good quip, referring to the three GOP front-runners at the time -- Rudy Giuliani, John McCain and Mitt Romney -- as "Rudy McRomney."
Unfortunately, Gilmore never polled much higher than 2 percent in that campaign, and he eventually dropped out of the race owing to health complications from a detached retina. Not long after, he got waxed by Mark Warner in Virginia's 2008 Senate race.
What's he been up to since then? I don't know and won't check, but I'll update this story if anyone at his office feels like emailing me a condensed version. At the very least, it's safe to say that Gilmore hasn't spent the past few years being camera-hungry or seeking out opportunities to interject himself into the news cycle. He's not (yet!) associated with any of our country's various billionaire dandies who like to collect pet politicians. And while his previous run for president was accompanied by a groundswell of support, there doesn't appear to be any such thing this time around. (Here's how the website draftgilmore.org looked on Jan. 9, 2007, three months before Gilmore declared his candidacy. Today, draftgilmore.org appears to be a sad spam blog nominally dedicated to "Strong Booze, Fast Cars and Cool Stuff" -- which wouldn't be the worst presidential platform, actually.)
He said he does not think any other Republican candidates have addressed what he considers the vital national security and economic concerns facing the nation.

"I don't think we're addressing the threat to the country," Gilmore said. He added: "I bring to the table experience that others don't have."

... The former governor said he is particularly concerned about "the emergency internationally," citing not just the so-called Islamic State, but Russia's ventures in Ukraine and China's moves in the South China Sea.

He also said he believes President Barack Obama's economic policies have undermined what should be a "foundation of strength" for the nation.
At last, we'll have a Republican candidate who will talk about Russia, terrorists and how much they hate Obama's economic policies. Truly, these have been hitherto unaddressed matters.
For some reason, Gilmore will wait until the first week of August to make his "formal announcement," the Times-Dispatch reports. University of Virginia political science Professor Larry Sabato predicts that Gilmore's candidacy will be "short or ineffectual."
REAL LIFE. REAL NEWS. REAL VOICES.
Help us tell more of the stories that matter from voices that too often remain unheard.
BEFORE YOU GO
PHOTO GALLERY
Rand Paul Trolls 2016 Candidates