Jim Gray, the openly gay mayor of Lexington, Kentucky, wants you to know that, despite Kim Davis' crusade, you shouldn't stereotype everyone in the Bluegrass State as bigoted and antigay. Last week he became the Democratic nominee for the U.S. Senate race in Kentucky, winning almost 60 percent of the vote and easily beating six other candidates. He'll now go up against GOP senator Rand Paul in the general election in November.
"Well, I would first say there's no place for bigotry and prejudice and discrimination, and it always threatens liberty and justice and freedom," he said in an interview with me on SiriusXM Progress, discussing Kentucky's Democratic voters rallying around him. "I won the primary, [winning in] every county in the state. And we expect momentum heading into the fall. And I see people across the state who are interested in the issues that are really pressing issues. They're willing to look toward the future in a compelling way. I don't think it's worth, really, a lot of time to stereotype, because I've seen the votes I've gotten. I was overwhelmingly re-elected mayor of Lexington. People care about performance and results above all else."
That said, Gray, who was first elected mayor of Lexington in 2010 (and re-elected in 2014), realizes the historic impact he's making, adding, "I'm very aware of being a role model, very aware of that in this election, and where I've been in my role as mayor."
Some political observers believe the bigger liability for Gray may be his being a Democrat rather than his being gay. The last Democrat to be elected to the Senate was in 1992, and Gray has acknowledged the steep challenge he faces. But Gray is betting that Kentucky residents are tired of their junior senator spending much of his time on the road, seeking higher office.
"As soon as he was elected, [Rand Paul] got into the family business of running for president, like his dad [former congressman Ron Paul]," Gray said. "The Paul family business is about running for president. He's been active in that role since he won the Senate seat six years ago."
And Gray believes several factors make 2016 a different year.
"At the top of ticket, we don't know what's really going to happen in the presidential race," he noted, pointing to the problems Donald Trump might cause for Republicans down ballot. "It's a very turbulent time. When I go across the state I see people who are very anxious. Economic anxiety is at a high level. People are really interested in economic security."
Gray, who previously served on Lexington's city council and as its vice mayor, came out as gay early in his political career, in 2005. His sexual orientation hasn't been a political campaign issue in more liberal Lexington. But going up against Paul he's taking on an opponent who's won a statewide race and ran for president as a candidate opposed to marriage equality and LGBT civil rights protections.
"Call me cynical, but I wasn't sure his views on marriage could get any gayer," Paul stated in a speech to Iowa's Faith and Freedom Coalition in 2012, discussing President Obama.
And Kentucky's new GOP governor, Matt Bevin, ran last fall as a champion of Kim Davis and her refusal to issue marriage licenses as county clerk of rural Rowan County. Within days of taking office he signed an order removing clerks' names from marriage licenses. While the GOP, from past experience, might use Gray's sexual orientation in overt or more subtle ways to whip up homophobia in the electorate, or, at the very least, will attack his stances on LGBT rights, the mayor said he is confident about the people of Kentucky.
"We can't predict exactly how a race like this will play out, whether the opposition will play on stereotypes," he said. "But I have a lot of faith in people and in our democracy -- that people believe in competence. They believe in performance and results."
Correction: An earlier version of this story misstated the date of the last election of a Democrat to the Kentucky Senate. This has been corrected.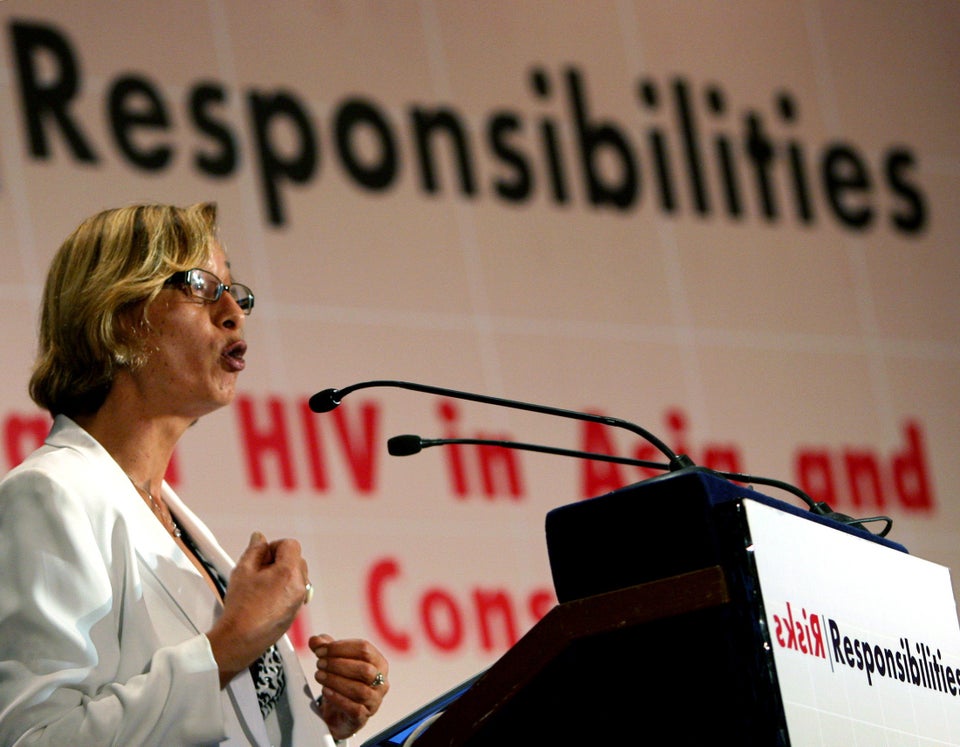 History-Making Transgender Politicians
Popular in the Community