GLASGOW, Ky. -- I met Lexington Mayor Jim Gray earlier this month at his family's farm near his childhood home of Glasgow, an hour east of Bowling Green, Kentucky. It's a lovely property, well-appointed and surrounded by lush, rolling hills -- Gray told me the family first settled in the area following the War of 1812 and had eagerly snatched up the property several years back. The Gray farm is the sort of place you picture when you hear banjo-heavy tunes about front porches, summer breezes and sundresses. It would be unprofessional to publish the address, but trust me that it sits on a street whose name could be the title of a Ricky Skaggs album.
If the setting for our meeting wasn't intentional, it was certainly a happy accident. Most politicians want to play up their local roots -- the New England pol who dons a Red Sox hat whenever possible; the Louisiana governor who wants to know who dat?; the Iowa senator who considers every moment an opportunity lost if it's not spent noshing on fried butter.
Even by those standards, however, I was drowning in the nostalgia of Gray's Old Kentucky Home. On the trail, Gray, the Democratic challenger in the race for Republican Rand Paul's Senate seat, has made considerable to-do about his Kentucky roots, hoping to draw a contrast with Paul, who moved to the Bluegrass State as an adult.
"I'm a seventh-generation Kentuckian," Gray told a gathering of Democrats in the western part of the state the night before. "I will not forget you." He described to them his family's deep ties to Kentucky politics, relaying anecdotes about family members of yore and their work behind the scenes in the state's public sphere. The stories did double duty as an implicit rebuke of Paul -- the kind of oblique shade-casting that only politicians and "Real Housewives" cast members can really pull off.
"We grew up around a dinner table where my father was talking about business on one end and my mom was talking politics," Gray told me during a lengthy and largely nostalgic discussion of his childhood. "And my mom would say, 'It's not nice to talk about business at the dinner table.'"
Standard political calculus aside, I couldn't help but wonder if Gray emphasizes his roots so often because of some insecurity about another aspect of his life, one that some Kentucky voters might view with suspicion: his sexual orientation.
Gray came out publicly in 2005, when he was planning a run for Lexington's city council. Rumors about his sexuality had swirled in the city's political and business circles for years, fueled in part by a failed mayoral bid in 2002. Gray told me he started coming out to family and friends in the 1990s and was encouraged by their warm reception. Voters in Lexington seemed to share that sentiment, or at least weren't put off by Gray's orientation, electing him to the city council in 2006 and elevating him to mayor in 2010.
"One thing I found was that what people care about is results, and that's been really encouraging," he said. "I felt that to be authentic, [coming out] was essential."
Acceptance in the comparatively progressive environs of Lexington is one thing, but most of Kentucky more closely resembles Glasgow. Here, just outside the orbit of more liberal Bowling Green, Christian radio dominates the airwaves, and most of the stores that line Glasgow's historic downtown are closed on Sundays. In the middle of those picturesque streets stands a monument commemorating the Confederate war dead -- this in a state that never actually seceded from the Union.
What was it like growing up as a closeted gay man in such a place? Even before I finished asking the question, a bashful grin crept across Gray's face and he shot an aide a knowing look.
"It was very challenging," he said, carefully choosing his words. "Being in Kentucky, I think an element of the challenge was represented there, but there's no escaping or illusions about the challenges that it presented at the time."
Gray, 62, made his money working for his family's construction company. Along the way, he developed a solid reputation in the state's business and political communities. He's not the sort of character you'd expect to find atop the construction field -- a zero-sum world dominated by brusque dealmakers, and one not exactly known for its open-mindedness about gender and sexuality. Gray's clean-cut appearance and gentle bearing are more reminiscent of a dentist or a four-star hotel concierge than someone whose business concerns include concrete and rebar.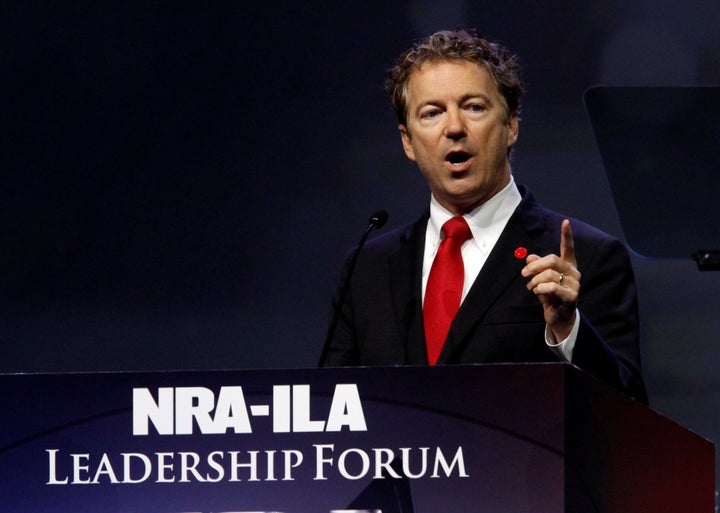 I feel a bit strange asking Gray about growing up closeted in this part of the country. In 2016, with same-sex marriage codified by the Supreme Court and openly LGBT Americans more and more visible in society, it seems somehow uncouth to ask such a personal question of a public figure who doesn't hide his orientation -- who, indeed, bravely came out in a time when the question of civil rights for LGBT Americans wasn't nearly as settled.
Yet this is Kentucky, the state that gave the world Kim Davis, the Rowan County clerk whose refusal to issue marriage licenses to same-sex couples made her the face of sweater-clad homophobes everywhere. Davis' crusade garnered such worldwide attention that at one point she somehow finagled a meeting with Pope Francis. In 2014, when a federal judge ordered Kentucky to recognize out-of-state same-sex marriages, then-Gov. Steve Beshear (D) challenged the ruling. Again, this was a Democratic governor.
And my meeting with Gray took place nearly a week after Omar Mateen opened fire on a gay club in Orlando, Florida, killing 49 people in America's deadliest terror attack since Sept. 11 -- a horrifying reminder that homophobia can produce far more tragic outcomes than the discomfort of a local bureaucrat in a far-flung part of Kentucky.
"There's an enormous amount of empathy that anyone in the LGBT community has for the victims -- sympathy and empathy," Gray told me. "And outrage and anger, as well."
Only a few days before, Gray had held a press conference in Lexington to discuss the Orlando attack. With the nation rallying around the LGBT community like never before, it seemed a perfect opportunity for the candidate to open up about a side of himself that Kentucky voters may have previously looked askance at -- the sort of speech that goes viral on social media under headlines like "OPENLY GAY CANDIDATE GIVES EMOTIONAL TRIBUTE TO ORLANDO VICTIMS."
Yet Gray made no mention of his orientation, or how it may have influenced his understanding of the event. He was under no obligation to do so, of course, but the decision was notable given his previous openness about the topic. Speaking in the aftermath of Orlando, he appeared no more somber or introspective than if he were addressing, say, the passing of a Hall of Fame athlete. He offered his condolences, called for stricter oversight of gun purchases by suspected terrorists and lambasted Paul for an allegedly weak-kneed approach to terrorism. He stumbled on several occasions, including when a reporter asked about Mateen having been cleared from the terror watch list. It was an altogether forgettable event.
"In some respects, my immediate reaction was both as a member of the LGBT community, and also [as a mayor], the challenges it presents to [Orlando]," Gray told me.
In fairness to Gray, he might have delivered the exact same speech even if he'd been running for Senate in California or Vermont, simply because of his particular temperament. Not so long ago, Gray might have been described as "private" or a "longtime bachelor" -- loaded terms that reporters and obituary writers once used to hint at a closeted subject's sexual orientation. But Gray, despite his openness about his sexuality, doesn't seem like the type to talk at length about the more private aspects of his existence. He grew up in a time and place where it could be ruinous for a gay man to live openly, and perhaps as a result of his years in the closet, he's far more inclined than the average politician to deflect the conversation away from himself.
That could actually be detrimental to Gray's hopes of taking Paul's Senate seat. No one, least of all Gray himself, expects his campaign to be anything but an uphill climb. And if he's going to succeed in an increasingly Republican state in a cycle dominated by Donald Trump, he's going to need to stand out somehow.
"Jim Gray is not well known and you've got to get people's attention," said Al Cross, a columnist for the Louisville Courier-Journal and director of the Institute for Rural Journalism and Community Issues at the University of Kentucky. "He's not a compelling personality, but he does have a good record as mayor of Lexington."
Which raises a counterintuitive question: Do the Democrats need a gayer candidate in Kentucky?
"I think those beliefs have been moderated in the last few years," Cross said of Kentuckians' views on homosexuality. Besides, he added, anyone who would vote on the basis of a candidate's orientation is "probably not going to vote for a Democrat, anyway."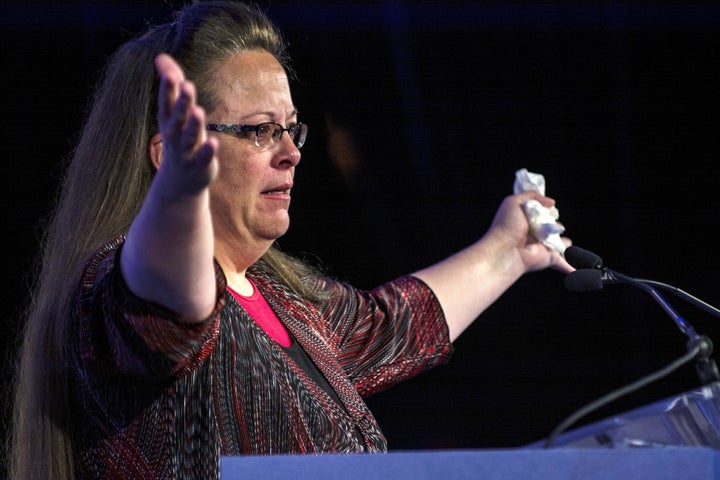 Another issue is the collapse of support for Hillary Clinton in Kentucky -- a factor that could suppress turnout for Gray. Her husband, former President Bill Clinton, won the state in both 1992 and 1996, and though Kentucky has become more Republican since then, the Clintons remained popular well into the 21st century. In 2008, Hillary trounced then-Sen. Barack Obama by nearly 40 points in the Democratic presidential primary here.
However, local opinion of Clinton dropped sharply after she told a crowd in Columbus, Ohio, in March that "we're going to put a lot of coal miners and coal companies out of business." Though she later apologized, the damage was done. She barely eked out a win against Sen. Bernie Sanders in the state's Democratic primary, losing counties that eight years ago had supported her by overwhelming margins.
No one ever expected Clinton to win the state in November, coal comments or not. But Kentucky voters aren't averse to splitting tickets, and Clinton's remarks will likely depress Democratic turnout in a state reeling from the collapse of the coal industry. Republican presidential nominee Donald Trump, meanwhile, has actively courted the coal industry, donning a miner's helmet during a West Virginia rally in May.
"I have no illusions about this being a challenging race," Gray said.
But the deck isn't fully stacked against Gray. When it comes to politics, Kentucky is a notoriously weird place, and that could work in his favor this November. The state continues to elect Democrats down-ballot, even as it tilts Republican in presidential elections -- a legacy of its post-Reconstruction hostility to the party of Lincoln and its fond memories of the New Deal and the Great Society, particularly in the Appalachian east.
What's more, Gray's family has deep ties throughout the state, and while he's not the world's most electrifying speaker -- something campaign officials readily admit -- he works a room well and has no objection to fundraising. These characteristics are particularly valuable in Kentucky, where county-level political operations are still largely run by Democrats who might be more inclined to get to work for a candidate who can engage with them. And with control of the U.S. Senate in the balance, an openly gay candidate in Kentucky might be just the angle to entice contributions from coastal donors, whom the campaign is more than happy to court.
"Kentuckians expect to see the candidates that are running. You have to be able to raise money, you have to get out over the state yourself," said Beshear, the former governor, in an interview. "You've got a candidate in Jim that can raise money, who can be a self-funder to a certain extent."
But this is still very much Rand Paul's race to lose, as the Gray campaign and its allies acknowledge. And in a year when turnout may be down in traditionally red states due to Donald Trump's low approval numbers, polls suggest that Kentucky voters are nevertheless open to Making America Great Again. Gray is an undeniably strong candidate, but the question is whether Kentuckians will be able to hear that through all the noise.
Popular in the Community