The following interview with Jim Heimann was translated into Chinese for the ForYourArt Guide to Los Angeles, published on the occasion of The Los Angeles Project, an exhibition of Los Angeles artists at the Ullens Center for Contemporary Art in Beijing. The writer, historian, Executive Editor at TASCHEN, and author of many books on Southern California, including Los Angeles: Portrait of a City, is one of my favorite L.A. experts. Meant to bring a Chinese audience closer to Los Angeles, the interview provides a brief overview of the city's history, ambitions, narrative, and neighborhoods.
Download ForYourArt's Guide to Los Angeles-with contributions from artists Aaron Curry, Alex Israel, Matthew Monahan, Sterling Ruby, Ryan Trecartin, and Kaari Upson-in Chinese and English.

In Los Angeles: Portrait of a City (TASCHEN, 2009) you state: "Los Angeles is the wonder city of the West...The world's most enigmatic city...A city of many dimensions." What other generalizations about Los Angeles do you find yourself repeating to people interested in the city?
"The City of the Future" is one moniker that has consistently been used by locals and outsiders alike throughout the twentieth century. Architecturally, it has always been on the leading edge of the avant-garde. And today the international art world is definitely looking towards the city for the future of art, and its institutions are supporting that development. So L.A. as the city of the future still holds true. In many ways, Los Angeles is still a giant experiment.
You've said that L.A. emerged from a desert wasteland to a palm-studded, urban metropolis. How did it become such an ambitious American city?
There were several population booms based on a changing economy. If it was good, many people would come to Los Angeles. When the economy shrank, developments failed and some of those people left. Consistently, however, there was steady growth. In the 1920s, for example, there was a population boom that started to fill in the city and created satellite communities throughout Southern California. As they expanded, they began overlapping with each other so that today L.A. is a city constructed from many different neighborhoods. "Thirty suburbs in search of a city" is another moniker that is used for Los Angeles. It does have a central downtown area with skyscrapers, but it doesn't function in the way a lot of other cities do.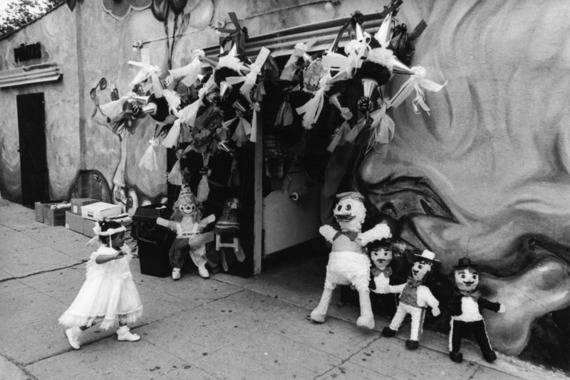 Virgil Mirano, Piñata heaven, Boyle Heights, 1998/1999. Courtesy of Los Angeles Public Library database.

Do you think of Los Angeles as a city open to transplants?

Everybody and everything has been transplanted, and still is, to L.A. It is a place where things are brought in and then flourish. If you're someone who's very invested in Los Angeles, and you call yourself an Angeleno, you need to have a little bit more depth than knowing which bar is the hippest in East Hollywood. That's very surface-level knowledge that anybody can learn. But it takes more than simply living here to be an involved citizen of L.A.

What are some of Los Angeles's ethnic neighborhoods?

Originally there was Mexican culture and there was Spanish culture. Then Spanish was kind of absorbed. There were also always little enclaves of French and Italian and European communities. Since we're located on the Pacific there have been large Asian communities, including Japanese (Little Tokyo) and Chinese (Chinatown), though their acceptance into the broader fabric of the city was much slower. They were always put into ghettoized sections of the city, but still they developed their own rich local cultures.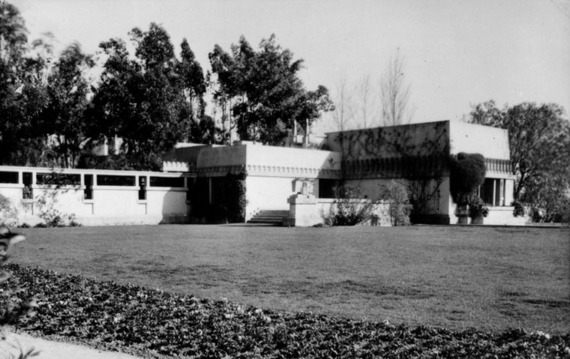 Roy Hankey, Frank Lloyd Wright's Hollyhock House, 1980. Courtesy of Los Angeles Public Library database.
What is your favorite neighborhood in Los Angeles to take visitors right now?

Right now I take people to Downtown Los Angeles, which is having a kind of renaissance. In addition to the new restaurants and development, there's the flower market, the fashion district, and the industrial section that people don't usually experience, even the locals. One of my favorite places to take them to is the intersection of Olympic Boulevard and Central Avenue, which I call Piñata Land. It hasn't been officially designated, but it's one long block of nothing but piñata stalls.

You've characterized Los Angeles as a "teenager" in terms of its development. What do you mean by this?

When you look at the major cities of the world, most of them have been around for a long time. L.A. is in its teenage years right now: rebellious, still trying to figure things out, still growing. It shares many aspects with those conflicted years before young adulthood. It hasn't fully matured.
How would you describe the differences between Los Angeles and San Francisco to someone who has never been to either city?

Comparing cities like Los Angeles, San Francisco, and New York is a difficult task. San Francisco and Los Angeles are two completely different cities. San Francisco has very European influences and many wonderful elements. When people visit Los Angeles, I always tell them that it is a difficult city to get to know well because it is so spread out. It doesn't have tight little communities that you might have in San Francisco or Manhattan, where you see the same people every day.
When you leave your residence on foot in New York or San Francisco, the city is right before you. When you leave your residence in Los Angeles, you see a lawn, trees, and birds. You don't have a city confronting you. You must work to get to know and understand the city.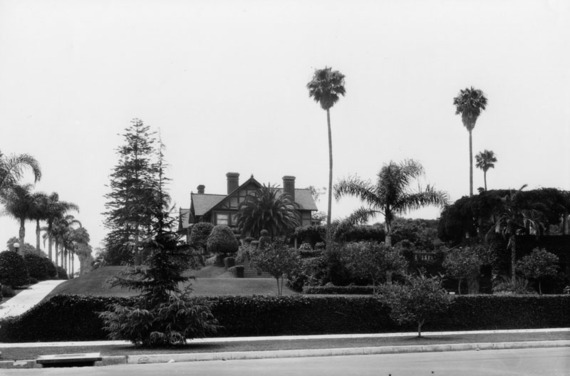 Unknown Photographer, House in Country Club Park, 1930. Courtesy of Los Angeles Public Library database.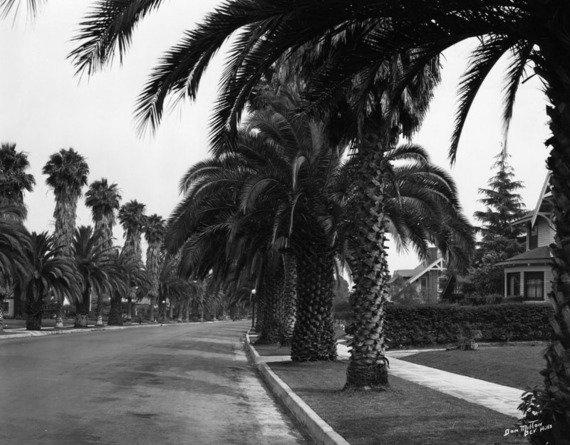 Unknown Photographer, Canon Drive in Beverly Hills, 1925. Courtesy of Los Angeles Public Library database.
What would be your advice for someone coming to Los Angeles for the first time?

My main piece of advice is this: do your research. Find out about the city. Look at all the guides. Get on the Internet and discover the 30 best restaurants and bars on Yelp.com--or whatever your particular inclination is. You also have to look at L.A. in a much larger sense. The Bowers Museum in Santa Ana is just as valid as going to the Hammer Museum in Westwood. It might take over an hour to get down to the Bowers Museum, and a lot of driving frustration, but the payoff may well be there.
Driving in Los Angeles can be a pleasure in itself and a great way to discover hidden parts of the city. For people who are new to the city, I always suggest they get off the freeway and look around. There are beautiful homes and parks to see on side streets and residential areas. Getting around this way, I often encounter places there that I've never seen before.
Can you recommend any books for someone visiting Los Angeles?

If someone wants to learn more about Los Angeles, a good place to start is a book that I edited called Los Angeles: Portrait of a City. If someone has time to go more in depth, Kevin Starr has published an excellent series of books on the history of California. He provides many perspectives on the city of Los Angeles over time. I used to recommend Carey McWilliams's An Island on the Land, but it was published in 1949 so it provides more of a historical viewpoint.

What about the palm trees?

I think the only native, indigenous palm trees are in Palm Springs, in the canyon. The City of Los Angeles was originally responsible for the placement of palm trees, but then individual cities also had their particular dictates. Palm trees are an important part of the stereotypical photograph of the City of Beverly Hills. Visitors often go to Beverly Drive where the trees appear to go on infinitely. Developers in Los Angeles were trying to create a paradise on Earth, and palm trees fit that image very well.
REAL LIFE. REAL NEWS. REAL VOICES.
Help us tell more of the stories that matter from voices that too often remain unheard.