Did you see what Google did late last month? In honor of Jim Henson's 75th birthday, they posted a logo which featured five Muppet-like characters.
Well, while the Muppets may have moved on (The Walt Disney Company acquired Kermit & Co. back in 2006 -- look for these much-beloved characters to make their big screen comeback next month when the Mouse released The Muppets just before Thanksgiving), The Jim Henson Company is still very much here. And it honors its founder's legacy every day by doing just as Jim did. By consistently producing high quality projects which skillfully mix the latest technological innovations with memorable characters, strong writing, great production values and a whimsical sense of humor.
Take -- for example -- "Jim Henson's Pajanimals," which has its series premiere on Sprout earlier this week. "Pajanimals" debuted on this 24-hour preschool channel back in November 2008 as a series of interstitials. But the characters of Apollo, CowBella, Sweet Pea Sue and Squawky grew so popular with viewers that Sprout quickly ordered up 26 full-length episodes of this show.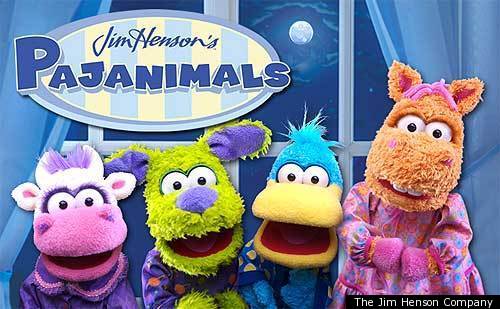 "'Pajanimals' is the first preschool series that we've done since 'Bear in the Big Blue House,'" explained Lisa Henson, the Chief Executive Officer of The Jim Henson Company. "We've got this great team of puppeteers in Belfast working on the program. And the music on this show is great. So much so that -- just this morning -- Celine Dion was appearing on the CBS Morning Show. And totally unsolicited, Celine said how much she liked the music on 'Pajanimals.' She even sang an excerpt of one of the songs from the show. You can't ask for better publicity than that."
Meanwhile, back in the States at the Company's corporate headquarters in Hollywood, the Henson Digital Puppetry Studio just wrapped production of a feature-length version of the popular PBS Kids show, "Jim Henson's Sid the Science Kid." Which was shot on the exact same soundstage where Charlie Chaplin shot scenes for "City Lights," "Modern Times" and "The Great Dictator." Only this time around, instead of a real camera, the director of this "Sid" movie used virtual cameras to capture in real time the performances of computer-generated puppets working on a virtual stage.
"My Dad would have loved to be able to work with the technology that we use to make 'Sid.' See the great character performances that we're able to get out of those rigs," Lisa continued. "People sometimes forget that Jim Henson was one of the real pioneers of computer animation. That he and the Creature Shop crew invented Waldo, the first digitally animated figure that could be performed and rendered in real-time. So I know that he would have been thrilled with what's going on today with computer animation. All the different looks and styles."
And that's what's really interesting about Jim Henson's creative legacy. More importantly, why it's a mistake to pigeon hole him as "the Muppet guy." Because -- truth be told -- Jim Henson was so much more ambitious, so much more complicated than that.
"Back in the 1960s, the whole time that the Muppets were appearing on TV variety shows and making commercials, my Dad was also shooting live-action short films and experimenting with stop-motion animation," Lisa remembered. "He did the same thing during the first two seasons of 'Sesame Street.' In addition to supervising all of the Muppet sequences for that education television series, my Dad also directed a series of live-action counting films. He even collaborated with Maurice Sendak on some animated films for 'Sesame Street.' My Dad was always experimenting with new mediums & media to see if there were better, more effective ways to tell some of the stories that he had in his head."
Mind you, even with all this experimenting, there were still Jim Henson dream projects that never quite made it off the ground. Take -- for example -- the Broadway stage show that Jim toyed with more than a decade.
"My Dad was always intrigued by the possibilities of doing big puppet effects in front of a live audience. Something along the scale of what they do with the 'Walking with Dinosaurs' arena show. And he did have conversations with the folks at Lincoln Center about possibly staging something someday there. But my Dad could never find the right story or concept," Lisa said. "Eventually some of the big puppeteering ideas that he developed for the stage were used as part of a revue that Nancy Sinatra did at the Las Vegas Hilton back in the Summer of 1971."
Now where this gets kind of interesting is that -- given that "Sesame Street" went on the air in November of 1969 and the Muppets were considered to be such a big part of that educational programs' overnight success -- Jim then found himself getting a little guff from the press about allowed his characters to appear at a casino. But when asked if he thought having the Muppets perform in Las Vegas was such a smart idea, Henson had an interesting reply. "I don't particularly like people to think that (family-friendly shows like 'Sesame Street') is all we do. We have always worked in the realm of adults."
And The Jim Henson Company has continued its exploration of that realm with its adults-only puppet improv show, "Stuffed and Unstrung." Which -- after its acclaimed run in NYC last year -- is now touring the country.
"What's great about 'Stuffed and Unstrung' is that -- with one show -- we managed to honor two of Dad's wishes. We finally did a stage show featuring live puppeteering. One that had huge adult appeal, I might add," Lisa stated. "It's always interesting to be in the audience at 'Stuffed and Unstrung' and then watch as the performers try to get laughs out of the story ideas that they've gotten from the audience."
Mind you, there are Jim Henson enthusiasts out there who aren't content with just sitting in the audience offering story suggestions. They want to take a more hands-on (or should I say a more hands-in) approach.
And -- no -- I'm not talking about some random group of rabid Muppet fans. I'm talking about a dedicated bunch of film, theme park and special effects professionals (some of whom actually helped build characters which will be seen in "The Muppets" come November) who are just itching to tell the sorts of stories that Jim Henson used to tell when he was making feature-length films like "The Muppet Movie," "The Dark Crystal" and "Labyrinth."
Which is why a motley group of industry professionals have been lending their considerable talents to a truly unique passion project. One that - they hope - will be in the Jim Henson tradition of a movie that makes use of the latest technological innovations. Which then fills the screen with memorable characters, great production values and a whimsical sense of humor.
"And what is the premise of this motion picture?," you ask. Do you remember all of those magical, wondrous things that you miss from your childhood? Well, as it turns out, they miss you too.

Come back tomorrow. And I'll reveal more about "The Lost Amazings." I'll also talk about some of the other projects that The Jim Henson Company currently has in the works to honor their founder's legacy.
Jim Hill is an award-winning entertainment writer who lives in New Boston, NH. Over the past 30 years, he has interviewed hundreds of veterans of the animation & themed entertainment industry and written extensively about The Walt Disney Company.
Jim is currently working on a behind-the-scene history of the development & construction of Disneyland. For his more immediate musings on movies, TV shows, books and theme parks, please check out his blog, jimhillmedia.com.
REAL LIFE. REAL NEWS. REAL VOICES.
Help us tell more of the stories that matter from voices that too often remain unheard.