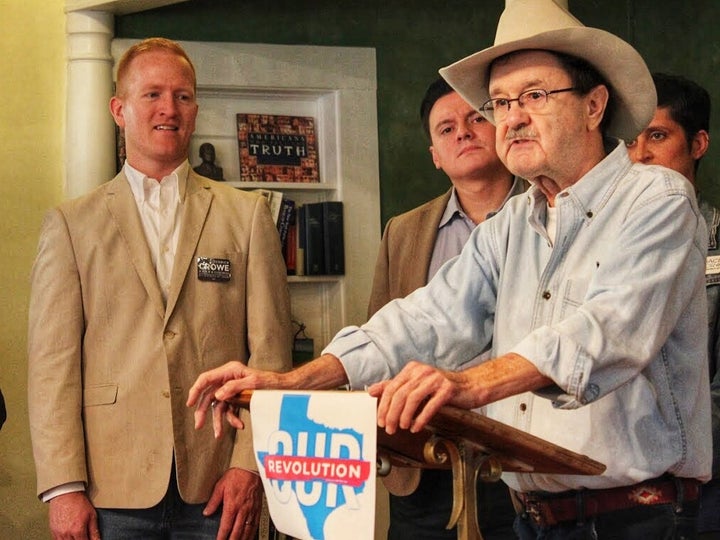 Right now, our government thinks it's more important to double the exemption from inheritance taxes for the very wealthy--and index it to inflation!--than it is to double the minimum wage. This is an oligarchy agenda. In Texas, that agenda has a strong foothold thanks to gerrymandered legislative districts and toxic statehouse Republicans.
Of the many resistance and rebuilding groups that are working on the ground to renew Democratic fortunes in the states, Our Revolution has made a notable decision: It's betting big on Texas. As soon as the Sanders campaign gave way to the organization—with its slogan "Campaigns End, Revolutions Endure" and its promise to "transform American politics"—[Jim] Hightower and a new generation of Lone Star populists vowed that they would make Texas Our Revolution's most engaged, active, and, they hope, politically successful state branch.
Yesterday, Hightower and Our Revolution Texas took a big step in that effort by announcing their first round of 2018 endorsements, a group I was proud to be a part of. Describing how their endorsement of me and the other candidates fit into their larger plan to turn Texas blue, Our Revolution Texas said in a press release:
"Following city and county level wins in San Antonio, Houston, and the Dallas area in 2017, the organization plans to not just make paper endorsements but to mobilize its broad, active membership of 9,000 activists to build dynamic grassroots campaigns for progressive populist candidates throughout the state in 2018."
Yesterday's endorsement is the result of months of organizing, relationship building, and fighting for progressive values, even in the heart of Texas. Here's how The Nation described our campaign:
One of the leading contenders at the Circle-C forum, former congressional aide Derrick Crowe, told the crowd that Texas Democrats must spell out an agenda that excites not just the party faithful but also the great mass of nonvoters who must become engaged in order to tip Texas. Crowe wasn't just talking the talk. A few days before the forum, when the group organized a rally for universal health care, Crowe showed up, held his "Medicare for All" sign aloft, and tweeted that he was "Proud to stand with @OurRevolutionTX & @OurRevolution for #Medicare4all in San Antonio!"
The Circle C Area Democrats forum mentioned above was the endorsement forum for our congressional race in TX-21. Circle C is the largest Democratic club in Travis County, which is itself the largest contributor of Democratic votes by county in our district. Circle C endorsed me a few days before Our Revolution Texas.
With the Our Revolution Texas endorsement in hand, that brings our group endorsement list to the following:
Bexar County Young Democrats
Blue America
Circle C Area Democrats
Democracy for America
Justice Democrats
Left Up to US (Austin-based progressive organizing group)
Our Revolution Central Texas & Our Revolution San Antonio (joint endorsement)
Our Revolution Texas
University Democrats (UT chapter)
In addition to the above, we won the Bexar County Democrats 2018 Primary straw poll, netting almost double the votes of the next contender in our race. We've also been recommended by AFSCME Local 1624 for endorsement by the Austin Central Labor Council, which will decide on its endorsement next week.
We are quickly outpacing our opponents in group endorsements in every part of this district, and we are pursuing an on-the-ground organizing strategy in every region of TX-21. Other candidates may have pollsters, image consultants, and Big Money behind them, but we are building something more powerful: the people power in every corner of this district to win in March and November.
Derrick Crowe is a former Democratic congressional staffer, small business owner, and nonprofit professional endorsed by Democracy for America, Our Revolution Texas, Justice Democrats, and Blue America. His platform includes support for real climate change action, Medicare For All, a $15/hour minimum wage, and College for All. Learn more: https://electcrowe.com.
Popular in the Community