WASHINGTON -- Rep. Jim Himes (D-Conn.) on Thursday defended an 11-point Wall Street deregulation bill that his own party defeated on the House floor the day before. Himes echoed GOP talking points to criticize Democrats who opposed the legislation, while insisting that public unrest over big bank favors was all just a big misunderstanding.
"This was a bill that took 10 or 11, I think 'tweaks' is probably the right word, that had been discussed and debated and actually passed ... in the last Congress," Himes said on C-SPAN. He characterized the deregulation bill as a set of "minor adjustments to Dodd-Frank," the 2010 financial reform law.
Nothing to see here, folks! Interestingly, not a single one of these "minor adjustments" tightens any rules on big banks. Rather, every one of them allows companies either to take more risks or to shield information from the public.
It's not as if there haven't been calls to apply greater scrutiny to the financial sector. Sens. Sherrod Brown (D-Ohio) and David Vitter (R-La.) have introduced bipartisan legislation to increase capital requirements on the nation's largest banks. Former Federal Reserve Chairman Paul Volcker said Wednesday that he'd like to tighten the exemption for merchant banking that regulators wrote into the rule bearing his name. Himes' agenda doesn't call for the implementation of either of these changes.
Most of the controversy over the deregulation bill Democrats defeated on Wednesday was focused on the Volcker Rule, which prohibits banks from speculating in securities markets with taxpayer money. Himes told C-SPAN that the bill wouldn't have really hurt the Volcker Rule -- it would have just given banks a little more time to offload some small investments, known as collateralized loan obligations, or CLOs.
"This legislation just gave them another two years in which to get rid of these CLOs," Himes said. "Now, OK, the CLOs are a very, very, very small part of the overall number of securities out there ... This, again, was, I think, fell into the category of a tweak."
WATCH Himes' C-SPAN interview in the video above.
Himes is right, if you think of "helping Citigroup and JPMorgan Chase hang on to almost $50 billion in risky debt" as a "tweak."
CLOs are similar to the complex mortgage securities that banks binged on during the housing bubble, except they pool together loads of corporate debt instead of mortgages. After the loans are packaged together, banks slice off pieces for sale to investors. Federal regulators at the Office of the Comptroller of the Currency warned banks last month that the corporate debt market is overheating, meaning that complex packages of corporate debt are risky business in the current economy.
Regulators say the market for CLOs is currently between $80 billion and $105 billion. Of that total, about half is owned by just two banks: JPMorgan Chase and Citigroup.
Himes, a former vice president at Goldman Sachs, became a household name in American politics two years ago for introducing a bill that subsidizes trading in risky derivatives like those at the heart of the 2008 financial crisis. Himes' legislation was attached to a government funding bill that House Democrats nearly voted down in December, as progressive members of the party raged against it. Himes' swaps push-out bill was written by Citigroup lobbyists.
Himes also had trouble with a much smaller number during his C-SPAN appearance -- namely, the number two. While it's technically true that the bill that failed on Wednesday would give banks "another two years" to offload their CLOs, Himes didn't mention that those banks have already been granted an extension through July 2017. The Volcker Rule passed Congress in the summer of 2010. Regulators finalized it in December 2013. Bank watchdogs, including former International Monetary Fund chief economist Simon Johnson, think that repeated delays in multiple parts of the Volcker Rule are part of an effort to eventually repeal it entirely.
Immediately after Wednesday's vote failed, House Financial Services Committee Chairman Jeb Hensarling (R-Texas) blasted Democrats for voting against the bill, when a much greater number of Democrats had supported very similar legislation in September.
"They were before this bill before they were against it," Hensarling said.
Himes made a similar point on Thursday.
"The atmosphere is a little bit different," Himes said. "I think there were 35 Democrats who voted yes. On similar legislation in the last Congress, that number was more like 75 or so." (Actually, it was 95.) "So yes, there were some folks who looked at the same thing this Congress and thought that they felt differently about it."
Indeed, 48 Democrats who voted in favor of the legislation last year switched their votes this time around.
There was, however, at least one major change in the more recent legislation. The September bill only delayed the Volcker Rule provision on CLOs through July 2017. Thanks to a previous extension by the Fed, it essentially served to expand the number of CLOs that banks could continue holding. Wednesday's failed bill would have extended it through July 2019.
Volcker himself mocked calls for further delays on Wednesday.
"It is striking that the world's leading investment bankers, noted for their cleverness and agility in advising clients on how to restructure companies and even industries however complicated, apparently can't manage the orderly reorganization of their own activities in more than five years," Volcker said in a statement provided to HuffPost.
Before You Go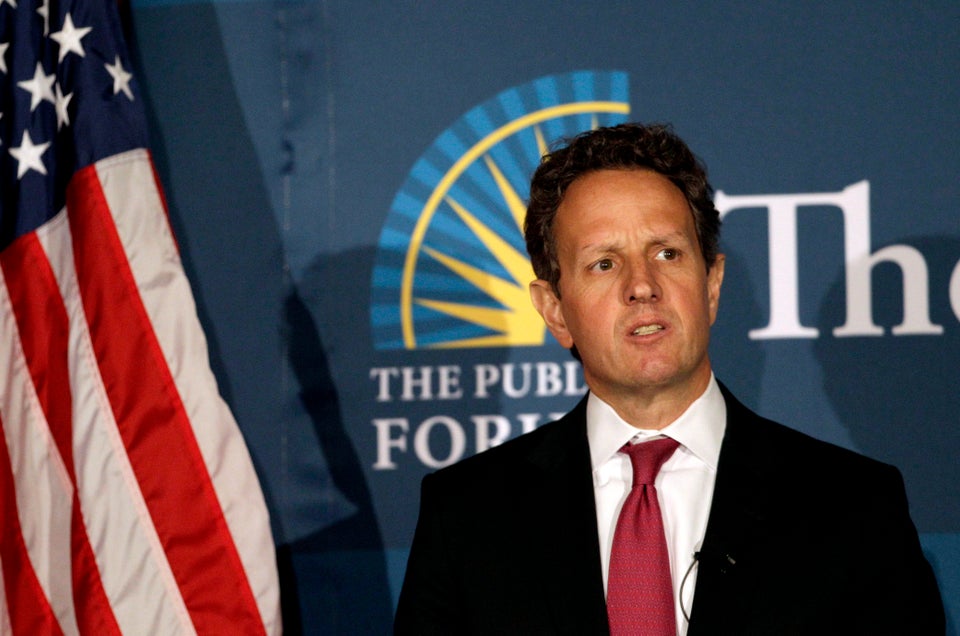 Political Figures Who Moved On To Wall Street
Popular in the Community