Rep. Jim Himes (D-Conn.) made a spot-on observation about President Donald Trump's frequent Twitter tirades: They can take aim at nearly everyone ― except Russian President Vladimir Putin.
Himes, a member of the House Intelligence Committee, pleaded with FBI Director James Comey on Monday to take notice of Trump's bizarre reluctance to criticize Russia's authoritarian leader.
"But there's one person and one country which is immune, which is inoculated from any form of presidential attack," Himes continued. "No matter what the behavior, no matter if there's a violation of the INF nuclear treaty, no matter if Vladimir Putin kills political opponents ― the new president defends, obfuscates, does not attack."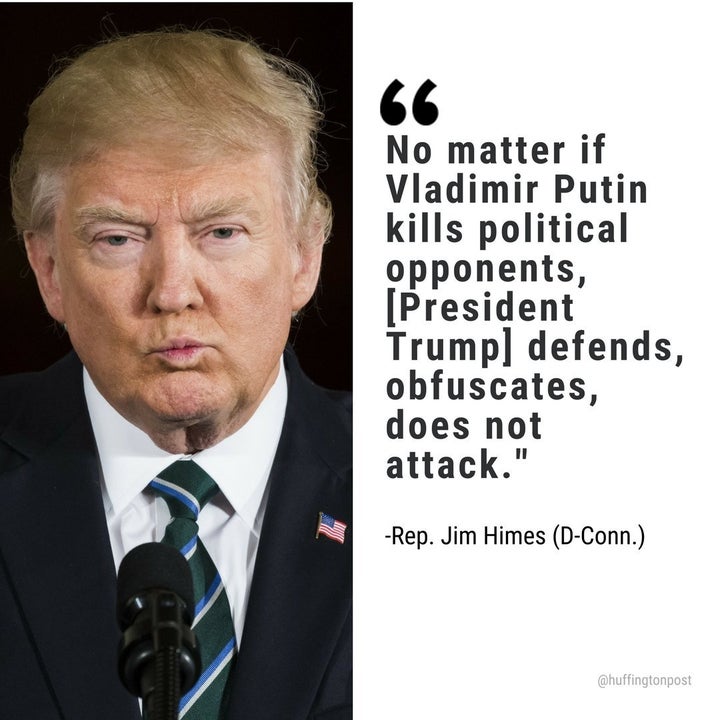 Himes addressed Comey during a hearing of the House Intelligence Committee, where the FBI director confirmed the existence of an investigation into possible ties between Trump associates and Russian government officials. Comey said the bureau initiated the probe in July, but declined to speculate on how long it would take to complete.
"As you know, our practice is not to confirm the existence of ongoing investigations, especially those investigations that involve classified matters," Comey said. "But in unusual circumstances, where it is in the public interest, it may be appropriate to do so. This is one of those circumstances."
Himes pointed to "a series of odd connections" between Russia and Trump's surrogates, including Attorney General Jeff Sessions, who recused himself earlier this month from any probe into the 2016 presidential campaign, and retired Lt. Gen. Michael Flynn, who was forced to resign as national security adviser in February after mischaracterizing conversations he had with Russian ambassador Sergey Kislyak.
"Without exception, the individuals I quoted have dissembled or misled, maybe even lied about, the nature of those connections," Himes said, "until the political pressure has gotten to a point where they have been fired, or recused in the case of the attorney general."
Trump's tweets were also the focus of another line of inquiry during Monday's hearing, when Comey refuted allegations that former President Barack Obama wiretapped Trump Tower, a claim made by the president on Twitter earlier this month.
How will Trump's first 100 days impact you? Sign up for our weekly newsletter and get breaking updates on Trump's presidency by messaging us here.
Before You Go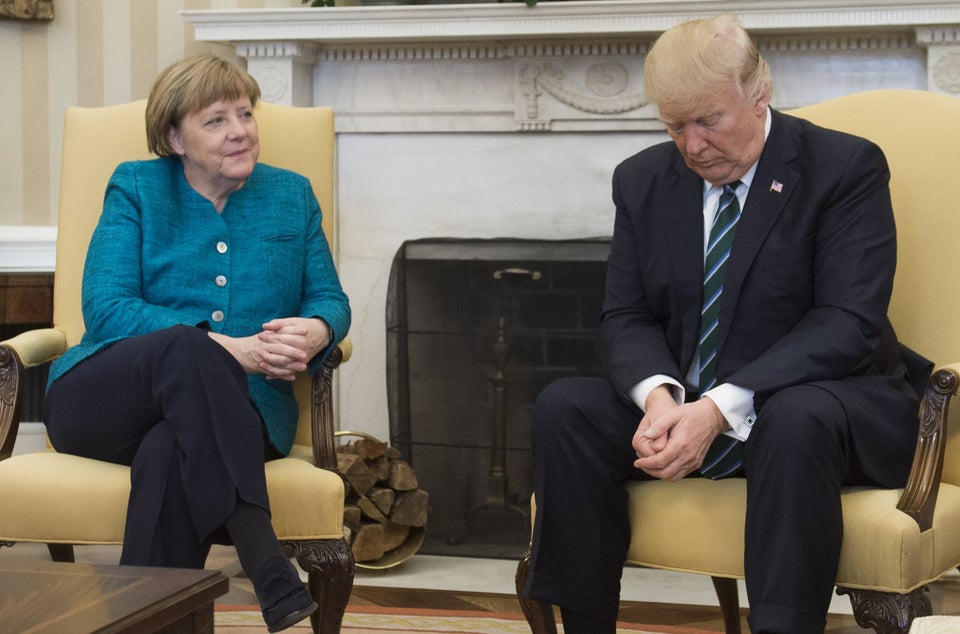 Awkward Meeting for Merkel and Trump
Popular in the Community