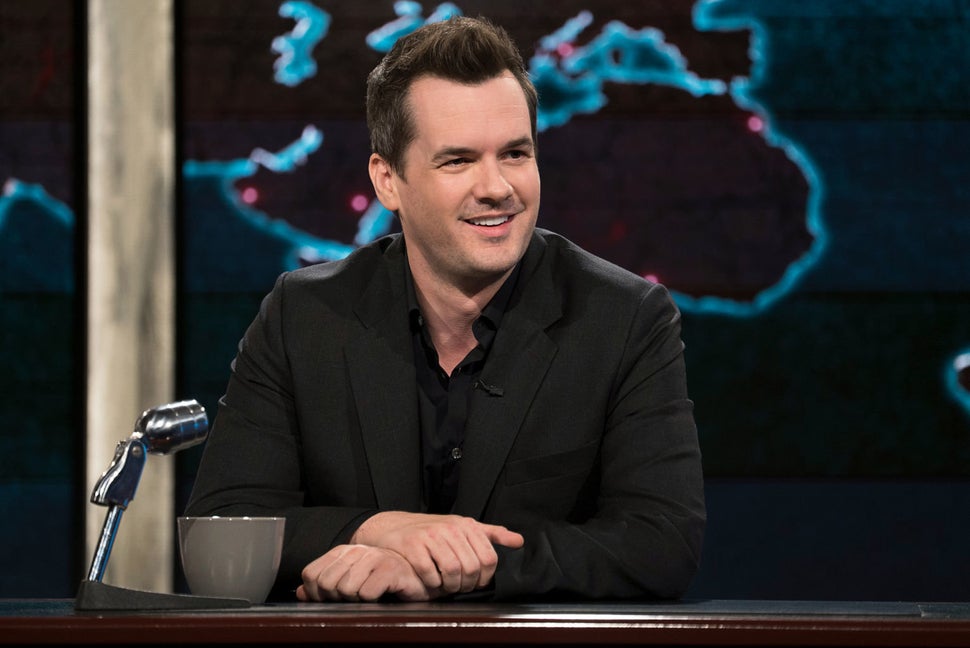 Jim Jefferies isn't afraid of a controversial statement as long as he believes he has a point.
"I met Sean Spicer at the Emmys the other day and asked him to come on the show and you know what, he was all right," Jefferies told HuffPost on the phone, promoting his Comedy Central program, "The Jim Jefferies Show," which premiered this June.
The 40-year-old Australia native believes his role is to be a vessel for honesty. 
"I want to live in a world where I've done enough fucking crazy shit that if something really does hit the fan, I just go, 'I'm Jim Jefferies, I'm a ridiculous human being,'" Jefferies said.
He's been punched in the face for the confrontational nature of his jokes ― once even very publicly onstage in a clip that went viral. Angry attendees of his sets have rushed his stage on multiple other occasions. 
In February, Jefferies made headlines when he yelled at Piers Morgan for defending President Donald Trump on "Real Time with Bill Maher." Jefferies then flipped Morgan off on-air.
But despite often taking Trump, his administration and their defenders to task on his weekly show, Jefferies really doesn't want to be seen as definitively anti-Trump or anti-Republican.
He's become somewhat known for being against guns after a comedy bit of his went viral. The new show delved into the topic, but he also had former U.S. Navy SEAL Rob O'Neill, who claims he fired the shot that killed Osama Bin Laden, tape an upcoming segment for the show with Jefferies to shoot guns and air the other side's perspective.
Jefferies said he and O'Neill couldn't be any more different politically, but that the two have been friends since meeting at a party. Amid all the swearing and potshots on the show, there's a subtle mission. Jefferies is someone who wants to use his comedy to start bridging the divide between ideologies. 
"I don't have to live in a world where ― these are the good people, these are the bad people," Jefferies said, explaining his interaction with Spicer. He gave Spicer credit for roasting himself and wanted to believe that it was a sign we could head toward future bipartisanship.
"Doesn't it soften everything up a little bit?" Jefferies said, less assuredly than before. "I don't know."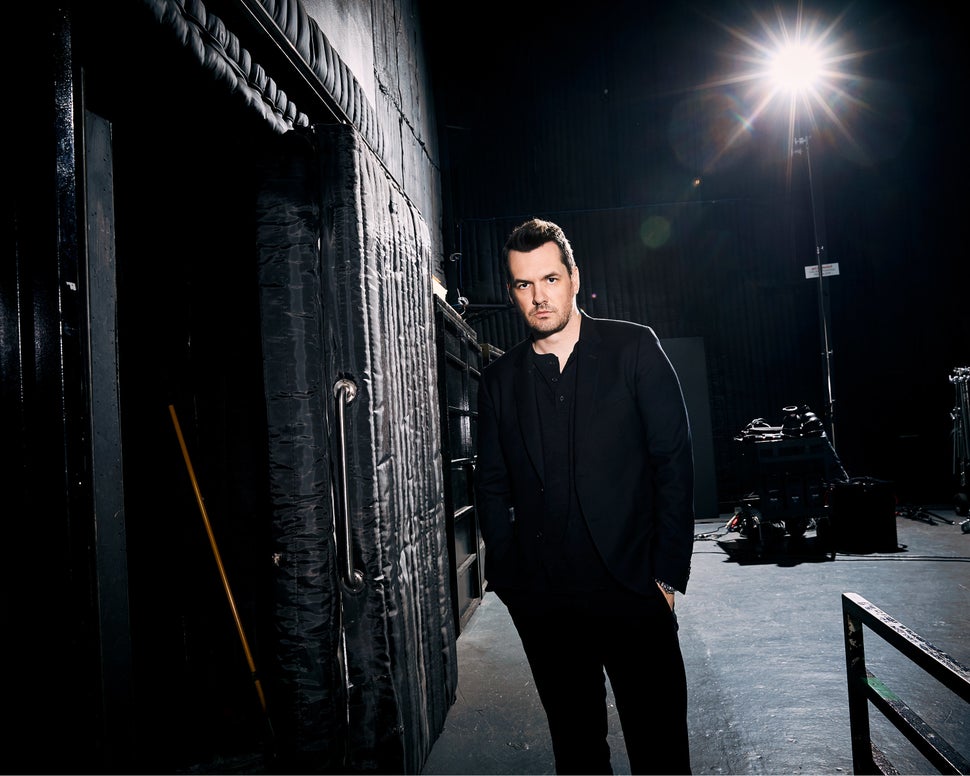 Jefferies is a different kind of late-night host than the norm, as he didn't come from "The Daily Show," the Jon Stewart machine that produced Stephen Colbert, Samantha Bee, John Oliver, Trevor Noah, Larry Wilmore and Jordan Klepper. He's "very proud" he came about his show from his own path.
Originally an opera singer whose career ended when he developed vocal nodules that required surgery, Jefferies sketched out his ideal future during his recovery and watching comedy specials to cheer himself up. After a few years in Australia, he moved to the U.K. and finally the U.S. as his success grew.
His future plans topped out at having headlining gigs at comedy clubs; getting his own show was beyond his wildest dreams.
"The Jim Jefferies Show" comes after another Jefferies show, "Legit," ended in 2014 after it was canceled.
Watching the first few months of the show, it certainly feels like Jefferies is pulling all the stops to make this work, perhaps most evidenced in Brad Pitt's role as the show's weatherman.
Pitt was a fan, so Jefferies had a chance to pitch him to be on the show. Jefferies' team wanted him to do a straightforward interview, but the host ended up asking Pitt over text if he'd be his weatherman. Pitt agreed for what has become a recurring segment. As Jefferies likes to point out, now he and Pitt are the only recurring cast members listed for the show on IMDb. 
For better and for worse, Jefferies' stylistic choice to "say whatever comes in [his] head and see if people like it" has been the most obvious defining characteristic of his show so far, setting it apart from other, more well-oiled and scripted comedic takes on the news.
A host of the podcast "Script vs Screen" recently told two of the show's writers during an interview that Jefferies seems to be "completely uncensored," particularly compared to his competitors. His staff does need reel him in from time to time.
"It's just one of those things where when you're willing to say anything, sometimes you get it out there and you're like, 'All right, that may have been a step too far,'" writer Subhah Agarwal explained with a laugh.
Jefferies claims this is part of his formula for reaching the most people: Try and roast everyone in a tone that's "naughty, but just naughty enough that you can watch at work" so that viewers will still share bits from his show on social media.
"You've got to be fucking swearing ... but it's got to be just that sweet spot," Jefferies explained, "If I got my cock out during any of these pieces, they no longer become viral." Jeffries then backpedaled, but only for a joke. "I'm probably wrong, as long as you blur it out, it'll still go viral."
"I don't think you're ever going to be truly successful if everyone likes you," he said.
This means to break down the notion of us versus them, Jefferies essentially needs to set himself up both as a hero and a punching bag for both sides, depending on the joke.
For a comedic news show that tapes in Los Angeles and inherently has to respond to the Trump administration, this strategy has mixed results. On the "Script vs Screen" podcast, Agarwal claimed that conservatives don't seem to be watching the show, adding she doesn't "know how to traverse that barrier."
It's still to be determined if this new show will be a long-running success — or if it can bring ideologies together like Jefferies wants. But Jefferies is still holding out hope his experience with comedy might be the key.
"There's a fallacy with stand up comedy which is ― people come up to comedians and they go, 'You say what I think, but I'm not brave enough to say," and that's not particularly true," Jefferies explained. "What comedy does for the most part is it voices something so simplistically that people will agree with us and then once you agree with something, you go, 'That's what I think.' So what you're trying to do is try to voice arguments that people get on a side with. So they can use that, maybe at a dinner party, themselves."
In practice, this can be taken one step further to start bridging the divide between ideologies.
"My hope is this," the comedian said. "I always like when someone writes to me and they're like, 'I'm from Ohio, I have guns and I vote Republican, but I think you're funny as shit.'"
CORRECTION: The article originally stated that the show "Legit" aired on Comedy Central. That was an FX and FXX show.
REAL LIFE. REAL NEWS. REAL VOICES.
Help us tell more of the stories that matter from voices that too often remain unheard.
BEFORE YOU GO