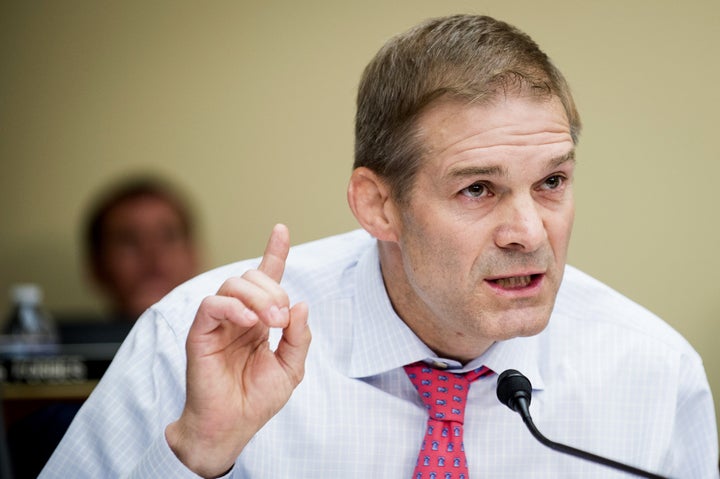 The world according to conservatives might sometimes seem like a pretty bleak place. There's a mounting national debt. A Democratic administration that has exerted its influence over everything from the environment to defense. And a general society with increasingly liberal social beliefs.
But House Freedom Caucus Chairman Jim Jordan thinks there's still plenty for conservatives to celebrate.
Sitting in his corner office in the Longworth House Office Building on Wednesday, the representative from Ohio said Republicans should consider where they were just three years ago, right after President Barack Obama was re-elected.
"And we're all thinking, 'Wow, we got four more years of this administration and all the things we think they do wrong,'" Jordan told The Huffington Post.
But, he continued, if someone had said there would be a conservative group in Congress "shaking things up," that then-vice presidential nominee Rep. Paul Ryan (R-Wis.) would be the speaker of the House, and that Sens. Ted Cruz (R-Texas) and Marco Rubio (R-Fla.) would have real chances at being the next president, things might not seem so bad.
"And that's where we find ourselves," Jordan said.
Earlier in the week, Jordan was re-elected chairman of the hardline House Freedom Caucus, a meddlesome conservative group that was formed at the start of the 114th Congress. Under the Ohio Republican's direction, the group went from nonexistent to a major influence inside Congress.
Jordan, 51, provided a brief recap of the group's credentials, which included preventing bills from passing until conservatives got votes on the amendments they wanted, influencing organizations like the Export-Import Bank, which had its charter lapse earlier this year, drawing a line in the sand so that subcommittee chairmen don't lose their gavels for voting against procedural motions, and helping to shape a new process for legislation that is more open to amendments.
Jordan even takes some credit for former Speaker John Boehner's departure and the ensuing chaos that yielded Ryan's speakership, telling HuffPost "we certainly influenced that process."
But all of these sections on the Freedom Caucus resume could use an asterisk.
Yes, the group prevented the so-called Student Success Act from passing without certain amendments, but the final product of a House and Senate rewrite of the No Child Left Behind Act is likely to look a lot more like the Senate's bipartisan version than the one the House passed without a single Democratic vote -- at least if it's going to get Obama's signature.
After more than four months of a lapsed charter, Republicans led a discharge petition to get a vote on renewing the Export-Import Bank, and now the export credit agency is set to come back to life as part of a bipartisan highway bill.
"Next time around," Jordan says of the bank, "it's going to be harder to get it reauthorized. [Former conservative U.K. Prime Minister Margaret] Thatcher's line was always you win the debate before you win the vote."
But even if you give the Freedom Caucus credit for the long game, the group's more immediate procedural accomplishments still need a more nuanced reading.
Rep. Mark Meadows (R-N.C.), chairman of a subcommittee of the House Oversight and Government Reform Committee, might have got his gavel back, but that was due largely to the existing conference rules which give committee members, not the chairman, the power to appoint a replacement. Additionally, a majority of the GOP conference, not just conservatives, expressed frustration with the closed legislative process. Boehner's successor was probably always going to have to address the conference's procedural concerns on some level.
Perhaps the Freedom Caucus' biggest claim to fame -- taking down Boehner -- is its most overstated. According to those present, members of the group physically tried to restrain Meadows from offering a resolution to oust the speaker back in July, and it was ultimately Boehner who decided his time was up, not the Freedom Caucus.
Jordan acknowledges there were differing tactical views on how to best change leadership. "We can talk about that forever," he said. But, in what may be his most direct confession to date that the Freedom Caucus was indeed maneuvering to oust Boehner, Jordan said, "We felt it was time for a change."
Pressed on the Freedom Caucus' role in the coup, Jordan says leaders of the group expressed "timing concerns" to Meadows. "We just encouraged Mark not to file it then," Jordan said.
Meadows did, of course, with the thought that filing a resolution to vacate Boehner's position a day before the August recess wouldn't give GOP leaders enough time to rally the votes to quash the mutiny, and that members would then go back to their districts and be pressured into pushing Boehner out over August.
In retrospect, Jordan agrees, "it played out" just as Meadows intended.
"We were discussing that, when it was, you know -- if he should do it then, and there was some debate, obviously," Jordan said.
Because of Boehner's exit, the Freedom Caucus played an instrumental role in picking the next speaker. After Majority Leader Kevin McCarthy (R-Calif.) stepped aside, Ryan gave the group the power to block him. But, sensing that it would tear their organization apart, the board of the Freedom Caucus -- which sometimes acts like a Freedom Caucus within the Freedom Caucus -- pushed members to support Ryan.
That's a decision Jordan doesn't seem to regret.
For now, Jordan has nothing but positive things to say about the new speaker. He calls Ryan a "good spokesman, a good messenger" for conservative principles, and mentions that the Wisconsin Republican has taken hard lines on a number of politically thorny issues over the years, including taxes, entitlements and poverty programs.
Jordan also notes that Ryan has taken strides to change voting and legislation-drafting procedures in Congress, which Freedom Caucus members complained were too top-down. Ryan now regularly meets with leaders from different sections of the GOP conference through an eight-person speaker's advisory board. Jordan, as the Freedom Caucus chairman, is one of the members.
Ryan is also poised to push through changes to the Republican Steering Committee, the group that functionally decides committee chairmen. Jordan said Ryan is giving up one of the speaker's five votes on the panel and booting six committee chairmen who will be replaced by regional representatives.
All positive changes, in the Freedom Caucus' telling.
But the Ryan honeymoon could be short-lived. There is a large spending bill debate coming up. And conservatives want to see provisions that would block Syrian refugees from coming to the United States and language that would stop money from going to Planned Parenthood -- not exactly easy sells for a speaker who will probably need Democratic votes to pass the bill, and a Democratic president to sign it.
As for Jordan, the two-time NCAA Division I wrestling champ is content to wait and see what leadership does. He thinks the Freedom Caucus still has a big part to play in most everything Congress does. And he says he still thinks there are a lot of Americans "who think this town isn't fighting for them."
Offering a Freedom Caucus credo that's perhaps more fitting as a personal mantra for the disagreeing, but not disagreeable, five-term lawmaker, Jordan said, "We're trying to do it with a smile on our face, but in as an aggressive and friendly way as we can. That's why we came here."
PHOTO GALLERY
Politicians React To John Boehner's Resignation
Calling all HuffPost superfans!
Sign up for membership to become a founding member and help shape HuffPost's next chapter