When Jim Jordan found out that his house in Costa Mesa was being foreclosed upon, he was so depressed that he struggled to get out of bed. Jordan, the owner of a general contracting business, said, "I'm the guy who says, 'Suck it up and just go to work. But I just couldn't do it.'"
It wasn't losing the house that was getting Jordan down, as he explained to The Huffington Post. "It was about letting all those people down at Christmas time. Every time I thought it, I would break into tears. My heart was just broken."
As the Daily Pilot reports, Jordan has for the last 44 years elaborately decked out his front lawn at Christmas-time with Charlie Brown and Snoopy decorations, complete with Lucy in a counseling booth, Linus beneath the tree and others of the "Peanuts" crew ice skating around an artificial pond. The holiday scene, which over the years has come to include hot apple cider, carolers, music by horn players and photos with Santa, attracts thousands of guests each year, with an estimated 80,000 visitors last year.
Jordan told HuffPost that he and a few "elves," including a man who has been working with Jordan for 30 years, perfect the decorations year-round. "Some say it's a calling, some say it's a curse. Either way, it's a love and passion."
Weeks after Jordan received notice of foreclosure on his house from Wells Fargo, the city of Costa Mesa began to receive calls from community members who want to save the "Snoopy House." Bill Lobdell, communications director for the city, told HuffPost, "Everyone was despondent about it."
That's when the city's planning commissioner called Jordan and offered to host the Snoopy decorations at City Hall. Jordan, in his cheerful and humorous way, recalled, "I was really moved. I told him, 'My heart leaps for joy, and my back is aching ... It's a lot of work!'"
What came next touched Jordan further: As Lobdell told HuffPost, volunteers, including entire sports teams from neighboring schools and other community groups, have signed up to assist in transporting and setting up the elaborate Snoopy scene. The set-up will take place Friday through Monday, and the scene will be open to the public on Tuesday, Dec. 13, at 5:30 p.m.
There is a "Save the Snoopy House" Facebook page and Twitter account. In addition to donating time to set up the decorations, community members have been donating money to help Jordan in his lawsuit against Wells Fargo to save his house.
As Occupy Wall Street moves to fight foreclosures, one person has occupied the Snoopy House and set up a tent on the house's front lawn, the Daily Pilot reports. And the nearby Santa Ana Chick-fil-A has offered to display the Peanuts gallery in front of its restaurant.
Jordan said it has been a humbling experience for him to receive so much community support. He explained that, just as Charlie Brown's meaning of Christmas is to "give back," his Snoopy scene was his way of giving back. "Families come who cannot afford to have their picture taken with Santa at the mall ... and sometimes who cannot afford gifts at all," he said.
Looking back over the years, he recalled a young girl who, when the other children were asking for expensive toys, asked Santa for a new pair of socks. "We had someone run down to the drug store. Santa Claus found her and pulled brand new socks out of his sack. Her eyes lit up and she was as excited as can be."
Another memory was of a father crying as his son explored the Snoopy scene with excitement. When Jordan asked the father what was wrong, he said it was the first time his son had spoken since his mother died weeks before. Yet another heart-warmer was a mother who, after her husband left the family, came with her two sons every night to play by the decorations. To this day, Jordan says, the family tells him it was their favorite Christmas.
Reflecting on the community support he's received, Jordan said, "It has gone a long way to start to heal my broken heart."
The mayor of Costa Mesa, Gary Monahan, told HuffPost, "There will be a Christmas display after all, Charlie Brown."
To donate to Jordan's effort to save his house, send contributions to Snoopy House Trust, PO 2852, Costa Mesa, CA 92628.
To assist in the set up at Costa Mesa City Hall this Friday through Monday, call Sylvia Chalmers at (714) 754-5099.
Photos courtesy of Jim Jordan.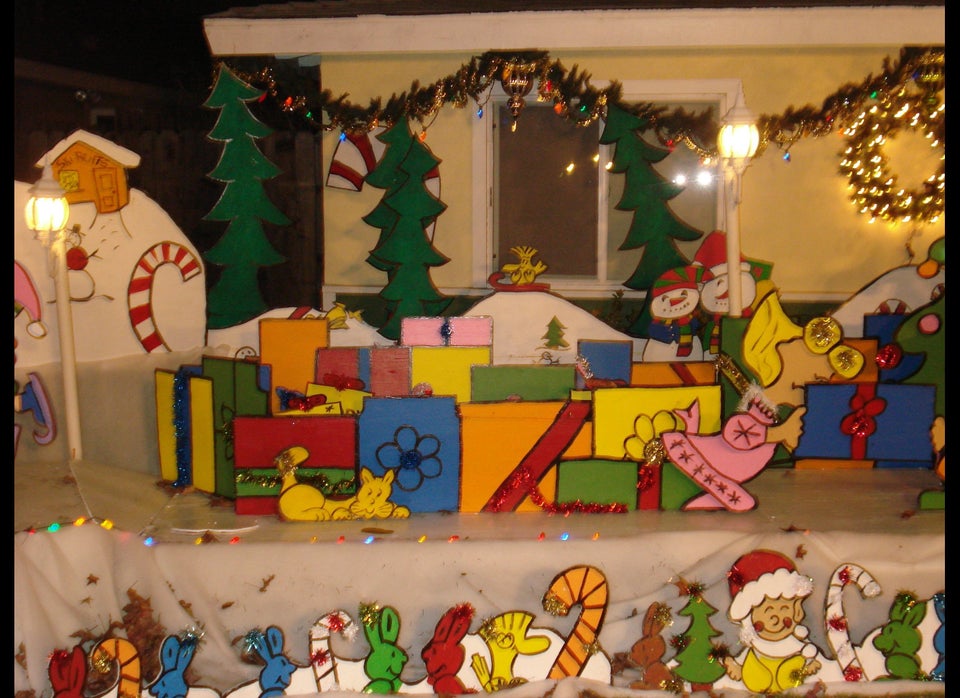 Snoopy House
Related
Popular in the Community