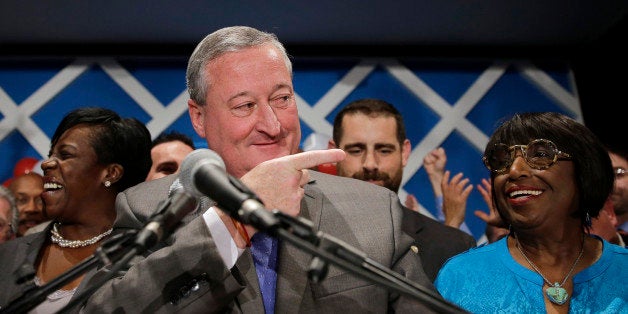 A progressive candidate for Philadelphia mayor on Tuesday won a resounding primary election victory. Jim Kenney, a veteran city councilman, beat five other Democratic candidates, all but assuring him of replacing outgoing Mayor Michael Nutter.
Once considered a moderate, Kenney ran on a progressive platform, advocating for raising the minimum wage to $15 an hour, ending stop-and-frisk, decriminalizing marijuana, and restoring funding to the city's cash-strapped public schools. As a city councilman, he fought for a bill that reduced cooperation between Philadelphia police and federal immigration authorities in detaining undocumented immigrants in the city, as well as a bill expanding LGBT rights.
His closest opponent, state Sen. Anthony Williams, got 26 percent of the vote, a poor showing for a major black candidate. Williams was well funded — largely from three libertarian hedge fund owners in the Philadelphia suburbs, who contributed almost $7 million to a super PAC connected to Williams. Williams has been a big advocate of charter schools and school vouchers, and his financial backers have also supported the privatization of education through their political and charitable causes.
Kenney has advocated for universal pre-K and greater investment in public schools. He was endorsed by Pennsylvania Working Families, which also supported several progressive city council candidates. The organization's director, Kati Sipp, told The Huffington Post that a key factor in Kenney's victory was distinguishing himself from Williams on education.
"Voters continue to send a clear message that they want somebody who is going to fix the schools and not somebody who is going to fix the schools by privatizing them or charterizing them," Sipp said.
A recent Pew poll found that 32 percent of voters felt that K-12 education was the most important issue facing the city.
Kenney has pledged to give more control of public schools to local leaders, and to increase funding. Philadelphia's financially unstable school district was turned over to a state commission in 2001. Crippling budget cuts to public education under former Gov. Tom Corbett (R) hit Philadelphia especially hard.
Sipp, whose group led grassroots mobilization and voter outreach for Kenney and the other progressive candidates, said Kenney's positions on criminal justice reform and the minimum wage also were crucial in engaging undecided voters.
"I really feel like those were the three major things people were voting on this time around," Sipp said.
With his progressive agenda, Kenney racked up a string of endorsements from unions, environmental organizations and the LGBT community. He also scored an endorsement from New York City Mayor Bill de Blasio (D), who said in an email to Kenney supporters that "it isn't easy to make ambitious progressive reforms into a reality, but Jim will take on the tough fights."
Kenney will likely win the general election and become Philadelphia's next mayor, as the city has a heavily Democratic base. Registered Democrats outnumber Republicans by almost eight to one.
The race in Philadelphia provides a contrast to the recent mayoral election in Chicago, where progressive candidate Jesus "Chuy" Garcia forced incumbent Mayor Rahm Emanuel into the city's first-ever runoff, but was unable to defeat Emanuel and his campaign war chest.
Before You Go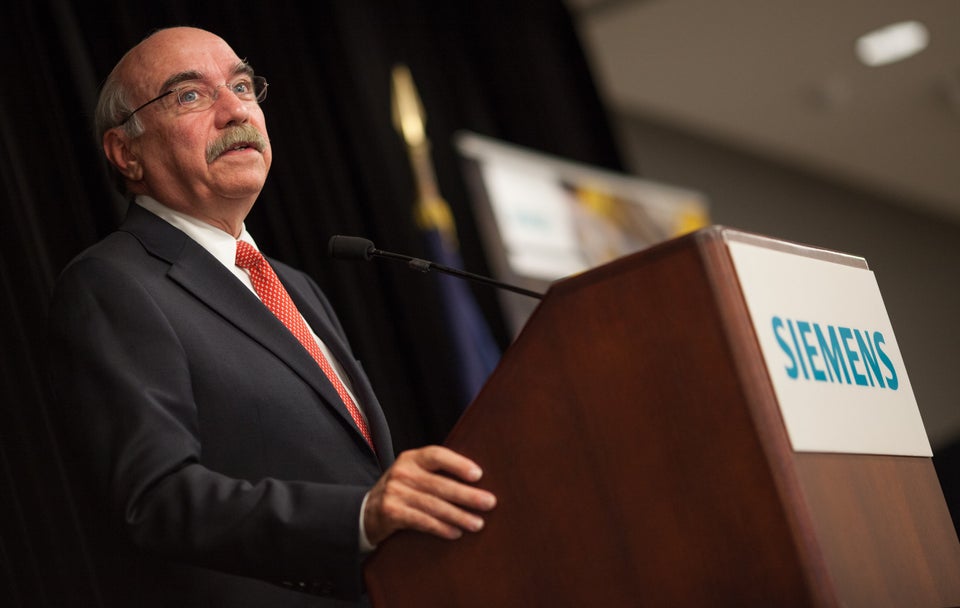 Mayors Of America's Largest Cities
Popular in the Community