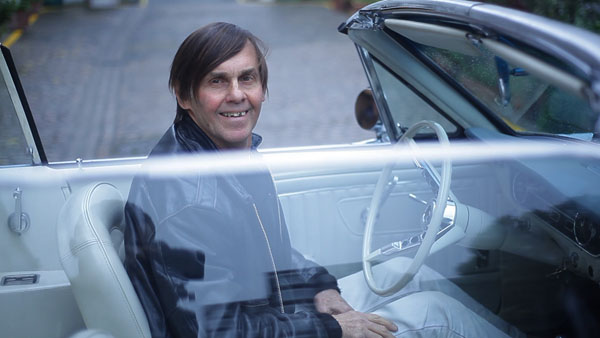 Fashion photographer Jim Lee's mews house in South Kensington is compact but perfectly formed. For someone heralded as the original wild child of fashion photography, Lee's pied-à-terre is very much a grown-up affair, evoking a feeling of faded glamour, featuring an eclectic mix of furniture, a black iron fireplace, framed portraits of ancestors neatly assembled on the wood-panelled walls, and a vintage bureau from where Lee does most of his work.
Best known for capturing the mood of the Sixties and Seventies, Lee's theatrical and narrative style is back in vogue. This year, the photographer celebrated fifty years in the industry with a new book, "Arrested," written by long time friend, Peter York, former Harpers & Queen style editor. The book chronicles the various stages of Lee's photographic and film career and showcases his most iconic work alongside rarely seen photographs.
Often touted as England's answer to Guy Bourdain, Lee first began his career photographing bands including The Beatles, The Rolling Stones and The Who before turning his hand to fashion. Now, he's worked with everyone imaginable from Anna Wintour and Alexander McQueen to Gianni Versace and Yves Saint Laurent.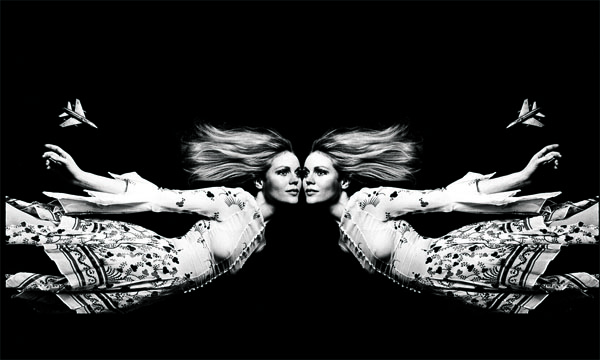 Ossie Clark Aeroplane 1968 © Jim Lee
Photography wasn't always in the cards for Lee. He fell into it almost by accident. Born to parents who worked for the MI5, his fate, if his father had his way was via the Eton-Cambridge-MI5 route. But Lee's dyslexia prevented him from excelling academically. Instead, he sought to forge an artistic career and shipped himself to Australia through the Ten Pound Pom scheme, a one-way ticket to the country, which was free for those under 18 and £10 for adults. There, as luck would have it, he met Dutch photographer Jon Van Garlan who offered him a free room in return for developing his films. "He was a very extravagant, rather extraordinary man, but a good photographer. He had a room to rent, and I pretty much had no money, so he offered me a room if I printed his pictures at night. That's how I began to become involved in photography. From then, I took my own pictures, and developed them myself. That's how it all started."
After his stint in Australia, his father pulled him out of the country and brought him back to London to prevent him from being drafted into the Vietnam War. He continued his work in photography, using his portfolio from Vogue Australia to win commissions from British Vogue and Harpers & Queen. "I found myself working for Harper's because Harper's Bazaar was more easygoing and offered a more creative outlook for me. I then worked with the editor called Jennifer Hocking, and Anna Wintour, her assistant, who was quite keen to get a place for herself in the world as a fashion editor." Impressed by her creative and sartorial flair, Lee has since then, forged a strong working relationship with Wintour collaborating with her on both editorial and advertising projects in the seventies.
"She said, "Would you like to shoot with me?" and I said "Yes, I'd love to. Let's have a go!" and we decided to shoot together." Early on, he had detected Wintour's innate talent and realised the potency of collaborating. "Anna's style was amazing. She had a very good eye and she encouraged me to do expressive work. We did some really cracking work together."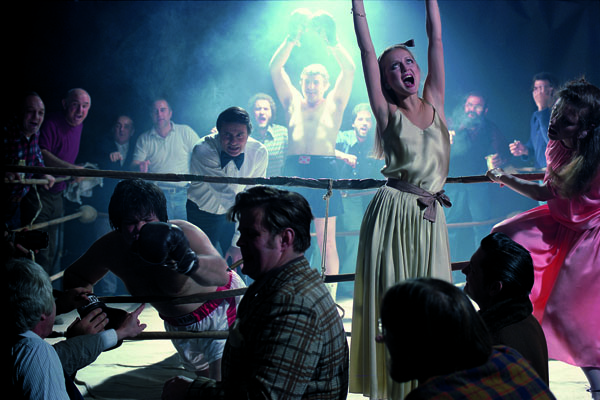 Boxing NY Win 1977 © Jim Lee. Styled by Anna Wintour
His style, which he described as "a romantic soft-focus frenzy" often drew comparisons to Guy Bourdin, an analogy he doesn't resist. "He's a photographer of his time so to be placed alongside him is very complimentary. But I hope he wouldn't think I was too sleazy or second rate for riding on the back of his reputation," Lee says modestly. He adds, "He was one of the few people for whom I had deep respect. He was artistic, an art director and a storyteller, like me. He was brave. He went outside the frame. And more importantly, he made me realise that there is room to be a commercial photographer and at the same time, still be able to create something interesting."
Having worked with models all of his working life, Lee admits that in his work, he always intended to capture much more than just a model's beauty. "As much as I adore models, I'm a very heterosexual man after all and I love women but when it comes to my work, I'm probably not their greatest fan because I don't go out trying make them look beautiful."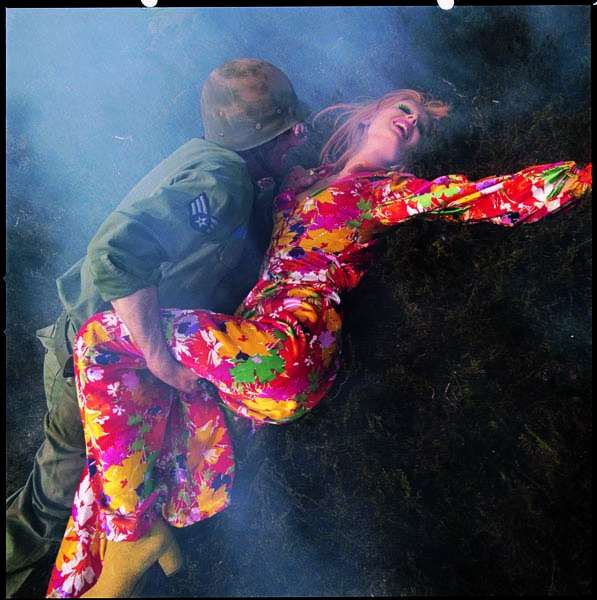 Ossie Clark Vietnam 1969 © Jim Lee
"I'm not interested in just about what they look like. I like people who came to work with me because they were there for the creativity and because they could see beyond their own beauty, and see what I was trying to get at. I wouldn't make them not beautiful, but I wouldn't make them beautiful just for the sake of it," Lee explains.
Despite not making them look intentionally beautiful, Lee's love of women always shone through in his work. "But having said that, I always made women feel, to some extent, empowered because in my early days in the Sixties, women were sort of on an island and didn't have the vote. Women were not in a privileged position in that respect. I think they weren't in a fair place, and I wanted to empower them, to see their side of life, and try to give them a leg up if you like. I hope my pictures don't just show women in charge, but hopefully also show some sensitivity, something going on that actually can be ambiguous, can be interesting and can be sexy."
Arrested, by Jim Lee & Peter York, is out now (Ammonite Press, May 2012)
Popular in the Community