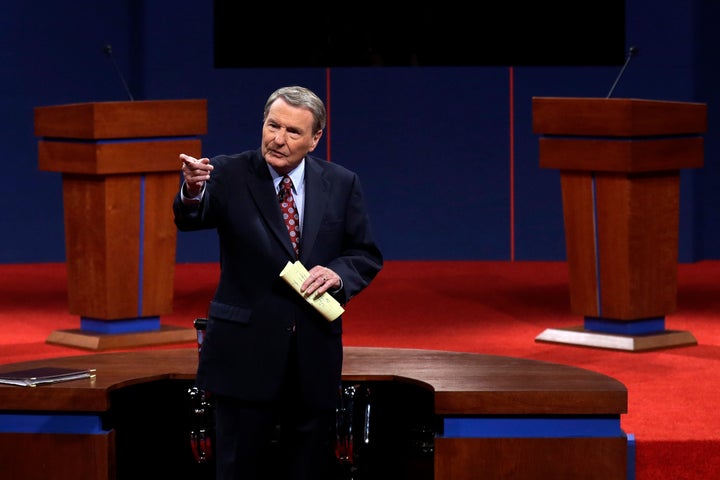 A new study about Wednesday's presidential debate showed just how tough it was for Jim Lehrer to wrangle Barack Obama and Mitt Romney.
George Mason University did some numbers-crunching on the first showdown between Mitt Romney and Barack Obama. The study found that Lehrer was cut off by the candidates three times more than in the first debate of 2008, when Obama squared off with John McCain. Romney and Obama talked over Lehrer 30 times, as opposed to the 10 times that Obama and McCain did.
Some of that disparity could be chalked up to the new format of the debate, which called for more free-flowing conversation between the two candidates. But Lehrer's often-unsuccessful attempts to get Romney and Obama to follow his direction became one of the most widely noted features of the forum -- lampooned on late night shows, dissected in a thousand articles and even followed by TMZ.
S. Robert Lichter, president of the center which did the study, said that "Lehrer was just as aggressive in his questions as he was four years ago. But the candidates were less willing to let him ask them."
The study also found that 26 percent of Lehrer's questions challenged the candidates, up from 21 percent in 2008's debate.
Lehrer defended himself in a statement sent to the media, saying that his job in the debate was to "stay out of the way."
Calling all HuffPost superfans!
Sign up for membership to become a founding member and help shape HuffPost's next chapter