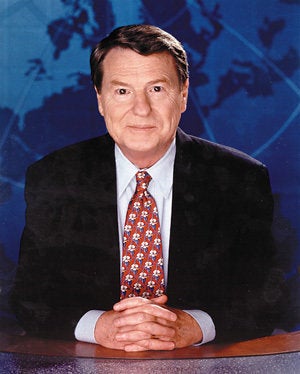 Norman, Oklahoma - Jim Lehrer has two words of advice for mainstream journalists who worry that they're headed for extinction in the brave new world of the Internet.
The words are "Calm down."
Lehrer, the executive editor and anchor for the PBS News Hour program that bears his name, says the screams of panic emanating from print and broadcast newsrooms and their executive boardrooms as newspaper and magazine circulation and profits and nightly news program ratings plunge to new lows do, indeed, signal a revolution in the world of journalism.
"Sound the alarms," he warns. "Cable news and the Internet bloggers and the satellite and other radio talk shouters and the late night comedians are teaming up with Yahoos, Googles, I-Pods and MP3 players and other strange things to put us out of business."
But, like FDR, Lehrer is convinced that the only thing traditional journalists have to fear is fear itself.
"Journalism is still about the story," the award-winning journalist and author of 19 novels said last week as he honored by the University of Oklahoma's Gaylord College of Journalism and Mass Communications as the first recipient of the Gaylord Prize, established by the Oklahoma City newspaper family to honor a nationally recognized role model for future journalists. "Our democratic society will only work if we have an informed electorate."
The Gaylord family has given more than $40 million to establish one of the finest journalism and mass communication programs in the country at OU, where I was a visiting professor last fall.
Lehrer, who has moderated eleven presidential and vice presidential debates in the last six elections, including one between Barack Obama and John McCain on Sept. 26, said the Internet pundits, faux news anchors and talk show hosts wouldn't have anything to talk about if it weren't for those worker bee reporters who gather the news.
"In the beginning, there must always be the news," he told some 400 guests, including OU President and former Oklahoma governor and U.S. Senator David Boren, Lt. Gov. Jari Askins, and at least 100 OU journalism students. "It has to start with one of us real news people, one of us boring reporters, one of us journalists who was there, who read the original document, who did the original interview, who got the original leak, who did whatever it took to make it news in the first place."
Lehrer, a Kansas native whose mother was born in Oklahoma and who got his start in journalism at newspapers and TV stations in Dallas, said stick to the basics and avoid "going with stories before they're ready, spicing them up a bit with over-the-line commentary ... and worst of all, make entertaining people one of our purposes."
He added, "You want to be entertained? Go to the circus, don't watch the News Hour."
Lehrer said the fire hose spew of information coming from all the new forms of media has made the traditional journalism role of gatekeeper more important than ever, and predicted that such a role not only is not going away but is "coming back big time.
"There's an increasing amount of news noise, and noise about the news out there in the blogosphere, and the satellite, I-Pod and other spheres. People are busy, they want some professional, unbiased, un-agenda assistance in sorting through it all to help determine what is important before they go off to the editorial page or the commentators, or to be shouted at or entertained about it."
But Lehrer also made it clear that the mainstream media must change its ways if it is to survive in a new information environment created by technological and cultural developments.
"There is no question that the nature, the machinery and certainly the looks of the gatekeepers must change. ... The major problem we mainstream gatekeepers have now is a loss of the substantial credibility and trust that it takes to do our work effectively. Our arrogance, among other things, has gotten in the way."
Finally, Lehrer offered his own guidelines for the practice of journalism, which are worth enumerating:
"Do nothing I cannot defend."
"Cover, write and present every story with the care I would want if the story were about me."
"Assume there is at least one other side or version to every story."
"Assume the viewer is as smart and caring and good a person as I am."
"Assume the same about all people on whom I report."
"Assume personal lives are a private matter until a legitimate turn in the story absolutely mandates otherwise."
"Carefully separate opinion and analysis from straight news stories, and clear label everything."
"Do not use anonymous sources or blind quotes except on rare and monumental occasions. No one should ever be allowed to attack another anonymously."
"And finally, I am not in the entertainment business."
Lehrer's reflections on what he called "the revolution in the world, the work, the mission of journalism," undoubtedly will be challenged by those who dismiss the mainstream media as outdated and out of touch. But I think he's right on the mark, and we journalists and our critics should heed his wise counsel.

Popular in the Community