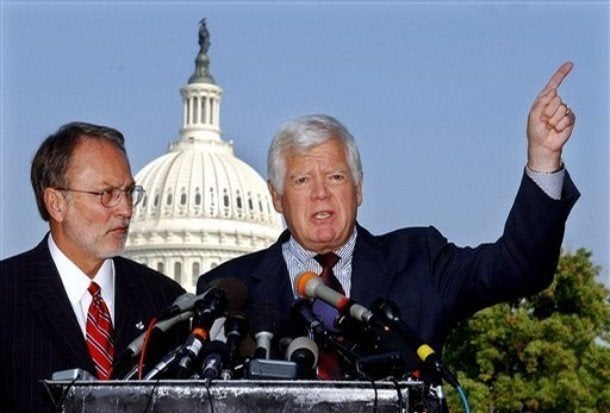 The House of Representatives approved a bill to reauthorize expired unemployment benefits for the long-term jobless on Thursday, after a similar measure failed for the fourth time in the Senate the previous night due to a Republican filibuster.
The House measure, sponsored by Reps. Jim McDermott (D-Wash.) and Sander Levin (D-Mich.), is essentially moot until the Senate is able to pass a bill of its own, which, because of the Independence Day recess, won't happen until July 12 at the earliest. The Republican party, along with Nebraska Democrat Ben Nelson, is objecting to the bill because it would add $33 billion to the federal budget deficit.
The plight of today's long-term unemployed -- 1.2 million of whom have already missed checks because of the Senate's inability to pass this legislation since the end of May -- is less compelling, Republicans argue, than the plight of future generations dealing with a massive public debt burden.
"It's a class warfare issue," said McDermott in an interview with HuffPost after the House vote. McDermott, chairman of the Ways and Means Income Security and Family Support Subcommittee, lamented the fact that congressional deficit hawks squawked little during two wars and when Congress authorized a $700 billion bailout of the financial industry.
"Wall Street is saying to them, 'These deficits, they're making problems, we need to get this deficit down,'" McDermott said. "So the very people who took the money and were stabilized because we created deficits are now turning around and biting the hand that feeds them, that is, the taxpayers. It's unconscionable."
House Speaker Nancy Pelosi (D-Calif.) told HuffPost last week that there is a debate within the caucus over whether, for the first time in history, to use tax hikes or spending cuts to offset the cost of federally-funded extended unemployment benefits, which have routinely been put in place as emergency spending to protect the economy during periods of recession. Republicans have offered several alternative bills to pay for unemployment benefits by cutting other programs.
McDermott said, essentially, that caving to such demands would be caving to an assault on the New Deal.
"The Social Security Act of 1935 made these entitlements, Social Security and unemployment insurance and welfare," he said. "The Republicans have been after all three of those programs ever since 1935. They got welfare a few years ago, because that's poor people. They could jump on them. But unemployment and Social Security is middle-class people -- they haven't been able to get them, but it isn't because they're not willing to try."
It would start with offsetting the cost of benefits for the first time: "If you say that you can't feed people because you don't have the money right now, that is a real new precedent."
Offsetting benefits would be an unprecedented step, and so too would letting them lapse for good. According to the National Employment Law Project, since the 1950s Congress has not allowed extended jobless aid to expire when the national unemployment rate is above 7.2 percent. In 1973, extended benefits remained in place until unemployment sank to 5 percent. The current national rate is 9.7 percent, and it's not expected to go down in Friday's jobs report for the month of June.
McDermott echoed other Democrats who've said the Republicans will benefit politically if they can stop the legislation (Sen. Debbie Stabenow said last week the GOP wants to "create as much pain as possible" to foster anti-incumbency in November). "It's all about making the Democrats look weak, therefore we can take back the House, we can take back the Senate, and we'll also take back the presidency, because we've made the Democrats look weak," he said. "It has nothing to do with deficits. They don't care about deficits."
Popular in the Community